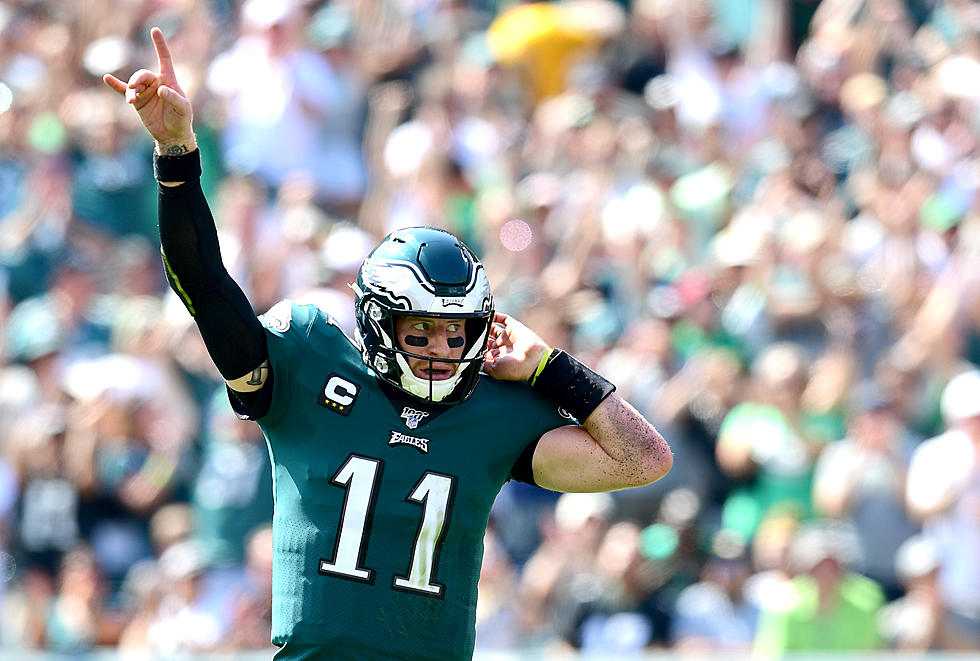 On to the Next Narrative for Carson Wentz
Emilee Chinn, Getty Images
PHILADELPHIA (973espn.com) - In a world filled with empty hot takes, a disproven narrative is always replaced by the next debate to be judged so any high-profile athlete is best-served by ignoring the white noise.
Carson Wentz has been playing the "biggest" game of his career for four weeks now and the Eagles' QB1 will continue to do so until the Eagles' latest playoff run concludes.
Back in 2017, Wentz did the heavy lifting for a Super Bowl team en route to its first championship since 1960 before a torn ACL in December of that year robbed him of what would have been his first playoff experience. By last season, a stress fracture in Wentz's back shot down the QB1 late again as Nick Foles rode to the rescue.
The third time was the charm, however, as Wentz was healthy for all 17 weeks this season, including the recent four-game NFC East run that put Doug Pederson's team back in the postseason yet again, this time with the face of the franchise finally front and center while leading a misbegotten band of practice-squad warriors like Greg Ward, Boston Scott, Josh Perkins, and Deontay Burnett.
As far as Wentz is concerned Sunday's Wild Card Weekend game against the Seattle Seahawks is no different from the past four which were essentially must-win games after a 5-7 start to the campaign.
"As far as how we prepare, how we approach the game, nothing changes," Wentz said. "It's another game. Obviously, we know what's on the line. To some extent, we've kind of felt that way the last few weeks. We've kind of had our backs against the wall. It's a one-game season, and we're excited about it."
Since the terrible 37-31 loss in Miami on Dec. 1, Wentz has tightened up his game just as Pederson has simplified the offense in order to better integrate the inexperienced skill-position players forced into action due to almost unprecedented attrition.
Over the span in which the Eagles have beaten the New York Giants in a home-and-home series as well as Washinton and Dallas, Wentz hasn't thrown an interception but it's fair to wonder whether dominating the poor competition is fool's gold.
Seattle is no NFC East team but the Seahawks are also very banged-up and unlike the Eagles, Pete Carroll hasn't had time to integrate new pieces, something that should level the playing field from a personnel standpoint, at least somewhat.
Backup quarterback Josh McCown, who has seen it all over his 17 pro seasons, has seen many a team crumble under the weight of the adversity the Eagles have faced.
"I've been in so many of these moments where you look at the rest of the schedule, six games left, five games, whatever is and you go, 'Oh, if we can just run the table we'll get in,' and for whatever reason, you don't," McCown explained. "For whatever reason that group, in that moment, blinks and they lose belief and they lose trust and they don't get it done. For us, our group has gone the opposite. A guy gets hurt, a guy gets injured, the next guy steps up and the belief grows even more, the trust grows even more. Those things are carrying us."
McCown believes the offensive coaching staff has done a tremendous job getting inexperienced players ready but noted that Wentz is the one on the field, managing the game and tying everything together
"Everybody just has to go out and do their job and that's what Carson has done," McCown said. "... it's been cool to watch."
And that's why the next narrative is already up: Can Carson produce is his first playoff game?
"I think everyone kind of feels the sense of urgency," Wentz said.  "But I don't think anyone presses, or feels they need to do anything differently. I wouldn't say anything changes going into this one. We know what we have to do."
-John McMullen covers the Eagles and the NFL for 973espn.com. You can reach him at jmcmullen44@gmail.com or on Twitter @JFMcMullen