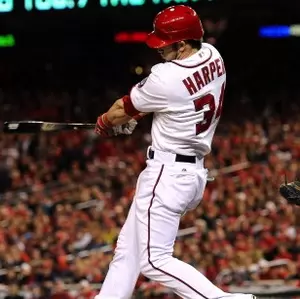 Padres Enter the Bryce Harper Mix, Will Meet With Outfielder
The Phillies appear to have additional competition for Harper (Patrick McDermott/Getty Images)
Despite a lot of internet buzz earlier in the week, free agent superstar outfielder Bryce Harper remains unsigned.  Are the Phillies in a good position to sign Harper? Perhaps.  However, more teams are involved, and one such suitor has been named.
Ken Rosenthal of the Athletic reports that the San Diego Padres have entered the fray:

Still, it is rather strange that the Padres are entering now.
Many wondered why the Phillies waited as long as they did to get involved in the Harper mix.  Some have suggested they prefer infielder Manny Machado comparing the two players.  While the club says they are optimistic they will land one of the two players, there seems to be no movement in either direction.
Pitchers and catchers report to Spring Training in 13 days.