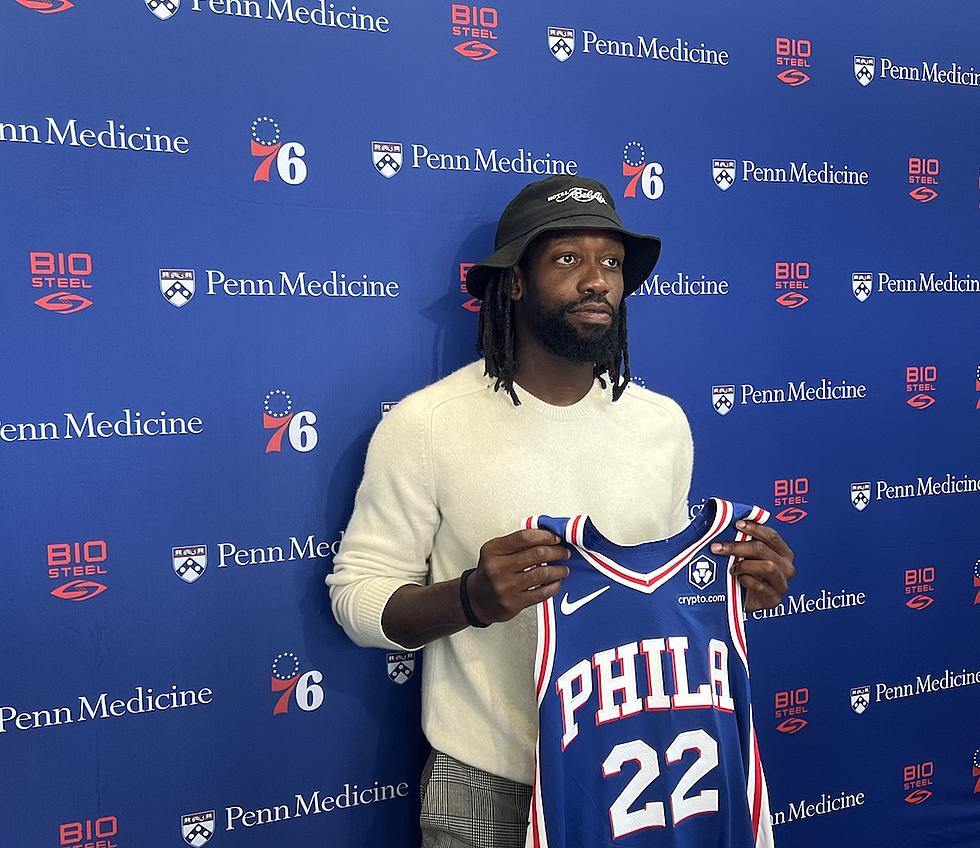 Patrick Beverley leaves little to question: he wants James Harden back
Photo by Austin Krell/97.3 ESPN
New Sixers guard Patrick Beverley made one thing clear during his introductory press conference in Camden, New Jersey on Monday afternoon.
He didn't come to Philadelphia just to play next to Joel Embiid. He wanted to play with his bearded friend, too.
"You can't redo a James Harden. So, hell yeah, you want him here. Hell yeah, you want him in the locker room. Hell yeah, you want him first day of practice," Beverley said, donning a black Hotel Bel-Air bucket hat.
"One of my decisions was coming here because James Harden was here. So, hope he stays. Hope that everybody can kind of work something out and put that behind us. And then, kind of move forward. I think it's important."
Beverley's history with Harden dates back to their time together in Houston. Their mothers are best friends, Beverley says. "You know, me coming into the NBA with Houston. It was me and him. Six years, my starting buddy. So, I'm very familiar with James," Beverley said.
Truer words have never been spoken.You can't redo a Harden. And Beverley enjoyed some of his best offensive success next to Harden, establishing himself as an above-average three-point shooter in the league during their time together as Rockets.
But, it wasn't just Harden who helped Beverley. The undersized guard with a booming personality seems to have a good philosophy on fitting in next to teammates. "You get a young player and he becomes so good at one thing that you want him to be great at another thing. Like nah, fuck that. Continue being good at what you're good at," Beverley said.
He doesn't sound like someone who's trying to change his teammates and make them into things they aren't. He wants James Harden to be what James Harden is, and understands that his job is to fill in the holes elsewhere.
Beverley's forward, honest nature will blend well with Philadelphia. If he can help the Sixers get to the Conference finals, he can jump on the scorer's table and throw his jersey into the crowd just like he did in Minnesota.
25 Best Things to Do in South Jersey — From beaches to boardwalk and everything in between