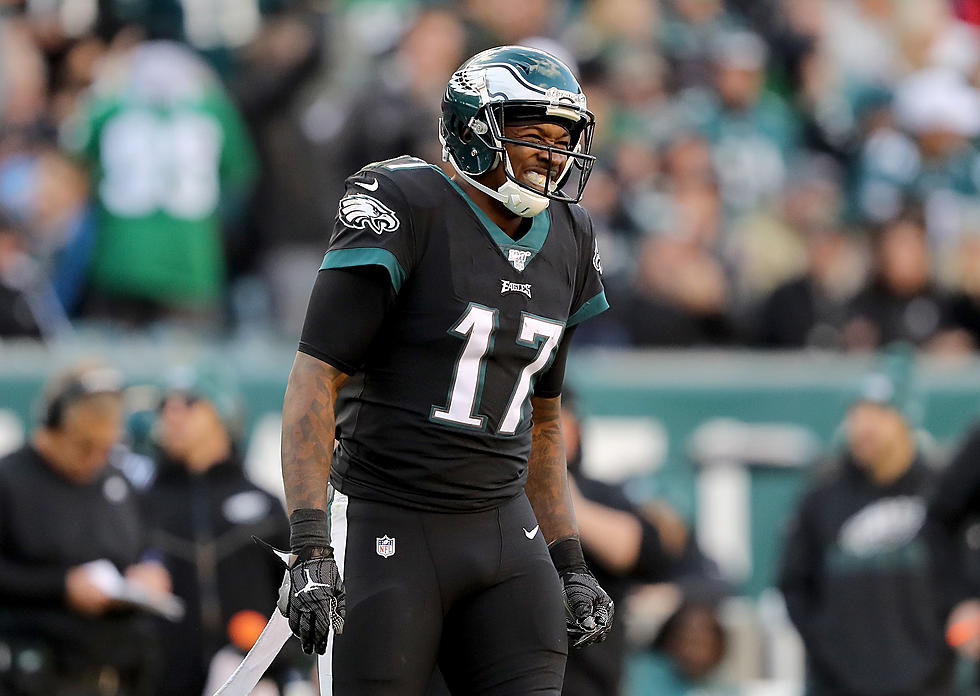 Pederson on Alshon Jeffery: 'We're Hoping to Get Him Out There Soon'
Getty Images
It was one month ago that Eagles head coach Doug Pederson said that wide receiver Alshon Jeffery was "in a really good spot."
And while he has never given an exact time-frame on when Jeffery would actually be allowed to practice, signs are pointing to Jeffery being closer to a return that maybe we initially thought.
Enter your number to get our free mobile app
"Alshon is doing extremely well," Pederson said nine days ago. "Obviously, as you guys know, there's no timetable for him. We're just trying to make sure that he's 100 percent before we return him to action. But he's doing extremely well, and he's progressing nicely where we want him to be at this particular time, and he continues to progress in the right direction."
Today Pederson provided some more insight on what Jeffery is up to while he is working his way back to the practice field.
"He's doing his on-land running. We've increased that. He's looking really good. He's feeling really good," Pederson explained.  "with the team at some point here in the near future."

"I've been impressed with his workout, with his treatment, with his rehab, and we'll see here in the next couple of weeks, but obviously as you mentioned, not going to put a timetable on him or make any decisions at this time."
So while no timetable was given, its a good sign that Jeffery could be ready to make an impact on the field sooner than later after suffering a Lisfranc foot injury late last season.  With that type of injury, some suggested that Jeffery could miss half the season before he was ready to return
About two weeks ago during Football at Four with NFL insider Adam Caplan, he suggested that Jeffery could be ready to play games in the first month of the season.
"There's a very good chance he could be back sometime in September," Caplan said on the show.
With Jeffery back, the Eagles could have a very productive group of wide receivers, if they can stay healthy.  DeSean Jackson is back after missing most of last season with a core muscle injury.  Greg Ward provided a steady pass-catcher in the slot, and early camp reports on both rookie wide out Jalen Reagor and second-year pro J.J. Arcega-Whiteside have been good.
Add in rookies John Hightowner and Quez Watkins, who could be battling each other for a roster spot, and the position definitely has a different look than 2019.
"I like where both of them are," Pederson said about the two rookie wide receivers. "They're making progress each and every day, and it's an interesting battle as we come down to this last week of camp."