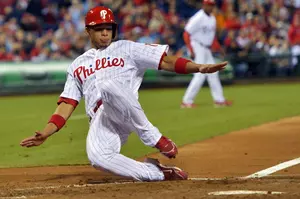 Phillies Activate Hernandez, Disable Altherr
The Phillies added back their leadoff hitter, but lost one of their most consistent bats (Drew Hallowell/Getty Images)
The Phillies got some both good news and some bad news on Monday afternoon.  The good news is that after several weeks, the Phillies will finally get Cesar Hernandez back at the top of their lineup.  However, the roster move coincides with the Phillies losing another player: outfielder Aaron Altherr.  The Phillies activated Hernandez from the 10-day disabled list, but simultaneously added Altherr to it.
Hernandez had been out since June 11, when he suffered a strained oblique injury.   The injury only heals with rest and can be aggravated easily if returning too soon.  So after five-plus weeks, Hernandez will resume his spot in the Phillies lineup tonight in Miami.
As for Altherr, he left Friday night's game after hitting an RBI double.    The diagnosis was a hamstring strain.  Altherr was said to have been available to pinch-hit on Saturday and listed day-to-day, but the Phillies appear to be erring on the side of caution.   Cameron Perkins replaced Altherr as a pinch-runner on Friday and will start for the Phillies tonight in Miami.
Meanwhile, outfielder and infielder Howie Kendrick remains sidelined with a strained oblique of his own.