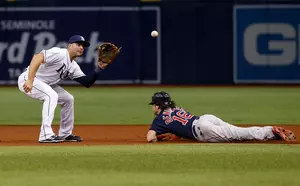 Phillies Add Veteran Infielder Espinosa, Recall Curtis
Danny Espinosa is a veteran infield option for the Phillies (Brian Blanco/Getty Images
With Phillies shortstop-turned-third baseman J.P. Crawford on the disabled list, the Phillies are thin on the left side of the infield.  The Phillies have Mitch Walding on the roster currently, but without Crawford and Pedro Florimon, the Phillies are without a employing Scott Kingery and Jesmuel Valentin at shortstop.  The Phillies announced on Friday that they have signed veteran infielder Danny Espinosa to a minor league deal.
Phillies fans may remember Espinosa with the Washington Nationals, where he spent 2010 through 2016.  For the Nationals, Espinosa played first base, second base, shortstop, third base and outfield.  After departing the Nationals, Espinosa spent 2017 with the Los Angeles Angels, Seattle Mariners and Tampa Bay Rays.
In 2018, Espinosa has spent time with the Triple-A affiliates of the Toronto Blue Jays and the Los Angeles Dodgers after spending Spring Training with the New York Yankees.
Lifetime, Espinosa has appeared in 872 major league games, batting .221 with 98 home runs.  Espinosa bats from both sides of the plate.
Espinosa will head to Triple-A Lehigh Valley first, the Phillies have announced.  Espinosa joins veterans Alexi Amarista and Trevor Plouffe in the IronPigs infield.  Espinosa could find himself in Philadelphia soon enough, should the Phillies injury woes continue.
On Thursday, Phillies pitcher Jake Thompson was inexplicably absent from the Phillies Phestival.   The club announced afterwards that Thompson was optioned to Triple-A Lehigh Valley. Thompson is 1-0 with a 7.20 earned run average for the Phillies in five games.  Thompson has two saves.
To take his place, the Phillies recalled left-handed pitcher Zac Curtis. Curtis appeared in four games for the Phillies this season.  In five and two-thirds innings, Curtis has allowed two earned runs.  At Triple-A Lehigh Valley, Curtis is 2-2 with a 2.54 earned run average in 23 games.
The Phillies now have three lefties in their bullpen in Curtis, Austin Davis and Adam Morgan after having just Moran for much of the season.