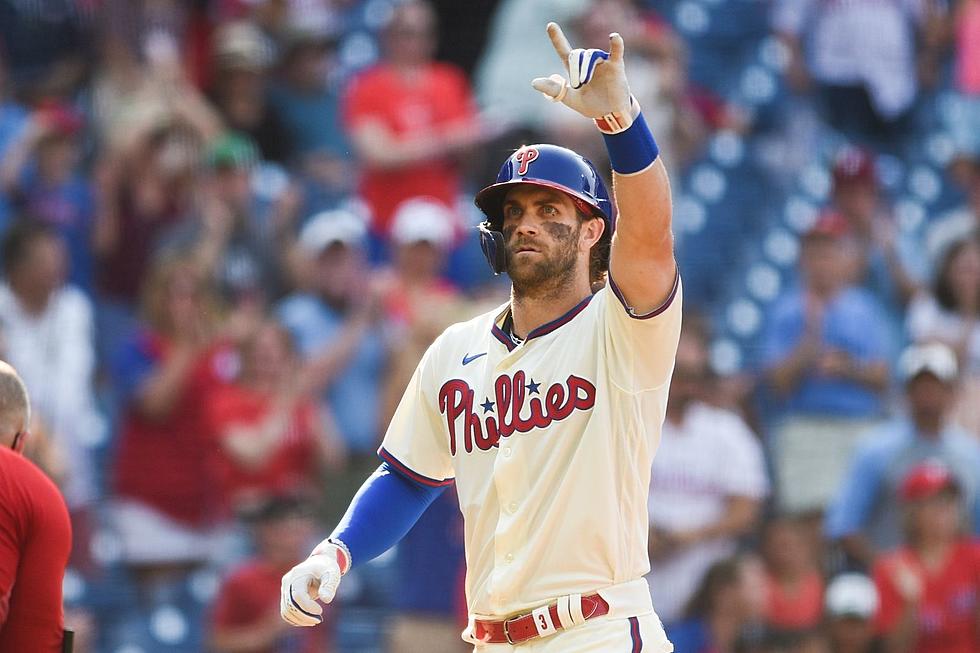 Phillies Announce 2022 Opening Day Lineup vs A's
(Photo by Cody Glenn/Getty Images)
It's go time for the 2022 Philadelphia Phillies.
A year after winning 82 games and missing the playoff for the 10th straight season, the Phillies are looking to end the longest active playoff drought in the National League.
The team that will look to end that drought has officially been announced ahead of Philadelphia's opening day game against the A's.
Here is the 2022 Phillies opening day roster, which has 28 members instead of the usual 26. That will be the case for at least a few weeks due to the shortened spring training as a result of the offseason lockout.
Pitchers (15): Left-handers – José Alvarado, Bailey Falter, Brad Hand, Damon Jones, Cristopher Sánchez and Ranger Suárez. Right-handers – Connor Brogdon, Seranthony Domínguez, Zach Eflin, Jeurys Familia, Kyle Gibson, Corey Knebel, Nick Nelson, Aaron Nola and Zack Wheeler.
Catchers (2): J.T. Realmuto and Garrett Stubbs.
Infielders (6): Alec Bohm, Johan Camargo, Didi Gregorius, Rhys Hoskins, Jean Segura and Bryson Stott.
Outfielders (5): Nick Castellanos, Bryce Harper, Mickey Moniak, Kyle Schwarber and Matt Vierling.
The biggest changes to the Phillies' pitching staff for 2022 is in the bullpen, where Brand Hand, Seranthony Dominguez and Jeurys Familia will pitch in front of new closer Corey Knebel.
The starting rotation, which was a key part in the Phillies winning 82 games last season, returns all five starting pitchers from a year ago with Aaron Nola and Zack Wheeler at the top of the rotation.The Phillies are hoping to have Kyle Gibson, Zach Eflin and Ranger Suarez for the entire year as Gibson came over in a trade and the later two spent time on the injury list.
Key 2021 contributors Bryce Harper, the N.L. MVP, J.T Realmuto and Rhys Hoskins are back for 2022, and there's new faces on the roster as well that should help the Phillies lineup be one of the best in baseball.
As far as young players go, the headliners are top prospect Bryson Stott, a top-50 prospect in all of baseball who will start at third base on Opening Day for the Philiies, and Matt Vierling, a 2021 rookie who had will get the start on Opening Day in center field. Those two will join Harper and free agent additions Kyle Schwarber and Nick Castellano to help beef up the Phillies lineup.
Here is the Opening Day lineup:
The Phillies will be without 2016 No. 1 overall pick, Mickey Moniack, who is out with a broken wrist and expected to miss 4-6 weeks. Simon Muzziotti is replacing on the roster and will provide depth in center, but has played in only a handful of games above A ball in his professional career.
Phillies MVP: Bryce Harper
Phillies Cy Young: Ranger Suarez
Phillies Wins: 88
Grab Dinner on the Island! Check Out These 25 Fantastic Margate/Ventnor, NJ Restaurants