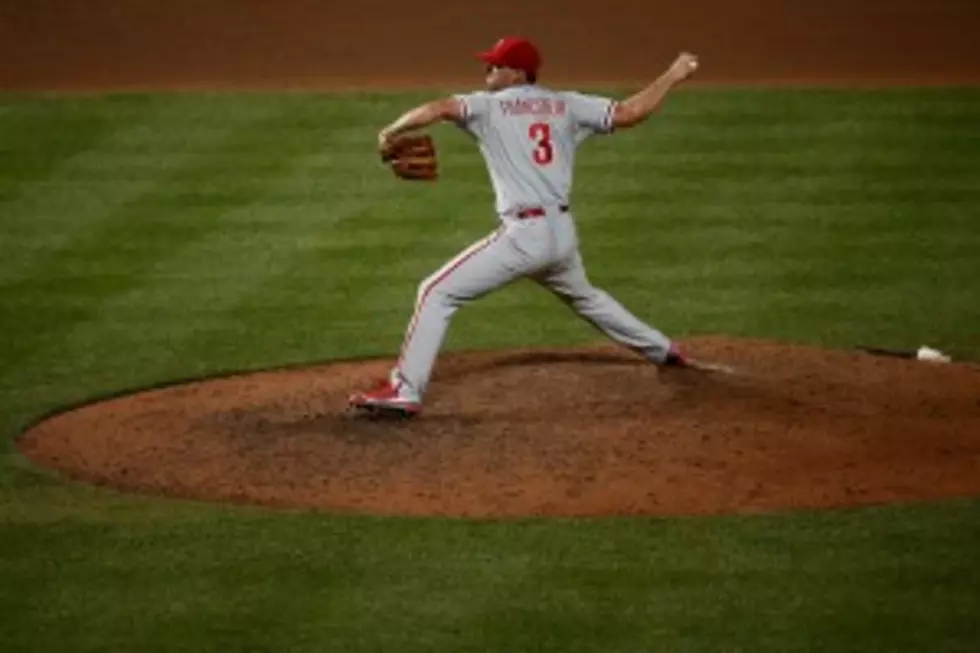 Phillies Hit Rock Bottom in Baltimore
Jeff Francoeur throws two innings, allows two runs and strikes out one to save the Phillies' bullpen in a 19-3 loss. (Photo by Rob Carr/Getty Images)
In a season of low points, the Phillies hit rock bottom last night in Baltimore.
in a 19-3 loss to the Orioles, Phillies pitchers gave up eight home runs, having to turn to outfielder Jeff Francoeur to throw two innings to help get the Phillies out of this mess.  The Phillies ended their eight game road trip 0-8, their worst road trip since 1883 - dropping their season record to 22-44, worst in the major.
"I almost don't know what to say," Phillies manager Ryne Sandberg told reporters in Baltimore last night.
The team has now used nine starting pitchers this season, with Jerome Williams leaving the game with a strained hamstring after 0.2 innings pitched and six runs, the Phillies will most likely have to find another journeyman to fill his spot next week.
After Williams debacle, the Phillies turned to Dustin McGowan who promptly gave up five home runs, the it was Justin De Fratus was ejected from the game for intentionally throwing a pitch at J.J. Hardy after surrendering the seventh home run of the game.
In maybe one of the most embarrassing moments of the season, with Francoeur's pitch count rising, pitching coach Bob McClure started waving a white towel out to the bullpen, he then went to the mound to talk to him, during the mound meeting, a visibly upset Chase Utley was giving him the business - the Phillies had nobody warming up in the bullpen.
Phillies manager Ryne Sandberg admitted after the game that the bullpen phone was off-the-hook.
"This is the worst road trip I have ever been on as far as the way we lost games," Francoeur told reporters after the game.
The worst road trip, during one of the worst seasons on the worst team in baseball.