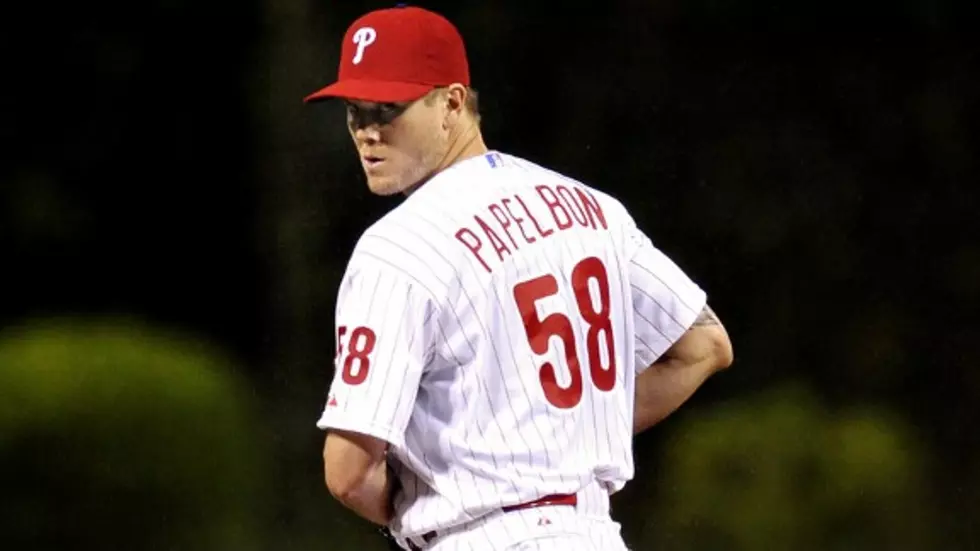 Phillies Implode in the 9th, Fall To Marlins 5-4
Jonathan Papelbon leaves the Phillies as their all-time saves leader. (Getty images)
PHILADELPHIA -- Jonathan Papelbon lost the lead and then lost his cool.
The Phillies closer made a lewd gesture to fans and was ejected after giving up four runs in the ninth inning during Philadelphia's 5-4 loss to the Miami Marlins on Sunday.
Papelbon grabbed his crotch as he walked to the dugout and was ejected by crew chief Joe West. He jogged out of the dugout and got into a face-to-face argument with West, who grasped the pitcher's jersey to hold him off, and Papelbon then argued with first base umpire Marty Foster. Papelbon threw a cup of liquid on the field before leaving the dugout.
"I told him 'You've got to go,' " West said. "And then he charged out of the dugout and his head bumped into my hat. And I grabbed him and I said, 'Get off of me.'
"The whole thing started because the fans booed him and he made an obscene gesture. He had no business doing that. He's got to be more professional than that. And that's why he was ejected."
Papelbon denied gesturing lewdly toward fans and said boos had no impact on him.
"This is baseball," Papelbon said. "I had to make an adjustment and I did it and by no means am I directing anything at any fans. ... When I'm out there and in the moment, the fans are irrelevant to me. I don't see them. I don't hear them. To me, this is pretty stupid, to be totally honest with you.
"They pay money, they want to see a good game and they have the right to boo and do whatever they want to do, but when an umpire gets caught up in that and starts trying to look for extra things he may think are going on -- just umpire the game."
Papelbon (2-3) had converted 14 straight save chances since July 22 when he entered with a 4-1 lead. He allowed five of his first six batters to reach, giving up Jarrod Saltalamacchia's double, Enrique Hernandez's walk, Adeiny Hechavarria's infield single, Jordany Valdespin's RBI groundout, Christian Yelich's run-scoring infield single and pinch-hitter Justin Bour's tying single.
After Casey McGehee struck out, Papelbon bounced a wild pitch past catcher Carlos Ruiz as Yelich scored the go-ahead run. Papelbon retired Marcell Ozuna on an inning-ending groundout.
Papelbon blew a save for the fourth time in 41 chances this season. He had been 18 for 18 in career save chances against the Marlins.
Anthony DeSclafani (2-2) got the final out of the eighth for the win.
Steve Cishek walked Freddy Galvis leading off the bottom half and allowed Cody Asche's single, then struck out Ben Revere, Maikel Franco and Chase Utley for his 35th save in 39 chances. Revere and Utley took called third strikes.
Miami stopped a four-game losing streak. The Marlins had not won since Giancarlo Stantontook a fastball to the face on Thursday.
"It's probably the biggest win of the year for us," Miami manager Mike Redmond said. "It's been very emotional the last few days. We needed a win."
Franco's RBI single in the third put Philadelphia ahead, but Hernandez's homer tied the score in the fourth. The Phillies opened a 3-1 lead in the fourth on Domonic Brown's run-scoring, double-play grounder and Ruiz's RBI single, and Utley hit into a run-scoring fielder's choice in the eighth.
Phillies starter David Buchanan allowed one run and five hits in 6 1/3 innings, and Marlins starter Tom Koehler gave up three runs -- two earned -- and seven hits in six innings.
Phillies: SS Jimmy Rollins sat out a sixth consecutive game and has not played since straining his left hamstring on Sept. 8.
Phillies: RHP Jerome Williams (3-1) takes the mound in the opener of Philadelphia's 10-game West Coast trip. He faces San Diego's Andrew Cashner (3-7).
Marlins: RHP Jarred Cosart (13-9), who has won four of six decisions since he was acquired from Houston, gets the ball in Miami's series opener with New York. He opposes RHP Jacob deGrom (8-6).
Yelich slid on the warning track in left-center near the 387-foot sign for a sliding backhand catch of Ruiz's drive in the second.
Revere swiped second base in the first and eighth innings, giving him a career-high 45 steals.
(Copyright 2014 The Associated Press. All rights reserved. This material may not be published, broadcast, rewritten or redistributed.)