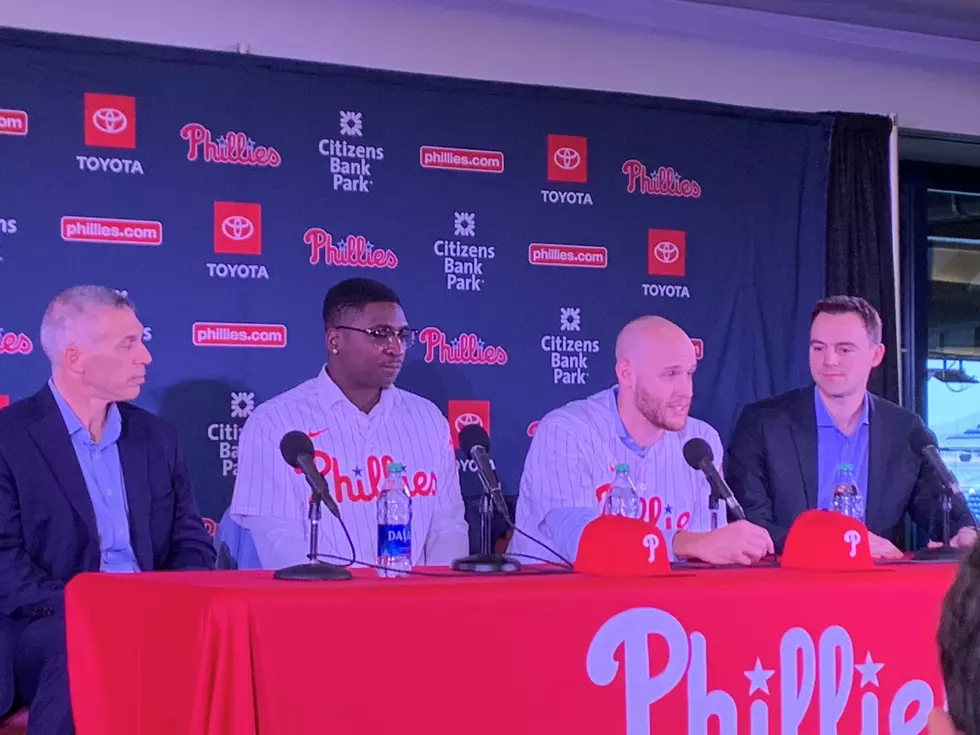 Phillies Introduce Didi Gregorius and Zack Wheeler
The Phillies introduced free agents Didi Gregorius and Zach Wheeler (Frank Klose/Sports Talk Philly)
PHILADELPHIA - The Phillies held a Monday press conference to introduce newly-signed free agents Zach Wheeler and Didi Gregorius.  Also making its debut: the new Nike uniforms the Phillies will be wearing in 2020.  Wheeler put on a new Nike number 45 jersey, while Gregorius put on a number 18 jersey.   The discussion that ensued showed some interesting insights about some of the key questions about where the team is headed this offseason and beyond.
Are the Phillies trying to avoid the "Luxury Tax" threshold?
Although there are no verifiable numbers, many calculations in the industry have the Phillies about $6 million or so from the 2020 Competitive Balance Tax threshold of $208 million.  The Phillies did not rule out going over the threshold; instead, Phillies general manager Matt Klentak said that the team would be "opportunistic" about adding other players.
Where will Didi Gregorius bat in the Phillies lineup?
Phillies manager Joe Girardi remarked that every night he lays down in bed he thinks about it.  But he had an answer for where Gregorius will bat: third, fourth, or fifth.  The last three seasons, Gregorius mostly batted third (363 at bats), though he had almost as many games in the number four spot of the order (330), followed by the fifth spot (285).  Gregorius batted sixth 246 times in that span.
But the one thing that could make a big difference in the lineup are potential rule changes.  A proposed rule will make a relief pitcher pitch to three batters in a given inning before being removed.  Therefore, Girardi said that in that case he will look to spread the lefties out a little bit.
What will the starting rotation look like in 2020?
The Phillies brass indicated that Wheeler, Aaron Nola and Jake Arrieta will anchor the starting rotation.  The remaining two spots would go to some combination of Nick Pivetta, Zach Eflin and Vince Velasquez.  They are currently on the Phillies roster.  But could that changed?
The Philadelphia Inquirer's Matt Breen asked how, when the aforementioned three names let the team down last year, would they commit to the same three players?  At that point Klentak said that they were "not necessarily" done adding starting pitchers at this point and there could be others in the mix.
What drew both players to Philadelphia? Were there better offers?
Girardi spent some time recruiting Wheeler.  The two had multiple phone conversations.  Girardi mentioned he tried to sell Wheeler on the "family atmosphere" in Philadelphia in the organization and the fans, referencing changes ahead in Wheeler's life.  Wheeler is currently engaged to be married.
Asked by 97.3 ESPN why he would choose Philadelphia over what reportedly were bigger offers elsewhere, Wheeler spoke about being drawn to the City of Philadelphia.
"The City. You saw when they won a Super Bowl, the city was going wild..and, just playing here throughout the years, they love their sports around here.  I want to bring a winning atmosphere back to here. I think it will be a lot of fun".
But Girardi "didn't have to" call Gregorius.  Gregorius spoke first about wanting to reunite with his former manager.  When tasked with replacing the iconic Derek Jeter in New York, Gregorius struggled at first.  But Girardi showed confidence in Gregorius and told him that he would be his starting shortstop and not to worry.  That allowed Gregorius to get his feet under him.