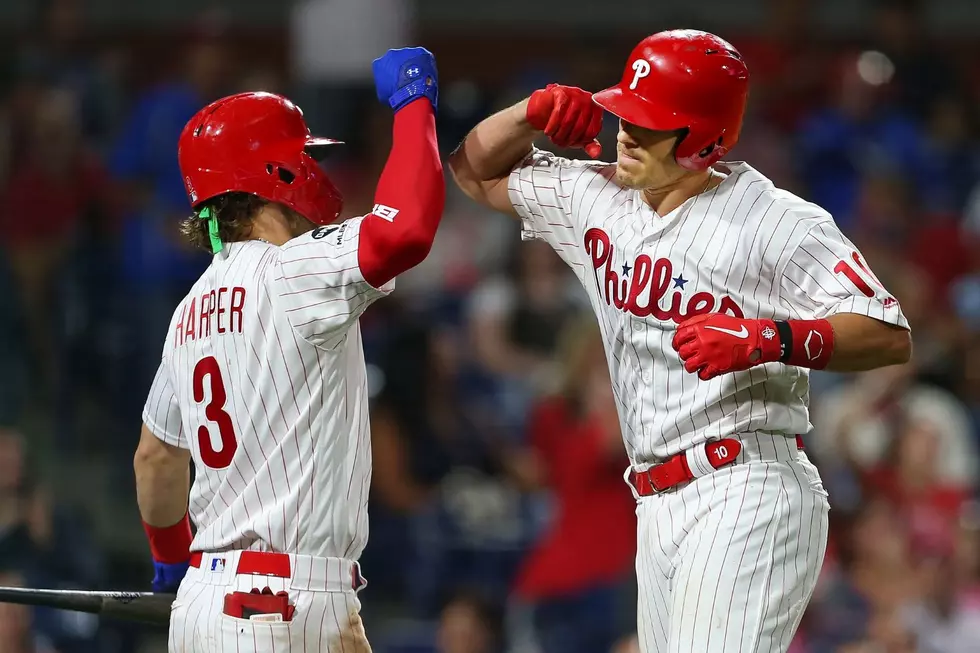 Phillies' Lineup for Game 1 vs the Marlins
Photo by Rich Schultz/Getty Images
The Philadelphia Phillies' first lineup of the 2020 Major League Baseball season is here.
Enter your number to get our free mobile app
It's been a very long and bizarre offseason, so here it is, Game 1:
It sure has a little different look than a season ago, with Rhys Hoskins hitting in the No. 2 spot in the order and J.T. Realmuto in the No. 4 hole. The addition of the DH to the N.L. is also new in 2020, with Jay Bruce handling that role and hitting in the No. 7 spot in the order.
• Roman Quinn is in center field ahead of Adam Haseley and hitting in the No. 9 spot in the order.
• After bouncing all over the diamond his first two season under Gabe Kapler, Joe Girardi has Scott Kingery at his more customary second base following last year's experiment in the outfield and third base.
• Jean Segura will play third base instead shortstop and hit in the sixth spot in the order.
• Former N.L. MVP Bryce Harper is hitting third after a strong spring. The 27-year-old had a solid 2019, hitting .260 with 25 home runs and 114 RBI in his first season in Philadelphia.
• Veteran slugger Didi Gregorius, an offseason acquisition from New York, is in the five spot behind Realmuto. The 29-year-old shortstop returned from Tommy John elbow surgery this past June and went on to bat .238 with 16 home runs and 61 RBI in 82 games for the Yankees.
• On the mound is Aaron Nola, making his third straight Opening Day start for the Phillies.
Phillies First-Round Picks Since 2000