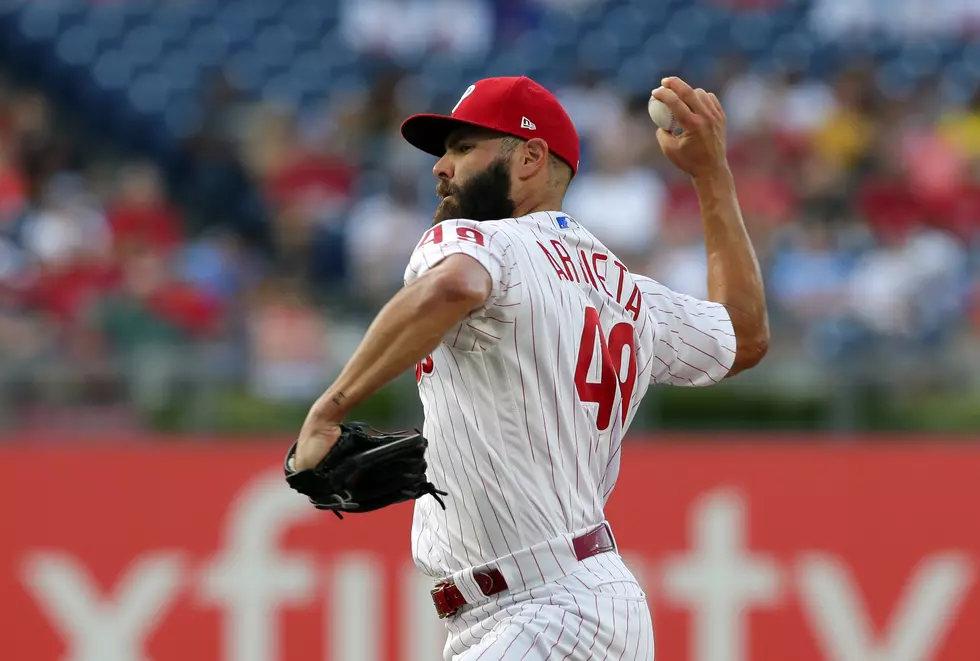 Phillies' Lose Another Starter as Jake Arrieta Leaves with Injury
Photo by Hunter Martin/Getty Images
The Phillies will likely be without another starting pitcher as starter Jake Arrieta had to leave Tuesday's start against the Mets with a Grade 1 strain of his right hamstring.
Arriets says he hopes to return if the Phillies are able to make the playoffs.  They are currently the No. 7 seed in the eight team N.L. playoff field.
Enter your number to get our free mobile app
"I'm going to do everything in my power with the treatment, with soft-tissue work," said the veteran right-hander. "I don't intend to miss too much time."
Arrieta suffered the injury in the sixth inning of his start Tuesday night against the Mets,
With Arrieta and Spence Howard out, the Phillies did get some good news. Zack Wheeler has been cleared to start today against the Mets after injuring his fingernail last week in Miami putting on his pants. Getting Wheeler back is a huge boost to the rotation, the 30-year-old right-hander has lived up to his hefty contract, with a 2.47 ERA, 1.098 WHIP in 51 innings this season.
Who fills Arrieta's spot in the rotation is anyone's guess.  Vince Velazquez figures to fill the Howard spot in the rotation.
Meaning Nola and Wheeler would be in line to start six times over the final 14, meaning the Phillies will need to fill eight other games. Zach Eflin figures to get a pair of starts with Velazquez getting at least one more start. That leaves three more starts that would have gone to Arrieta that would need to be filled.
So many questions, so little time.
KEEP READING: Phillies Major Award Winners Since 1980