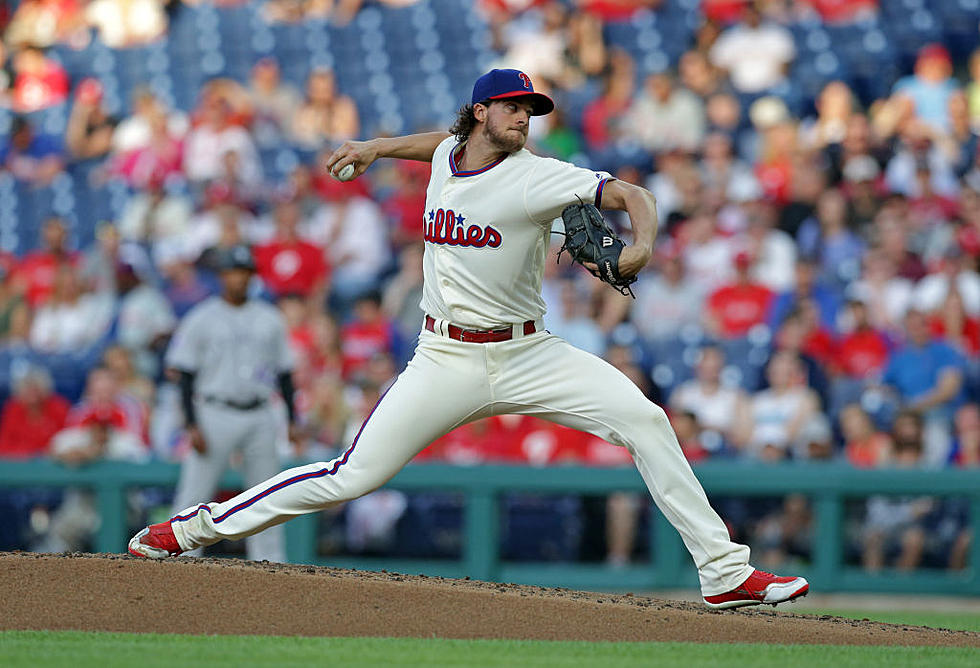 Phillies Mailbag: All-Stars, Machado, De Los Santos
Photo by Hunter Martin/Getty Images
We are back once again with the 97.3 ESPN Phillies mailbag. Send your questions to the 97.3 ESPN text board at 609-403-0973 or send them to @FrankKlose on Twitter. Each week on Tuesday afternoon we answer your questions on the air during the Sports Bash with Mike Gill.
How does a first place Phillies team only have one All-Star?
~Vince
First and foremost, the Phillies certainly have a deserving All-Star in Aaron Nola.  With last night's win, he is now 12-2.  His ESPN player card projects him to have 22 wins by season's end (though that's simply pulling out current stats over the year).  That would be the most since Roy Halladay patrolled the mound at Citizens Bank Park.
But beyond Nola, who might be an All-Star?
Odubel Herrera seemed destined to be an All-Star when he was batting .358 on May 18.  But since then, Herrera has fallen back to earth.   Herrera batted just .236 in June and only .188 so far in July.  He cannot be named an All-Star with those numbers.
But beyond that, Carlos Santana had a tough month of April, with a .540 OPS.  But Santana has brought his OPS up to just shy of .800 in recent weeks after that rough start.  He might have been considered if he had been consistent.
Consistent play is what makes an All-Star team.
But feel bad for Blake Snell of the Tampa Bay Rays.  Snell currently leads the American League in earned run average and currently sits at 12-4 with a 2.09 earned run average.  That is a snub.
Should we be worried about Manny Machado joining another team in that he might sign there?
~David
The latest trade rumors have the New York Yankees in the Manny Machado trade mix, with the likes of the Los Angeles Dodgers, Chicago Cubs, Arizona Diamondbacks and the Cleveland Indians and Milwaukee Brewers all involved in discussions.  Increasingly, the Phillies have been called "longshots" and a trade called "unlikely".  But depending who the team is who acquiring Machado is, I might be worried about him signing there if I'm a hopeful Phillies fan.
Of those teams named, it appears that the Yankees might be one who could grab hold of Machado and never let go.   The others do not feel like long-term destinations.   The Cubs may not have luxury tax space.  The Dodgers have the same problem, and have Justin Turner and Corey Seager on the left side of the infield when healthy.
The Diamondbacks, Indians and Brewers may not have the financial ability to land Machado.
I cannot help but think back to one trade deadline back in 1997.  The St. Louis Cardinals rolled the dice and traded for Oakland Athletics star Mark McGwire.  The Cardinals were not exactly contenders.  But McGwire brought a breath of fresh air to the Cardinals and McGwire re-signed with the Cardinals after having a tremendous experience there.
The same could happen to Machado anywhere.  There is something to be said for having a head start in getting players into one's organization.  It could end up making a difference in Machado in the end.  It's not possible to simply assume that Machado will sign with an organization later.
What can we expect from De Los Santos Tuesday and the rest of the year?
~Darren
De Los Santos was one of the most effective arms in the International League this year.  At 9-3 with a 1.89 earned run average, De Los Santos pitched well enough to be named the starter of the International League All-Star game and to be named to the Futures game.
De Los Santos may still get to do so, but it will not be until he makes a start for the Phillies on Tuesday.
Expect the Phillies to keep De Los Santos at Triple-A after Tuesday's spot start.  Vince Velasquez should be back on Wednesday, barring any unforeseen setbacks. He will resume his rotation spot then, replacing De Los Santos on the roster.
De Los Stantos could be trade bait later this season. The Phillies could take a .236-hitting shortstop in Freddy Galvis and convert that asset into a greater asset later.  The Phillies did really well in that deal, and De Los Santos could help them acquire a big name later with a performance like that.
Hopefully he does well and keeps that value high.  Or, he may help them in a starting rotation down the line.  But this is a one-time start until Velasquez comes back.  The rest will work itself out later.