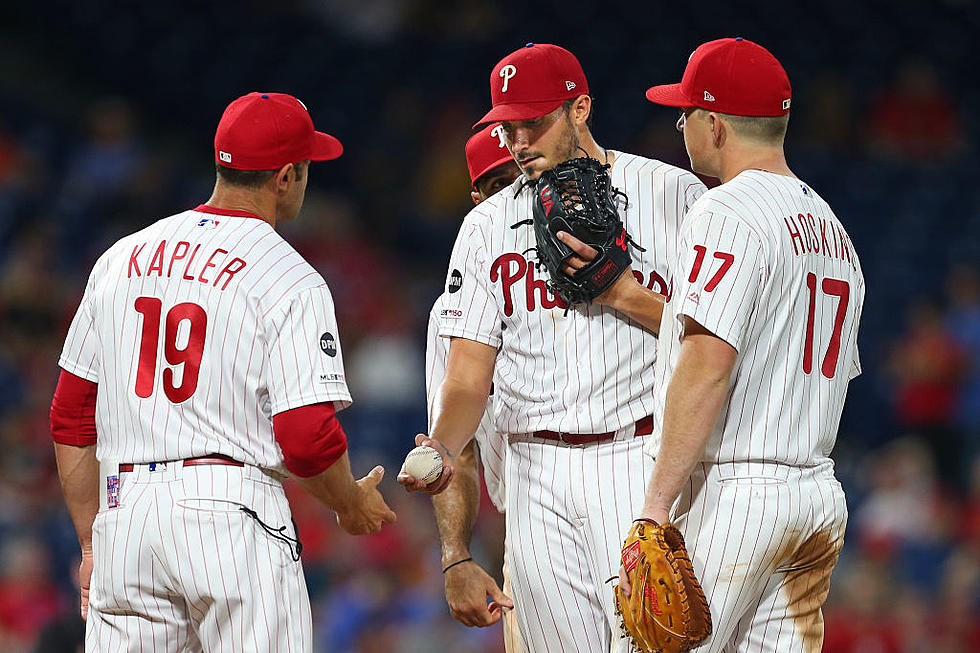 Phillies Mailbag: Change Ahead? Analytics, Pitching
Are there changes ahead? (Rich SchultzGetty Images)
We are back with a season wrap-up edition of the 97.3 ESPN Phillies mailbag. Each week we take your questions and talk about them on the Sports Bash with Mike Gill every Tuesday during the Phillies season. Send your questions anytime on Twitter to @FrankKlose or send a text to the text board at 609-403-0973.
If/ when the Phillies let go of the general manager and Kapler when would that happen? If we get to say November 15th is it safe to say they will both be back?
~Todd
The Phillies season ended in disappointing fashion on Sunday afternoon.  But even though that is when the season ended for many teams, we have already learned of some managerial dismissals.  Clint Hurdle with the Pittsburgh Pirates. Brad Ausmus with the Los Angeles Angels.  And of course, Joe Maddon with the Chicago Cubs.
We previously knew about firing of Andy Green in San Diego, along with retirements of Bruce Bochy in San Francisco and Ned Yost in Kansas City.
Should the Phillies make a move, expect that to happy really soon.  The reason these types of moves have been made is so that teams can get moving on their offseason plan.  That cannot begin until a manager is in place, if not a general manager.
Phillies owner John Middleton has been around the Phillies in recent days.  He traveled to Washington D.C. for the penultimate series and finale at home.  I can see Middleton gathering information to make a decision. Matt Gelb of the Athletic says the decision will come from Middleton:
The Kapler decision, according to multiple team sources, is in Middleton's hands. The owner was present last week for organizational meetings held in a conference room outside of Washington while the team was in town.
The fact that nothing has been said yet makes me wonder if Middleton is considering more.
If Middleton does make changes, expect him to ask the baseball people he would lean on.  Namely, Larry Bowa and Charlie Manuel are two Middleton likely trusts.  The two of them were out to dinner yesterday, according to a Manuel Tweet.  They're around for one reason or another if not that.
Some have suggested that the Phillies would not be so cruel as to fire Kapler on the Jewish holiday of Rosh Hashanah.  Kapler is Jewish.  The holiday began at sundown on Sunday.and ends at sundown tonight.
But, if the decision is really in Middleton's hands, he could simply be gathering information.  Maybe he is considering wider changes, including the front office.  Either way, something should come out sooner or later about how the Phillies are moving forward.  They will not want to miss out on potential candidates to other teams if they make a change.
Why would a fan base who is tired of "that analytics stuff" want to oust Kapler for Joe Maddon?
~Rick
This is a good question.  I would recommend fans avoid taking such an extreme position about analytics.  There can be a real balance of the information available and someone making managerial decisions with a good feel for the game.
Jim Fregosi used analytics when he platooned Jim Eisenreich and Wes Chamberlain in right field and Pete Incaviglia and Milt Thompson in left field.  They went to the World Series.  Charlie Manuel spoke of trying to get under the baseball before "launch angle" was a thing.  Now that it's a widespread science, I do not think it is going to go away.
People have learned that the "productive out" over a long sample size does not actually really produce more runs.  The end result is that we often see baseball that involves waiting around for a big hit.  That's not a Kapler thing, that's not a Maddon thing; it's part of the game now.
Unfortunately, some do not find the game to be as fun.
I think it is important to have as much information to work with as possible. Jim Thome and Ryan Howard were earlier recipients of defensive shifts.  People learned there was a trend in where they hit the ball and played defense to avoid that.  That simply makes sense; I even do this playing softball when we know we have a lefty batter who hits to right field regularly.
The analytics will show that there are certain spots where Rhys Hoskins simply is not hitting pitches.  That is information that will help him adjust and try to overcome that next year.  That is analytics.
We learned from Matt Gelb's piece on The Athletic the other day that on the pitching side of things, the players seemed overwhelmed with data.  Last season, it took the trust the players had in veteran pitching coach Rick Kranitz to pass ideas through.  That might have been a problem this year with Chris Young.
So, whether it is Joe Maddon or someone else, expect the reality of the data available to influence games.
What I think will make fans happy is winning.  Manuel was not a popular manager for his first two seasons.  Once the Phillies made the playoffs, any complaints were gone.  Just win; that will make things all better.
By the way, I think Maddon is going to manage the Angels next year.
Who starts the game 2 of next season behind Aaron Nola? Assuredly, hopefully, someone not currently on the roster?
~Dominic
The Phillies absolutely must find something better next season in the pitching realm, and they must do with impact.  Somehow, the front office thought that despite the rough 2018 from the back-end of the starting rotation, the team did not need to improve upon the trio of Vince Velasquez, Nick Pivetta, and Zach Eflin.
Even worse, the only depth the Phillies had behind them was the oft-injured Jerad Eickhoff.
I went through all 162 box scores to track the pitching performance of starters.  It is really eye opening.  Here is who made the starts along with the number of starts:
Aaron Nola (34)
Zach Eflin (28)
Jake Arrieta (24)
Vince Velasquez (23)
Nick Pivetta (13)
Drew Smily (12)
Jason Vargas (11)
Jerad Eickhoff (10)
Cole Irvin (3)
Blake Parker (2)
Jose Alvarez (1)
Enyel De Los Santos (1)
Aaron Nola is the only pitcher to pitch the full season in the rotation.  Of the above, I would keep Zach Eflin as a back-end option, and Jake Arreita is not going anywhere, and I would place him at the back-end.  The Phillies need two reliable starters.
Looking at why the Phillies failed in 2019, I place the blame square on the starting rotation.  Here are a couple mind-boggling stats about their performance in 2019:
Starters failed to finish five whole innings 45 times
Starters allowed three runs or fewer 82 times
It was feast or famine in 2019. Think about it: those 45 starts that were complete clunkers made all the difference.  Yes, the Phillies lost some of the starts where starters allowed three or fewer runs, but for the most part won those games.  The Phillies need to improve upon the poor starts.
Vince Velasquez averaged 4.65 innings per start, pitching most of a season in the rotation.
I would argue that the Phillies need two solid starter plus more depth in the system.  The fact that the Phillies had to give Jose Alvarez, Blake Parker, and Enyel De Los Santos starts along the way shows how little they have. Cole Irvin made three, too.
The Phillies won 81 games.  How many more could they have won if in 45 starts the starting pitcher made it at least five innings?