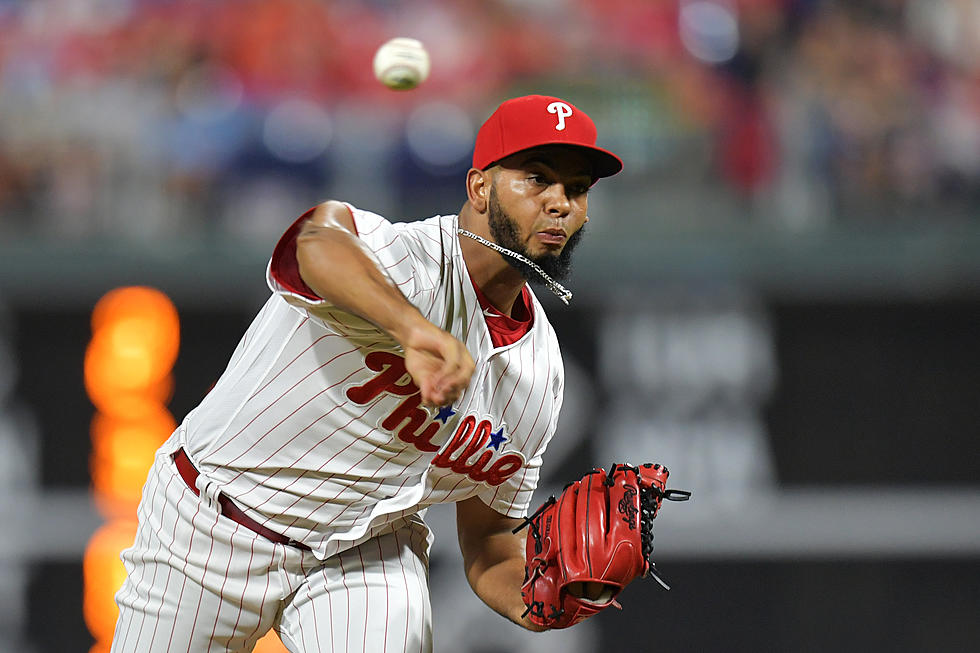 Phillies Mailbag: Dominguez, Realmuto, Trade Deadline
Seranthony Dominguez. (Photo by Drew Hallowell/Getty Images)
We are back once again with the 97.3 ESPN Phillies mailbag.  We take your questions each week and answer them on The Sports Bash with Mike Gill.  Tune in each Tuesday at 2:40 p.m. to hear your question answered on the air.
How long until Seranthony Dominguez is named the closer?
~Dave
We got our first 2022 look at Seranthony Dominguez in the Phillies closer role Monday night when he entered the ninth inning of 2-2 tie with the Miami Marlins.  That is not necessarily a promotion on his merit, however.  Instead, he was filling the role for Corey Knebel, who was briefly shut down with shoulder stiffness.
But Dominguez sure has performed like the bullpen ace for the Phillies.  In 24 appearances, he is 4-1 with a 1.54 ERA.  He has struck out 30 in 23 1/3 innings.  Very impressive.
Dominguez held down the closer's role in his rookie season of 2018, saving 16 games after Hector Neris struggled to hang onto his closer role.  We know that he can do it, if healthy.  But I think that the Phillies will stick with Knebel a bit longer.
The Phillies made a $10 million investment in Knebel.  If the stiff shoulder led to his recent struggles, I think they'll give him time to be ready and re-claim the job.  But if he's unable to hold it down, I think Dominguez is a top candidate.
The problem with that is: Who's going to replace Dominguez?
What are the Phillies going to do about J.T. Realmuto?
~Evan
Well, this is a tough question.  The Phillies are paying J.T. Realmuto to be an elite player.  In 2022, he has not been exactly elite at all times.  But, there is some good news in what is a bit of a "down" year for Realmuto.
The Phillies surely envisioned more than a .244 batting average and .682 OPS.   And those of us watching the games know that he has come up small in a few big situations lately.
The good news: Realmuto's 1.4 WAR is second among those at the catcher position. William Contreras has been top, with a 2.2 WAR mark, some of it coming at the designated hitter position.  Alejandro Kirk comes in at 1.8 (including DH time), and Jose Trevino is at 1.7.
So Realmuto has still been a top-five catcher.
I will also add this: He has been a top catcher in the game for many years now and should be in the middle of his prime.  But if he's slumping, it's reasonable to believe that he has a chance to come out of it.
As the Phillies surge forward, that might be a nice bonus coming down the line.  But it is good to remember too: he's calling a good game and adding value behind the plate.  That still matters a good deal.
Just when I was out, they pull me back in.  I didn't think there was any way the Phillies could pull me back in.  Quite a remarkable turnaround.  What do you think the trade deadline will look like for the Phillies?
~James
I think that the way things are going, the Phillies could be potential buyers at this trade deadline.   The Phillies do not have a lot to trade in terms of prospects that might keep them from acquiring some of the bigger names that might be out there.  But there is something else to keep in mind this year:  More teams will be "in it" thanks to the extra Wild Card.
Last year's 82-80 Phillies would have made the playoffs.  The way teams are trending in 2022, I think it might take a little more than that.   But the Phillies winning at their current percentage - .508 - would take them back to that mark.  And we know that the Phillies still have ground to make up in a Wild Card chase.
Five teams in the NL outside of the division leaders have winning records.  Four do in the AL.  Add those to six division winners and that means that half of MLB will be in contention, not counting any teams under the .500 mark that could go on a winning streak and make up ground.
In other words: there will be a lot of competition for trades, and fewer teams will be willing to trade players.  This will make for an interesting deadline.
I think the Phillies will look for some relief help (as usual). Depending on the health of those on the team, they might look for a backup middle infielder or center fielder. Someone who can do both like a Jorge Mateo might be nice.
But if there will be an impact-type player, the Phillies might have to use their financial strength to make a deal, as their prospect supply remains limited.