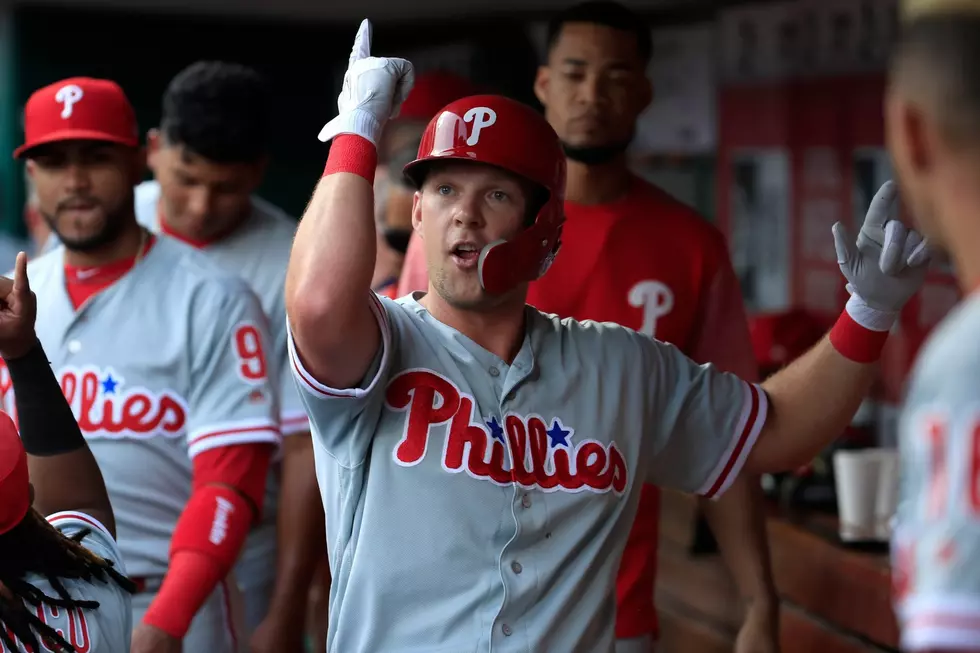 Phillies Mailbag: Future of Hoskins, MVP, Playoffs
Photo by Andy Lyons/Getty Images
We are back once again with the 97.3 ESPN Phillies Mailbag.  Each week we take your questions and answer them on The Sports Bash with Mike Gill.  Tune in Tuesday afternoons to hear your questions answered on the air.
What is your opinion on bringing Rhys Hoskins back next year?
~James 
While it's impossible to forget all that Rhys Hoskins brought to the team, and while it's clear that the Phillies really missed him this year, I would have to say that I would not bring Hoskins back.  It's not because I do not like him.  It's not because I do not think that he will be a good pickup for somebody.  I think he is no longer a fit.
The Phillies really struggled with defense in the past.  The play of Hoskins at first base has been up and down.  After being ranked the worst first basemen in defensive runs saved in 2021 with -6, he showed great improvement in 2022, finishing with +3 defensive runs saved.  But after a year away, what kind of defense would the Phillies expect?
That is hard to say.
I would still think that the Phillies need to improve their defense.  Kyle Schwarber needs to be a designated hitter, and he is signed for two more seasons.  I think that the safest thing to do is put Hoskins at designated hitter as well.
Then there's the question of Bryce Harper: will he stick at first base permanently? I  think that's a real possibility.  But even if Harper plays left field, would it make better sense to play Alec Bohm at first base and find a defensive third basemen?
For many reasons, I think it's probably time for Hoskins to move on to a place where he can serve as a designated hitter.  He might be a nice fit in San Francisco.
Who is the Phillies 2023 MVP? I think you would get 6 or 7 different answers if you asked 100 people.
~Drew
This is a really good question, Drew.  In fact, I think if you had to ask me right now, I do not have a good answer for you.  While Nick Castellanos carried the Phillies for a stretch, we are seeing Bryce Harper doing so now.  And among the starting pitching, Aaron Nola and Zack Wheeler each have had their ups and downs, even if more ups.
I think that this story will answer itself down the stretch.  If Harper and his newfound power end up carrying the Phillies for another four weeks? I think the case can be made for Harper if he does so.
Not to mention - Harper's absence was definitely felt during the first part of the season.  There's a reason that the Phillies are surging as he gets to be his old offensive self.  And having him in the field - and his back healthy - would go a long way.
Who will be the most important player in the playoffs?
~Hunter
I think that the most important player will be whoever steps up and takes the third spot in the rotation.  As we saw the last few days, the Phillies can still get big games from Zack Wheeler and Aaron Nola.  Behind them, who will it be?
Taijuan Walker still seems to struggle a little bit out of the gate in the first inning.  He battled through the tough first inning and hung in there afterward to get the victory on Monday night.  If he can figure that out, he might be the reliable third arm.
Ranger Suárez is on the mend and working his way back.  While the story of 2023 for Suárez has been one of injury, there is still time to get it together.  His success was the story of 2022 and why the Phillies made it to the World Series.
There is still time for Michael Lorenzen to show that he is it, too.  He dazzled Phillies fans with the two best starts of his career to open his Philadelphia career.  The second couple have been less than that, but he will be an important piece down the stretch and that could translate into what could be Lorenzen's first ever playoff appearance since 2 2/3 scoreless innings with the Reds in 2020.