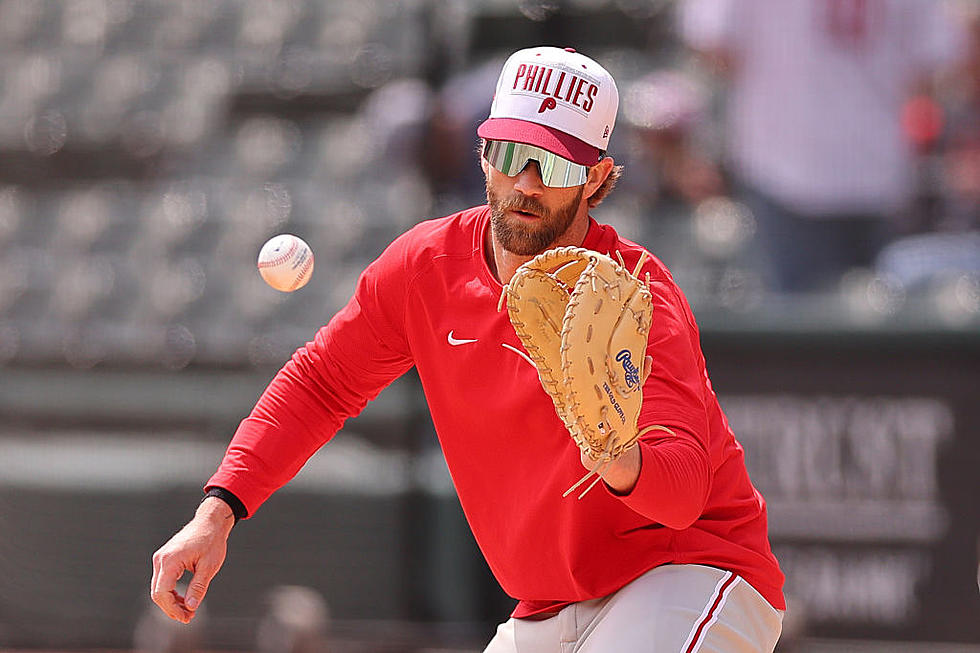 Phillies Mailbag: Harper at First, Arenado, Trade Deadline
Bryce Harper's return to the field is imminent (Michael Reaves/Getty Images)
We are back once again with the 97.3 ESPN Phillies mailbag.  Each week we take your questions and answer them on the Sports Bash with Mike Gill.  Tune in Tuesdays to hear your questions answered on the air.  Ask your questions at any time to @FrankKlose on Twitter.
They're running out of time to see if Bryce Harper can play first base. They need to know which way they're going to go at the deadline.  When will this happen?
~Jim
It appears that we will finally see Bryce Harper at first base this week against the Milwaukee Brewers.  It is indeed important to get a look at  Harper at first base prior to the July 31 trade deadline to best assess their needs.
I would think that Harper would not play every day, however.  The Phillies will face Julio Teheran (who is eight starts into a comeback - remember him?), TBD, and Corbin Burnes this week at Citizens Bank Park.  The TBD is for Wade Miley's scheduled start; Miley is headed to the Injured List.
Right-handed pitcher Colin Rea possibly could take Miley's start.
I brought that up because I would expect to almost see a platoon at the beginning of Harper's time at the position.  Against a left-handed pitcher, Harper would be in the lineup.  The Phillies would not likely put Darick Hall in the lineup against a lefty.
If Rea is the sub, that would make righties the whole series long.  So I would think the Phillies might just pick days so Harper does not play the position back-to-back to start.
I wouldn't be surprised to see Harper at the position tonight and Thursday, which may have been the plan with Miley scheduled Wednesday.  The Phillies can either keep Kyle Schwarber in left field for these games and use Hall as the designated hitter.  Or, they could give Johan Rojas some time.
Since the Phillies are missing a lefty, they might just divide it up.
What do you think about Nolan Arenado?
~James
Well, I would sure love third baseman Nolan Arenado (and probably any team in Major League Baseball would).  The Phillies may be out for a right-handed bat.  But I do not think that either he, nor Paul Goldschmidt can be had from St. Louis Cardinals in trade.
The St. Louis Cardinals are a popular name to come up in trade talk because they are performing well-below expectations in 2023.  After 94 games, the Cardinals are 41-53, which puts them 11 games out of first base in the National League Central.   They are used to much better.
And because they are so used to much better, they will hope to win in 2024.  The best chance for them to win in 2024 is to have Arenado and Goldschmidt in their lineup every day.  Therefore, they will probably stay.
"We're going to trade people," Cardinals president John Mozelak declared the other day.  He also cautioned that the Cardinals were "not waving the white flag".
Translation: they will trade pending free agents, and maybe that's about it.   That would mean pitchers Jack Flaherty, Jordan Montgomery, and Jordan Hicks could be had.  Any of them could be helpful to the Phillies, of course.   But they are not the big bats that fans really like.
Who do you think would be a good fit for the Phillies at the trade deadline?
~Ashley
One name I like now - and I also liked this past offseason - is Cody Bellinger.  Bellinger can play outfield and he can play first base.  That will give the Phillies options no matter where Harper plays in the field.   While Bellinger is a left-handed bat, he is batting .342 with a 1.070 OPS against left-handed pitching.
Bellinger would allow the Phillies to continue using Harper at first base if it is a fit, or, he can play first base if the Phillies find that he is better off not playing the field.  If Harper fits at first base, Bellinger can play left field and Kyle Schwarber can be the designated hitter.
If not, I would still look for a right-handed outfield bat who can play left field instead of Schwarber.  In this scenario, if Harper cannot play first base there could be a bit of a logjam and the Phillies might need to use Darick Hall and Alec Bohm to play first base as they have been.
I would still pursue a starting pitcher.  Cristopher Sanchez has pitched admirably for the Phillies in the fifth spot in the starting rotation.   But, if the Phillies were to lose a rotation arm to injury, who would start?
Nick Nelson is getting back healthy and pitching deeper in games at Triple-A (he went six innings his most recent start), but I would much rather see them have an additional option.
It's a long season and not uncommon for there to be at least a minor injury that causes someone to miss a start, and there will be some doubleheaders due to rain that the Phillies have been able to dodge so far.