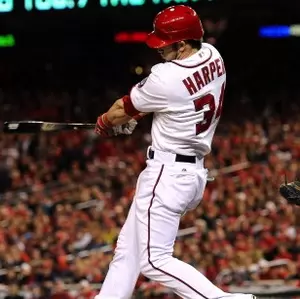 Phillies Mailbag: Harper, Donaldson, N.L. East
What would signing Bryce Harper mean for Odubel Herrera? (Patrick McDermott/Getty Images)
We are back once again with the 97.3 ESPN Phillies mailbag. Send your questions to the 97.3 ESPN text board at 609-403-0973 or send them to @FrankKlose on Twitter. Each week on Tuesday afternoon we answer your questions on the air during the Sports Bash with Mike Gill.
If The Phillies do sign Bryce Harper, where does he play? Trade Herrera?
~Chris
We are still embedded within the 2018 season.  However, the impending free agent class will surely get a lot of attention.  Among them, Manny Machado and Bryce Harper.  The Phillies will reportedly be in on both and others this offseason.
Let's face it, Odubel Herrera has been maddeningly inconsistent.  In the month of August thus far, Herrera is batting just .184.  On Sunday, Herrera batted eighth.  He looks nothing like the player who was batting .361 as late as as May 17.
But what happens to Herrera is not necessarily tied to Harper.  For one, I do not think that Harper is best suited for center field.  He has played some there, but I think he profiles best in right field. But Herrera is his own story.
When the Phillies signed Herrera to his five-year contract extension with two option years, my reaction was different than others.  The Phillies made Herrera very easy to trade.  Even though he is streaky and may be under-performing, at $5 million a year, teams might be willing to take that chance.
But the bottom line for me: Just try to get Harper.  Try to get Machado.  The rest will work itself out after the fact.
Would the Phillies take a flier on Josh Donaldson?
~Luke
The Phillies added offense in the form of infielder Asdrubal Cabrera, catcher Wilson Ramos and first baseman Justin Bour. Unfortunately, the Phillies offense has yet to really take off since the new additions to the ball club.  If I'm the Phillies, I am not necessarily eager to add another bat, but I would listen.
The Blue Jays reportedly wish to trade third baseman Josh Donaldson.  They have third base covered, and once Donaldson returns from the disabled list, he has no real place to play.  Trading Donaldson would be hard, because of the time spent on the disabled list and due to his .234 batting average in 2018.
I think the likely scenario is that a team will grab Donaldson on August 31 and add him to their roster when rosters expand on September 1.  Of contenders that might have a fit for Donaldson, look out for the Atlanta Braves. Johan Camargo has done a nice job for the Atlanta Braves, but a left-handed veteran presence to get some at bats against tough righties might be helpful.
The Phillies probably have their left-handed bench bat in Bour.  But who knows: depth is never a bad thing and the expanded rosters may benefit from it.
Frank, are the Phillies going to win the N.L. East or what?
~John
The best answer I have to this question right now is "maybe".  While it's fair to say that I do not think that the Phillies are going to step up and run away with the National League East, I do not think anyone else is either.  All teams have flaws.
While the Phillies had a frustrating five-game set against the New York Mets, the Atlanta Braves were being swept in four games by the Colorado Rockies.  They began their series in Pittsburgh last night and managed just one run.  Lucky for the Braves, the Pirates did not score at all and the Braves won 1-0.
The frustrations that Phillies fans are having right now are also being had by Braves fans.  They, too, are dealing with inconsistencies.  What they have that has been keeping them going is the play of Freddie Freeman and Nick Markakis batting back to back.  The Phillies hope to get that consistency from their newly-acquired veterans.
Ultimately, the Phillies will have to beat the braves in the final 11 days, when they face the Braves seven times.
Tough remaining opponents for the Braves:
Cubs at home on August 30
Red Sox at Home September 3, 4, 5
In Arizona at the Diamond Backs September 6, 7, 8, 9
Cardinals at home September 17, 18, 19
Tough remaining opponents for the Phillies:
Cubs at home August 31, September 1 and September 2
Rockies in Colorado September 24, 25, 26, 27
I think the Phillies will need a few games lead before those last 11 games. If the Phillies cannot capitalize while the Braves are facing the Red Sox and Diamondbacks to build up a lead, they may fall out of it at the last minute.
As for the Washington Nationals: I think they're done.