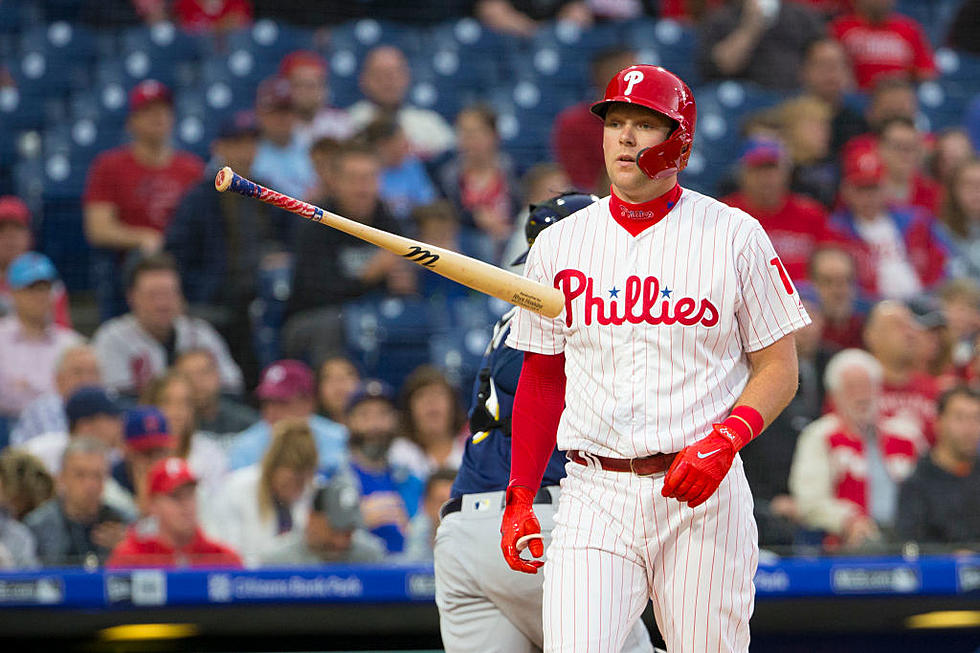 Phillies Mailbag: Hoskins Leading Off, Manuel, Pitching
Rhys Hoskins has been a shadow of his old self (Mitchell Leff/Getty Images)
We are back once again with a 97.3 ESPN Phillies mailbag. Each week we take your questions and talk about them on the Sports Bash with Mike Gill every Tuesday. Send your questions anytime on Twitter to @FrankKlose or send a text to the text board at 609-403-0973.
How can a manager be so blind as to lead off a struggling Hoskins every game for a week? I understand the idea of getting him more at bats to break him out of the funk but he has been horrendous! He should be benched for two or three games or moved to 6th in the order.
~Phil
For the most part, I have been pretty much of the mindset that the criticism of manager Gabe Kapler is overblown.  I think we can see some vast improvement in the bullpen after the addition of Mike Morin and Blake Parker instead of the talented-but-rushed-to-the-majors J.D. Hammer and Edgar Garcia.  But I am not on board with this idea.
Like Phil, I can understand that a shakeup of sorts is somewhat necessary.  Yet, I remain convinced that the best medicine to make someone like Rhys Hoskins comfortable once again is to return to the Opening Day Lineup that functioned so well.  The Phillies did that once before and it lit a fire.  I think that should happen again.
That would look like this with the current crop:
Corey Dickerson, LF  (Andrew McCutchen's spot)
Jean Segura, SS
Bryce Harper, RF
Hoskins, 1B
J.T. Realmuto, C
Cesar Hernandez, 2B
Scott Kingery, 3B  (Odubel Herrera's spot)
Adam Haseley, CF (Maikel Franco's spot)
Pitcher
That lineup came out of the gate strong.  Dickerson is hitting.  Segura is hitting (though usually in bunches).  Harper has been outstanding and could benefit from having those two get on base in front of him.  And Realmuto has also been on fire and could either help Hoskins see some pitches to hit, or could back him up with his own hot bat.
One thing we know about Kapler is that he does follow the numbers.  In the lead off spot, Hoskins is 1 for 13.  He's walked twice. Add the hit by pitch ahead of Harper's grand slam makes his on base percentage out of that spot just .235.  The walks are not making up for the lack of production otherwise and I would not be shocked if this changes as soon as tonight perhaps.
If needed, is Charlie Manuel the in-season replacement for Gabe Kapler?
~Jim
Well, first off, if the "if needed" involves a managerial change, I feel very certain that Gabe Kapler is finishing this season as Phillies manager no matter what.  Even if the front office was going to make a change, I think that would happen out of season.  But even in the short-term for another reason, I do not see Charlie Manuel serving as a manager for the Phillies again.
In another scenario in which Kapler does not manage for another reason, such as a suspension, illness, etc., I think that job would go to bench coach Rob Thomson. 
Thomson is a long-time major league coach, most notably the bench coach under former Yankees manager Joe Girardi.  
What are Phillies going to do with pitching in 2020 and how do Adonis Medina and Spencer Howard play in? What odds on Cole coming to Philly?
~Andrew
The Phillies pitching that has consistently let them down in 2019 must be addressed before 2020.  The trio of starters that were given another chance in 2019 - Vince Velasquez, Zach Eflin, and Nick Pivetta have each been removed from the starting rotation and two-third of them are still in the rotation.  The Phillies have future concerns about Jake Arrieta, who may not be his old self in 2020 after undergoing season-ending surgery to address bone chips in his elbow.
First the prospects.  I think that both Adonis Medina and Spencer Howard have a shot to help the Phillies in 2020.  However, I do not think they will build an offseason pitching plan around either of them being there to start the season.  They will both likely get looks during Spring Training.  I would imagine they start the season at Triple-A and the Phillies could call upon them at some point or another.
Do you mean Cole Hamels or Gerrit Cole?
Gerrit Cole is the free agent pitching prize of this upcoming offseason.  Gerrit Cole is an impact starting pitcher who is a big reason why the Houston Astros are often considered favorites to win the World Series.  He goes deep into games and provides the pitching punch that the Phillies could really use.  I personally think the Phillies should pursue him.
However, if the Phillies were not willing to give a sixth year to free agent pitcher Patrick Corbin, and were willing to let him sign with the Washington Nationals, would they draw the same line in the sand with Cole?
We have heard both in terms of money and in terms of prospects to trade that the Phillies have been very conservative in their pursuit of pitching.  Instead of giving a six-year contract to a younger player like Corbin the team has given shorter-term contracts to older players.
How about instead of signing Jake Arrieta to three years at age 32 but not signing Cole to a six-year deal at 29 and get some prime years before the down years come about?
The older-player-but-short-term deals to relievers David Robertson, Pat Neshek and Tommy Hunter have been disastrous.  I would rather see the Phillies get a prime pitcher at age 29, even if they have to deal with some down years like they are now with the aforementioned players.  I think it makes a lot of sense: get an ace pitcher in his prime while you can, then develop prospects who can step in at the end.
If you happened to mention Cole Hamels, I think there is a chance.  Should the Phillies decide to bring in someone like Gerrit Cole, I still think there is room for a veteran lefty starter.  Signing Hamels at this point probably means that there are some injuries that will pop up (he missed time with a strained oblique) and that he will have some bad games (like eight runs against the Phillies on Wednesday).
Hamels could be a solid back-end option.  With Drew Smyly and Jason Vargas filling similar roles this year, I think there could be room for Hamels.