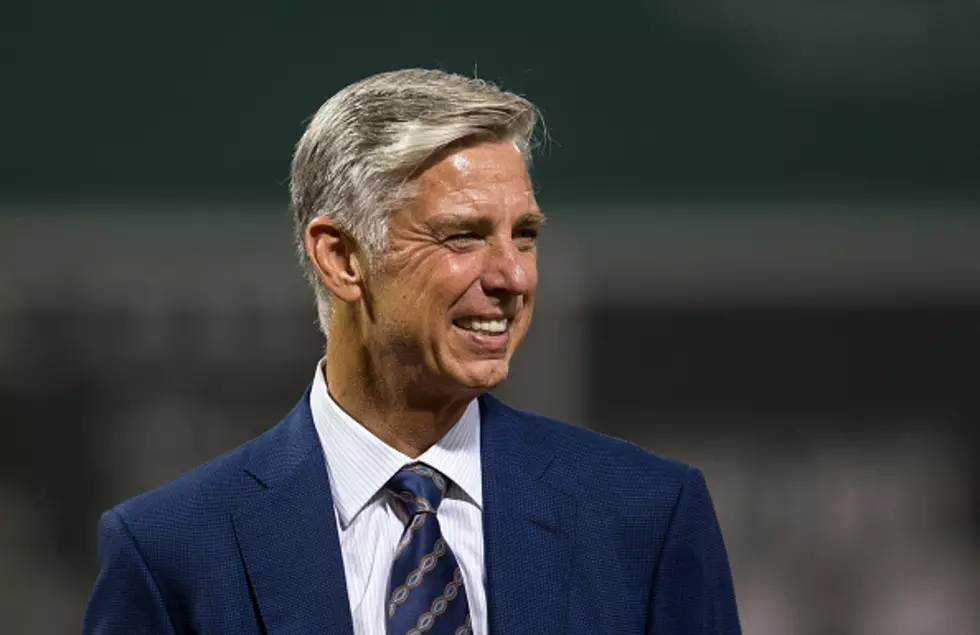 Phillies Mailbag: How Does Dombrowski Build for 2022 and Beyond?
Phillies president of baseball operations Dave Dombrowski (Rich Gagnon/Getty Images)
It's a season-end edition of the 97.3 ESPN Phillies Mailbag.  We take your questions throughout the Phillies season and answer them on the Sports Bash with Mike Gill.
Do the Phillies spend money to build around Bryce Harper, Zack Wheeler and J.T. Realmuto?   Or does somebody get traded?  Or, does somebody start drafting/coaching/teaching better and the fans have to wait?
~Chris
This is a really good question.   Even Bryce Harper himself mentioned recently in a Zoom meeting with reporters that the Phillies needed to beef up their minor league system.  That's a fact.  I think that with Dave Dombrowski at the helm, he will attempt to do so while trying to stay relevant.
Even in 2021, the Phillies were looking to win but letting their minor system rise.  The Phillies now have two full drafts under Brian Barber, who was retained even as others were let go.  The Mick Abels and Andrew Painters need to rise through the Phillies system.  And the Phillies need to do what they can to keep them around.
That is why Dombrowski did not sign any free agents that required draft pick compensation.  In signing J.T. Realmuto and Didi Gregorius, he did not need to offer compensation to another club.
I think the Phillies will add some free agent players, but they will sign those who will not require draft pick compensation.  The Phillies probably spend towards the Competitive Balance Tax threshold each season, but they will try to do no harm toward their minor league system.
Yes, I think there is the possibility of trades.  I tend to think Harper, Realmuto, and Wheeler are going nowhere.  But yes, there could be a trade that some people do not like.  Aaron Nola and Rhys Hoskins probably are not untouchable.
And no, I'm not advocating the Phillies "get rid of" either player.  But if the Phillies can bring in young talent and get value in a deal, I think they can find a free agent pitcher who can match Nola's 2021.  Or a competent first baseman who can help make up what they are losing in Hoskins.  But they would have to also gain value in other areas.
That's a tall task, but Dombrowski is trusted with it.
When will ownership stop listening to fans and losers in the media and act in the best interest of the team?
~Todd
I assure you, what I've mentioned about Dombrowski will be his strategy.  He's not listening to the Sports Bash or the expertise of Frank Klose, I assure you, nor is he going on Twitter to see what the fans want.  He's focused on building a winning organization.
Bryson Stott: Why isn't he getting a fair shot to make the Opening Day roster? He's earned the chance to compete for a job.
~Kev
I think Stott will indeed get a fair chance.  Given all of the organizational dysfunction (as noted in the Athletic by Matt Gelb this week), I think they want to make sure Stott is not being put in a position to fail.  Think Scott Kingery and to a certain extent, Alec Bohm.  They really do not want to have to send Stott back to the minor leagues after having a hard time.
I think that it's still to be determined what position Stott plays long-term.  A lot of talent evaluators see him as a second baseman, not a shortstop.  He spent most of his time at shortstop in 2021, as the Phillies certainly want to give him every opportunity to show he belongs at the position.
Further, I see Stott spending most, if not all of 2022 Spring Training with the big club.  He will have plenty of opportunities to show what he can do playing alongside other major leaguers.
I think he could join the Phillies at some point in 2022 no matter what, primarily after they have a solid organizational hitting approach and they're comfortable with him. However, I certainly would not rule out Stott coming north with the Phillies in 2022.
Atlantic County Bars to watch Football this season (alphabetical order)