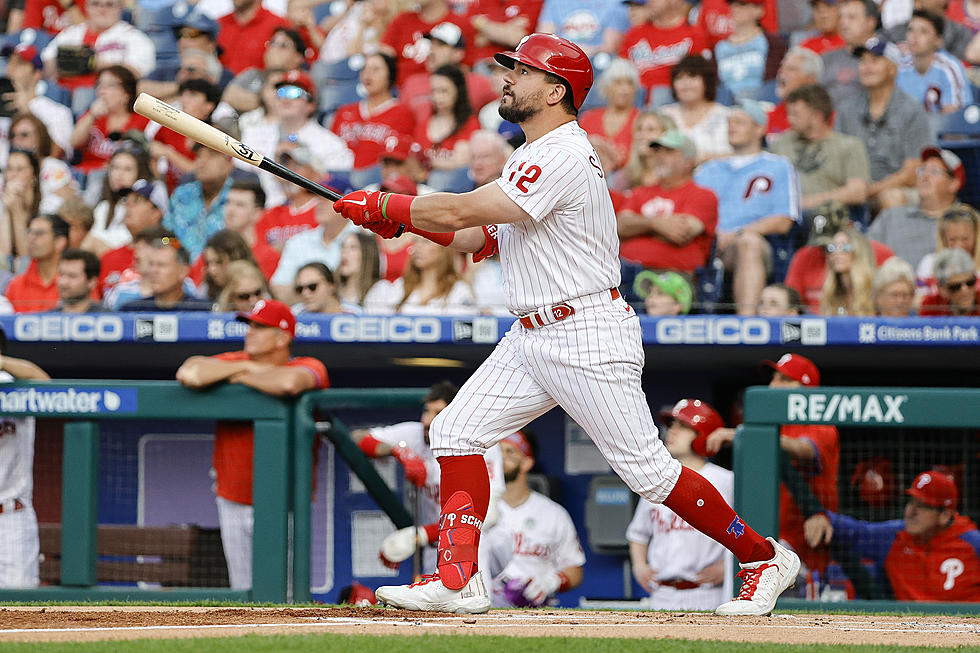 Phillies Mailbag: Lorenzen's Role, Schwarbomb, Wild Card
Tim Nwachukwu, Getty Images
We are back once again with the 97.3 ESPN Phillies mailbag.  Each week we take your questions and talk about them on The Sports Bash with Mike Gill.  Tune in Tuesday afternoons to hear your questions answered on the air.
What role will Lorenzen play in the playoffs? 7th inning reliever or maybe long man if a starter exists early?
~Rich
I think we are seeing the makings of the Phillies working that out right now.  Tonight, Cristopher Sanchez starts for the Phillies.  But the Phillies have said that Michael Lorenzen will serve as his "piggyback".
The Phillies have gone with six starters upon the acquisition of Lorenzen at the trade deadline, allowing for extra rest for some, and a prolonged stretch off for others (Taijuan Walker).   Despite dazzling Phillies fans with what were probably the best two starts of his career, Lorenzen has not been his usual self since.
So it appears that on the fifth day, Sanchez and Lorenzen will split the day.  On top of that, it might help give some insight into how Lorenzen may be used.
Should Sanchez be cruising along, will the Phillies put Lorenzen in no matter what?  I suspect not.  I think Lorenzen will jump in should Sanchez make an early exit.  But if he dazzles the Braves through six?  I think then it's quite appropriate for Lorenzen to pitch an inning and get out to make way for the bullpen back-end.
Speaking of that, Seranthony Dominguez has allowed the game-losing home run in three of his last five outings.   That could create an opportunity for Lorenzen to step up and throw a strong late inning.
When the Phillies acquired Lorenzen, they spoke of his bullpen experience and how he might be helpful in that role eventually.  Despite second thoughts after his first two starts, it certainly is trending back that way.  Could he be a key piece?  He will help answer that question in upcoming days.
When Schwarber's HR from last night lands, in which Massachusetts city will it be?
~Dr. Funkenstein
It wasn't totally down the line, but went to right field so I'll say Worcester.
In all seriousness, it's good to acknowledge how good Kyle Schwarber has been in the leadoff spot.  Even though his batting average only exceeded the .200 mark for a matter of hours, he is among some of the Phillies greats this season.
Ryan Howard witnessed the 483-foot shot last night with his own eyes.  He now lives in Atlanta and was in attendance.
In the leadoff spot, Schwarber has an on base percentage of .348 and an OPS of .851.  Despite spending most of his time in the leadoff spot, he will drive in 100 runs with his next RBI, as Lawrence noted.
Having a hot Schwarber is important into the playoffs.
Who would you rather the Phillies face in the Wild Card round?
~Adam
I am not sure that there is a "favorite", per se.  There are five teams all sort of bunched up together in the standings:  The Cincinnati Reds, the Miami Marlins, the Chicago Cubs, the Arizona Diamondbacks, and the San Francisco Giants.  I think that the two toughest opponents are the Marlins and the Diamondbacks.
To me, it all begins with starting pitching.  Both the Marlins and the Diamondbacks can put forth two starters that can shut down even a good offense like the Phillies.  That is the case, with some talented bats on both teams.
It would be understandable if Zac Gallen or Merrill Kelly put forth some quality starts in a Wild Card round.  Bats like Christian Walker and Corbin Carroll highlight their offense.  On any day, they can be a winning combination.
The Marlins have Jesus Lugardo and Braxton Garrett, even down Sandy Alcantara.  Young Eury Perez is also electric.  Luis Arraez, Jorge Soler, and Jazz Chisholm, Jr. highlight a Marlins offense that also has Phillie killer Josh Bell.
So they are not opponents to be taken lightly.
But most of all, the Phillies should be ready not just beat a Wild Card team, but the likes of the Atlanta Braves and Los Angeles Dodgers, who lead the way in the National League.
We saw last year: the top half of the Phillies roster can play with the top half of anyone else's roster any day.
Do you think it's wise to waste a roster spot on Rod Castro? I know he's out of options. He's been dormant on the bench. Clearly Thomson doesn't trust him. We could use a right-handed power bat off the bench.
~Bobby
I said this on my latest podcast: Having Rodolfo Castro on the roster and not being used is a waste of a bench spot.   I actually do not think that the Phillies need a right-handed bench bat so much as a left-handed bench bat.
I think that Darick Hall and Kody Clemens will serve the Phillies much better.  The Phillies do need a first baseman on the days that Bryce Harper does not play first base.  It might happen one or two more times.  And Jake Cave is not giving the Phillies much at the plate.
So much so that essentially Johan Rojas now starts over Cave, even against right-handed pitching.
Weston Wilson would be nice to have around, too.  So I would not totally mind a Cave-for-Wilson and a Castro-for-Hall swap at this point.
But the Phillies are about done their really difficult matchups on the regular season.  Would they bother to make a move now?  I'm not sure they will.  But check back after the IronPigs season ends on the 26th, and when postseason rosters are set.  They will not need every pitcher, so one of these other bats could reappear.