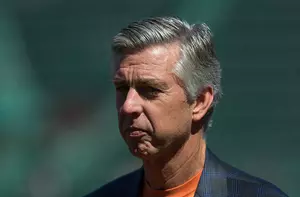 Phillies Mailbag: Mixing Up Mediocrity, 1B, Falter, Williams
Dave Dombrowski has a lot of work to do (Rich Gagnon/Getty Images)
We are back once again with the 97.3 ESPN Phillies Mailbag.  We take your Phillies question and we talk about them on the Sports Bash with Mike Gill Tuesday afternoons. Send your questions at any time to @FrankKlose on Twitter or comment on the show's live broadcasts.
You're GM. What would you do with this roster? Throw that in the mailbag because I'm perplexed. I don't see anything really appetizing to trade on any level to make an immediate turnaround impact.
~Tim
Phillies president of baseball operations Dave Dombrowski has been busy lately.  Where is he spending his time?  Dombrowski has been spotted traveling among the minor league affiliates.   It seems to send the message that Dombrowski is trying to see what the organization has - and lacks - with his own eyes.
I think Dombrowski has mostly to this point lived by the "do no harm" mantra.  That is, he was not going to trade prospects and not sign free agents that would cost draft picks.  The harm he is avoiding is to the long-term, not to the present.
You're correct, Tim in that there are no quick fixes of any sort for this 2021 club.  Could the Phillies trade top prospects Mick Abel and Bryson Stott to add impact players for 2021?  Of course.  But it does not feel like that would even be enough.
I would, however, do something to shake up this team.  I think the Phillies are better than this.  I think the recent comments by Rhys Hoskins show that the players have no sense of urgency.  Scoping the roster, there are good players but no winners among them.
Dombrowski has a history of adding an impact piece.  Even when it's an under-the-radar move. In fact, Dombrowski's acquisition of Steve Pearce was celebrated yesterday by a Boston radio station.  That June 28 trade helped the Red Sox lineup gel en route to a World Series Championship.
I would keep an eye out for an acquisition like that.  Dombrowski probably already is. But there has been little movement so far in terms of trades.  We will see what he does.
The starting staff allowed just one earned run in 23 1/3 innings against the New York Mets.  The ability to do that is going to keep the Phillies a .500 team.  A .500 team probably does not sell much in this division right now.  I expect Dombrowski - and would myself - try to add some complementary pieces that will try to add to that win total.
But I would also try to shake things up somehow to let the team know that things are not okay as they are going.  A benching? A lineup shakeup?  All of this is really hard when two starters in Jean Segura and Didi Gregorius are not in the lineup.  If they are back and healthy, there might be more wiggle room.
How do you feel about trading Rhys Hoskins and moving Alec Bohm to first?
~Lindsey
I think it is very clear the Phillies need to improve their defense.  How many of these blown saves have come due to a major defensive gaffe?  While I think two years ago the Phillies thought they might be able to survive Alec Bohm at third base until Andrew McCutchen's contract expires, this simply is not working.
I see Bohm eventually ending up in left field or first base.
I think that this will depend on how else the Phillies are able to fill out the roster.  The Phillies could see Bryson Stott assume one of the infield positions in 2022.  Could he play second base?  Shortstop?  Lots remains to be seen.
Would they trade the final year of the contracts of Didi Gregorius or Jean Segura?  Would either player move to third base to accommodate Stott?  Will there be a designated hitter?
The next offseason will be a very key offseason for this Phillies team.  That is one reason why Dombrowski needs to resist trading prospects now and be calm.  He will have a lot of work to do before next year.
What is Luke Williams' role on the team longer term? Could he end up being that super-utility type that they had hoped Kingery would become?
~Chris
I think right now you're seeing it.  The Phillies have really benefitted from Williams being able to play many positions.   In fact, he has played six positions thus far: all three outfield spots, shortstop, third base, and second base.  It seems that Williams has the knack for doing it.
I would not peg Williams to be a starter.  As we have seen in recent weeks, the Phillies have had injuries up the middle at both spots and a pitch knocked Harper out of the game.  If the Phillies count on Williams as a starter, then they won't have someone to do more.
And, depending on how the rest of the roster shapes up, the Phillies can count on Williams being listed among the outfielders or infielders.  That is helpful.
I would keep an eye on Williams being a defensive replacement in late innings, particularly at third base, as the Phillies get healthy.
Bailey Falter did really well tonight. What's his role going forward?
~Matt
I think that Bailey Falter will possibly have the next shot at the starting rotation when there is another opening.  Even though Spencer Howard showed once again he cannot handle the starting rotation and I think his current time in the starting rotation is done, it appears Matt Moore will assume Howard's spot in the rotation.
If Moore can hang around, they might be OK for a little while.
But Vince Velasquez has reverted to the Vince Velasquez of yesteryear.  That means the Phillies rotation really needs a long man.   David Hale is out of the equation.  I do not think we will see Enyel De Los Santos around too long.  Ranger Suarez is now further back in the bullpen as the second lefty - or only lefty for the late innings - should Jose Alvarado be closer.
So at this point I would peg Falter for that role and see how things go forward.