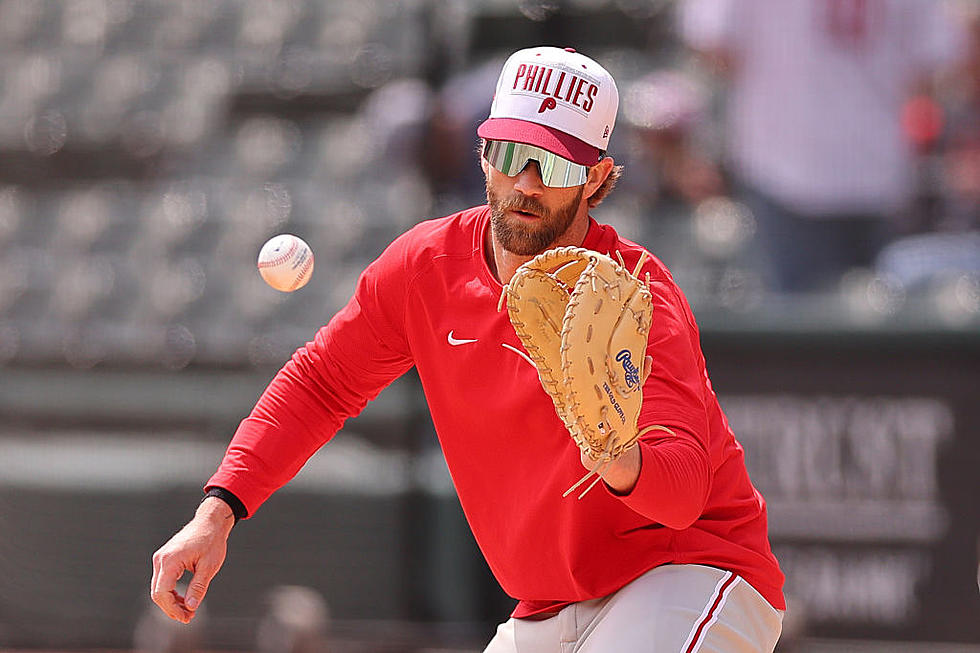 Phillies Mailbag: Painter, Harper at First, Rotation
Tuesday night marks Bryce Harper's return (Michael Reaves/Getty Images)
We are back once again with a 97.3 ESPN Phillies Mailbag.  We take your questions and answer them each Tuesday on The Sports Bash with Mike Gill.   Ask your question at any time to @FrankKlose on Twitter.
What is the deal with Andrew Painter? When is he going to start throwing again?
~James
The Phillies certainly lost a major piece of their starting rotation depth when it was revealed that top prospect Andrew Painter suffered a UCL sprain.  The good news was that he would avoid surgery.  The bad news is that it will still be a costly injury in terms of time.
Painter actually began throwing for more than a couple weeks.  However, "throwing" does not mean pitching.  He has been ramping up the distance he was throwing, and as of April 22, started throwing on back-to-back days.
The progression will be slow.  I think the Phillies just hope that at some point this season he will be an option.  But they're not putting a timetable out, and they are letting this play out slowly, without rushing.
Will Bryce Harper actually play first base for the Phillies?
~Katie
Tuesday night will be the turn of Phillies All-Star Bryce Harper.  We are well ahead of the All-Star Break return that we expected.  But we are certainly ahead still (an unknown period of time at the moment) when  Harper can take the field for a game.  But even the day ahead of his return, Harper was taking grounders at first base.
I am not sure how likely it will be that Harper ever does play there.   As Matt Gelb notes in his piece in The Athletic that first addressed Harper playing first base, some in the Phillies organization "view him as a DH for all of 2023".
Minimizing the risk of re-injuring the throwing elbow would be ideal.  And while first base requires plenty of throws, they will be a shorter distance than a right fielder would make.
A lot could depend on what the Phillies are getting out of the likes of Darick Hall and Edmundo Sosa.   If Sosa claims a starting spot at third base, that pushes Alec Bohm to first base. If Hall returns from his sprained thumb in June and demonstrates he belongs in the lineup, first base could be his.
The nicest part of Harper's time at first base in practice is that it will simply give the Phillies a potential option.
Who do you move in the starting rotation after Ranger Suarez comes back from injury?
~Rich
The good news is that starting pitcher Ranger Suárez, a big part of the success of the 2022 Phillies, is pitching in games again.  April 27th he pitched two innings for Double-A Reading.   Tonight he will be at Triple-A Lehigh Valley while Nick Nelson takes the mound for Double-A Reading.
The two rehabbing injuries are related, in that they could affect what the Phillies do.
I would like to continue to see Matt Strahm pitch out of the starting rotation.  He has arguably been the most consistent starter in the early going.  While signed to be a reliever, the Phillies bullpen has been a big part of their success.  And while Strahm might fare better than Andrew Vasquez, I think they have the luxury of keeping him in the rotation.]
Bailey Falter I would option to Triple-A.  I would like to see the Phillies have a starter at Triple-A they can call upon when necessary.  Putting Strahm in the bullpen means he is not stretched out for a spot start.  They come due to doubleheaders and for other nagging injury reasons. I do not like the "bullpen" games that mess up the bullpen for days.
With Nelson due to return soon, he could be the long man in the bullpen as he was in 2022.
Falter's numbers do not look great (0-5, 5.01), but he has kept them in games.   He might be a passible fifth starter, but I think he serves the team best being on call at Triple-A.