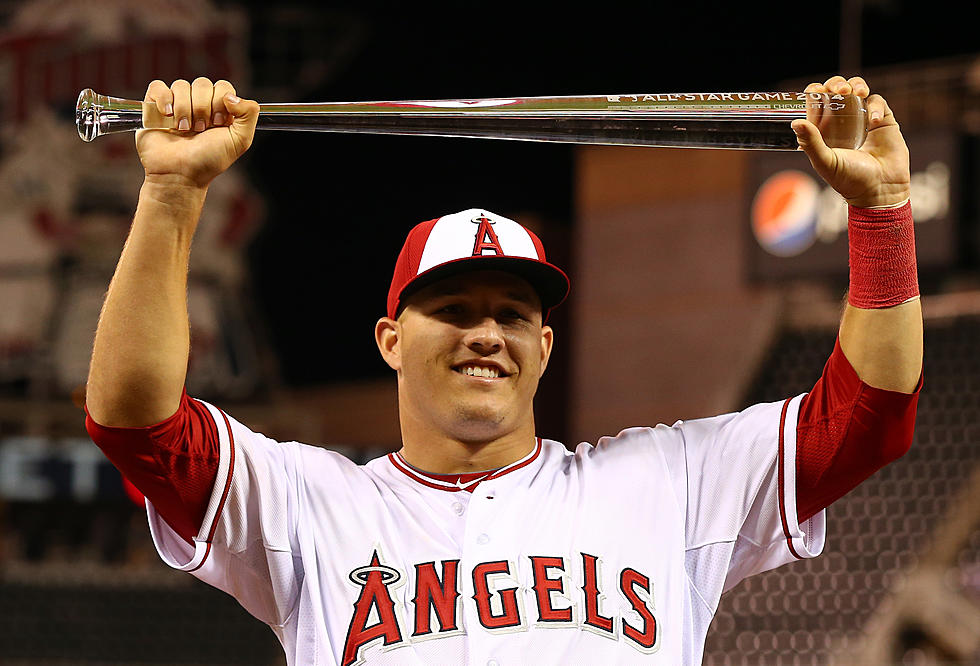 Phillies Mailbag: Prospects, Pitching, and Dreaming of Trout
Angels star outfielder and South Jersey native Mike Trout (Elsa/Getty Images)
We are back once again with the 97.3 ESPN Phillies Mailbag.  Each week we take your questions and talk about them on the Sports Bash with Mike Gill.  Tune in each Tuesday to hear your questions answered on the air!
What prospects do you see most likely to be dangled for deadline trades? I know it depends on controllable talent.
~Tom
The Phillies farm system has sure taken its share of criticism in recent years.  But the Phillies do get some credit for developing role players such as Matt Vierling and for the recent surge from first baseman-turned-designated hitter Darick Hall.  However, when it comes to prospects that can entice another club, I think that while the prospect pool is still rather light, there are some players that could land the Phillies a useful piece or two.
First, it's worthy to note that when it comes to pitchers Andrew Painter and Mick Abel, forget about them.  There is not a pitcher on the market that the Phillies would be comfortable trading either for.  Definitely not a short-term rental.  If this is 2009 and one of the two were the Kyle Drabek in a Roy Halladay trade, maybe.
But a Halladay-esque piece just does not exist.
The Phillies would certainly trade from almost anything else.  The Phillies have catching depth in Donny Sands, Rafael Marchan, and Logan O'Hoppe.  Some reports have said O'Hoppe is not necessarily untouchable but they would want a controllable piece in return.
Marchan is still thought of as a prospect, and Sands, acquired from the Yankees along with Nick Nelson this offseason, is opening eyes at Lehigh Valley, batting .333 with an OPS of .941 in 129 at bats.
I can see Mickey Moniak going to a team that has time to play him daily in a deal for an outfielder.
The Phillies have two center field prospects in Simon Muzziotti and Johan Rojas.  They could spare one of them.
And don't forget one more trade chip the Phillies have: Money.  Already over the "luxury tax" number, they might be willing to take on a few dollars (either from the player they acquire or by taking on a bad contract) to have to give up less, if the deal is right.
The Phillies desperately need a starting pitcher. Who is a realistic option who would make a difference?
~James
My favorite that the Phillies might be able to acquire would be Merrill Kelly of the Arizona Diamondbacks.  He was someone the Phillies were interested in last year.  A controllable piece, he would have two years of control remaining after this year.  He might be the one that the Phillies have to give up an O'Hoppe-type for.
Kelly is probably of the solid mid-rotation starter type.  With uncertainty around Zach Eflin and Ranger Suarez, a starter like that could prove very helpful the way that Joe Blanton did in 2008.
There will be other starters there.  Martin Perez is someone we have discussed.  Perez was just named to the American League All-Star team for his return season to Texas.  Perez would be a rental; he is a free agent at season's end.
Another short-term signing this offseason by the Pirates is lefty Jose Quintana.  So far it appears the Pirates are getting a lot of interest.  That's probably because the cost would be on the lower end in terms of salary, and perhaps the impression is he would not command a big prospect.
Pitching to a 3.33 ERA so far this season, Quintana has a 1.8 WAR through 16 starts.
Though not a starter, I would not be surprised if the Phillies were interested in someone such as David Robertson.  Yes, that David Robertson.  While he barely pitched in his two-year deal with the Phillies, he's been solid for the Chicago Cubs on a one-year deal.
With the never ending struggle in the Angels organization, do you think they would ever unload Mike Trout and cash in while they can? Would Dave Dombrowski gut the farm if he got the chance?
~Dave
Ah, the dream that will never go away.  It's a nice dream: South Jersey's own Mike Trout in Phillies pinstripes.  That would look good, right?   But I'm afraid to say: keep dreaming.
Think about it this way: The Phillies were at a point this past offseason in which they could tear down the club and then starter over, or, try to win.  The reason they really wanted to try to win?  They had Bryce Harper in his prime.
Would you have suggested the Phillies trade Harper when they were struggling around June 1?
If your answer is "no", then it might be a similar situation with Trout.  Besides having the best player in the game, they have have another player that one could argue could be providing more value to the team in Shohei Ohtani.  That's because in addition to being a slugging designated hitter, Ohtani can take the mound and pitch every fifth day.
Add in high-priced Anthony Rendon and the Angels have a solid base.
So they have to try to win, right?  Rendon is out for the year.  Trout had a little slump, but he's mostly himself.  And who knows how long Ohtani can do what he's doing.
So like the Phillies, the Angels will try to keep retooling/rebuilding/whatever word you prefer on the fly.  The presence of Trout will keep them trying.  Even if they fall short, they want to use Mike Trout's prime to try to win.