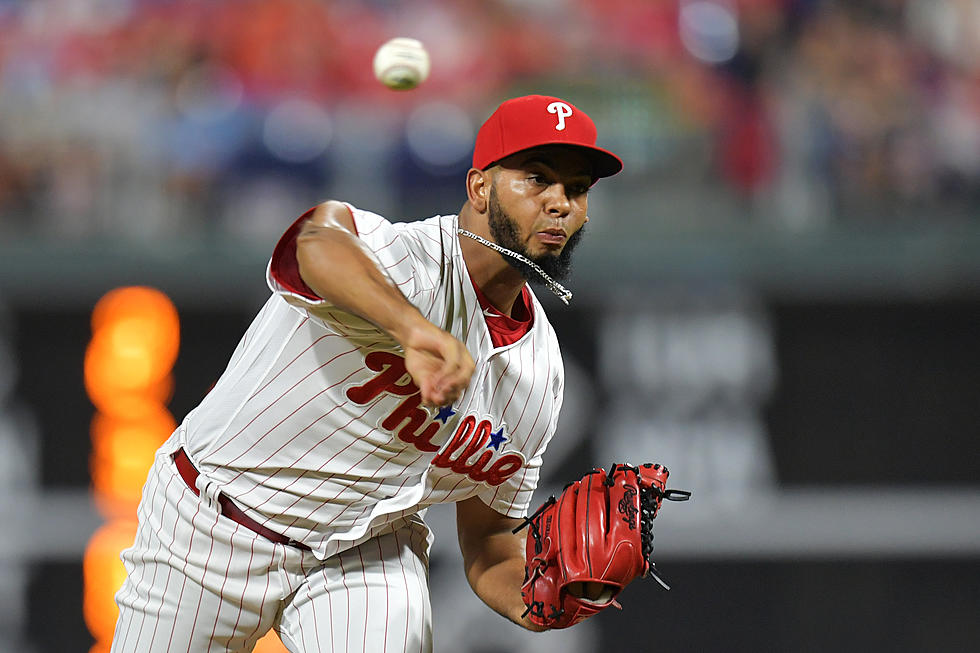 Phillies Mailbag: Starters, Dominguez, Girardi
Seranthony Dominguez. (Photo by Drew Hallowell/Getty Images)
We are back once again for the 97.3 ESPN Phillies mailbag.  The MLB Trade Deadline has passed, the Phillies added a few pieces, and they are now 2.5 games out of first place.  We take your post-deadline questions and answer them on The Sports Bash with Mike Gill on Tuesday afternoon at 2:40.
How bad is the Phillies minor league pitching that Vince Velasquez, Matt Moore and Chase Anderson are all still with the team?
~John
The Phillies have indeed, very poor depth at Triple-A to get starting pitching reinforcements.  The failure to launch of Spencer Howard and the lack of progress of Adonis Medina made things tough for the Phillies.  At one point Howard and Medina were two of the top three Phillies prospects.
Medina's stats have not been good.  In 2021 he is 5-3 with a 5.48 earned run average.  Media returns tonight from an injury.  He has not pitched since June 27.
The three names you mention were set to make up two-fifths of the starting rotation.
In recent weeks, the Phillies have added some starting pitching depth.  The Phillies added South Jersey's Tyler Phillips, who joined the starting rotation at Double-A Reading, and in the Kyle Gibson trade they added prospect Hans Crouse to the Double-A Reading roster as well, hoping to have some depth at Triple-A next season.
I'm most surprised that Velasquez has had as many chances as he had.  I would not have renewed his contract this past season (and was surprised that the interim Phillies leadership had).
But right now, this is it.
If Seranthony Dominguez is going on a rehab assignment soon, what are the impacts getting Dominguez back?
~Andrew
One wild card for the Phillies in 2021 is the potential return of reliever Seranthony Dominguez.   The Phillies renewed his contract even though he would miss most of the season after having "Tommy John" surgery last June.  Dominguez is indeed now hoping for a September comeback.
However, I think the term "wild card" I used is perhaps most appropriate for this situation.
One unfortunate thing that happened during the 2020 COVID-19 Pandemic is that the shutdown cost Dominguez valuable time in getting surgery.  Instead of getting surgery perhaps last March, the elective surgery ban at the beginning of the pandemic delayed his surgery until June.
A typical return from the surgery is 12-18 months.
So Dominguez will begin throwing and begin a rehab assignment.  With Clearwater currently shutdown in the midst of a COVID outbreak, that means he cannot train at the Carpenter Complex or pitch for the Florida Coast League Phillies or Class-A Clearwater.
But he will begin an official rehab assignment soon.  After seeing how he looks in the minor leagues, there's an outside chance he can help the Phillies in the last few weeks.  But if he does, consider it a bonus.
If Phillies don't win the division should Joe Girardi be fired?
~Ed
This is a good question.  Since you used the word "should", I will answer the question that way first.  I do not believe that the fate of Phillies manager Joe Girardi should be tied to whether or not this team makes the playoffs.
I think that it's been well-documented the last several years that the Phillies roster has had several structural flaws.  It is not Girardi's job to build the roster.  It is his job to take the roster he is given and maximize the output.
I have a hard time saying with any certainty that this was a playoff roster and that Girardi or any other manager's fate should be tied to it.
A lot of this roster was not even that of Dave Dombrowski's design, either.  The contracts of Vince Velasquez and Hector Neris were tendered the week before Dombrowski got hired.  The bullpen cupboard was completely bare when Dombrowski arrived, with other key decisions already made.
So I expect a full re-tooling of this roster this offseason, as the Phillies lose a few players to free agency, and Dombrowski gets an opportunity to assess what the team has.
I would say that if the Phillies manager - whoever it is - cannot win with Dombrowski's roster in 2022, then yes, that manager should be fired.  But for 2021 - I just do not see the justification to fire Girardi; that would only have to happen if the roster was slam-dunk expected to win and he does not.
Here are 50 of your favorite retail chains that no longer exist.