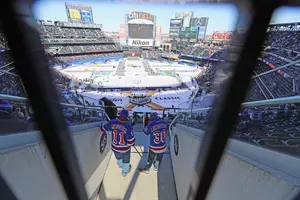 Phillies, Mets Snowed Out at Citi Field
The Mets and Phillies will not go for a second Winter Classic in 2018 (Abbie Parr/Getty Images)
The Buffalo Sabres and New York Rangers had no problem playing on a snow-covered Citi Field n New York just a few short months ago.  As the Delaware Valley got a small amount of wet snow on Monday morning, the same weather system moved up north and east to New York City.  That means there will not be a Phillies-Mets match up tonight.
The Mets announced the news:
The good news is that Phillies fans could make a nice day trip in July when hopefully the weather is a bit warmer.
The news could mean a change in the Phillies pitching rotation.  Ben Lively was set to pitch today, followed by Aaron Nola and Nick Pivetta, before Vince Velasquez pitched the home opener on Thursday.  With Jake Arreita set to pitch for the Phillies on April 8.
Lively will remain the starter against the Mets on Tuesday, the Phillies announced, giving Aaron Nola an extra day of a rest before he goes on Wednesday.