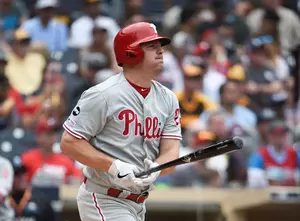 Phillies Outfielder Jay Bruce Earns N.L. Player of the Week Honors
Bruce has been a most welcome addition to the Phillies (Denis Poroy/Getty Images)
When Phillies outfielder Andrew McCutchen hit the injured list with an injury, the Phillies lost a true offensive leader on the club.  Upon McCutchen getting injured, Jay Bruce, who reported to the Phillies that very day in San Diego after a trade with the Seattle Mariners, stepped up in a big way.  Bruce was recognized for his big week with the Phillies.
Bruce sure seemed to embrace returning to the National League.
Bruce continued his hot play last night, too. Bruce hit one of the 13 home runs in last night's loss to the Arizona Diamondbacks.  The mark bested the previous major league record of 12.  Even the infamous Phillies-Cubs 23-22 game in May of1979 did not have that much home run power.
Bruce now has 19 home runs on the season.  As a Phillie, he is batting .346 with five home runs and two doubles in his seven games.  Definitely a refreshing addition.