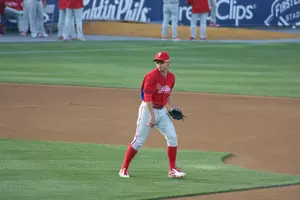 Phillies Promote Kingery, Agree to a Six-Year Deal
Scott Kingery is headed North (Frank Klose/Sports Talk Philly)
Nothing seemed to line up for Phillies second base prospect Scott Kingery.  With starters at second base, third base and even shortstop, the top prospect seemed blocked at the major league level.  Additionally, if the Phillies could wait until April 13, they could have a whole year worth of control.  However, Kingery appears to have made the Phillies roster.
Phillies general manager Matt Klentak appeared in the Phillies broadcast booth during the third inning of Sunday's broadcast and teased the move.  "He kind of forced our hand," Klentak said.  He hinted that there would be news coming after the game.
Jim Salisbury of NBC Sports Philadelphia reported that Kingery did indeed make the team.  The club got around the service time issue by signing Kingery to a new deal:
Where Kingery fits just yet remains to be seen.  After Klentak's comments, people speculated plenty about whether or not there would be moves.  Kingery will need a spot on the 40-man roster.  But beyond that, he will need playing time.
With Maikel Franco, J.P. Crawford and Cesar Hernandez all on the club and four outfielders for three positions, Kingery may have to play a little bit around the diamond for now.  But with rosters yet to be finalized, maybe a move is in the works.  Stay tuned.