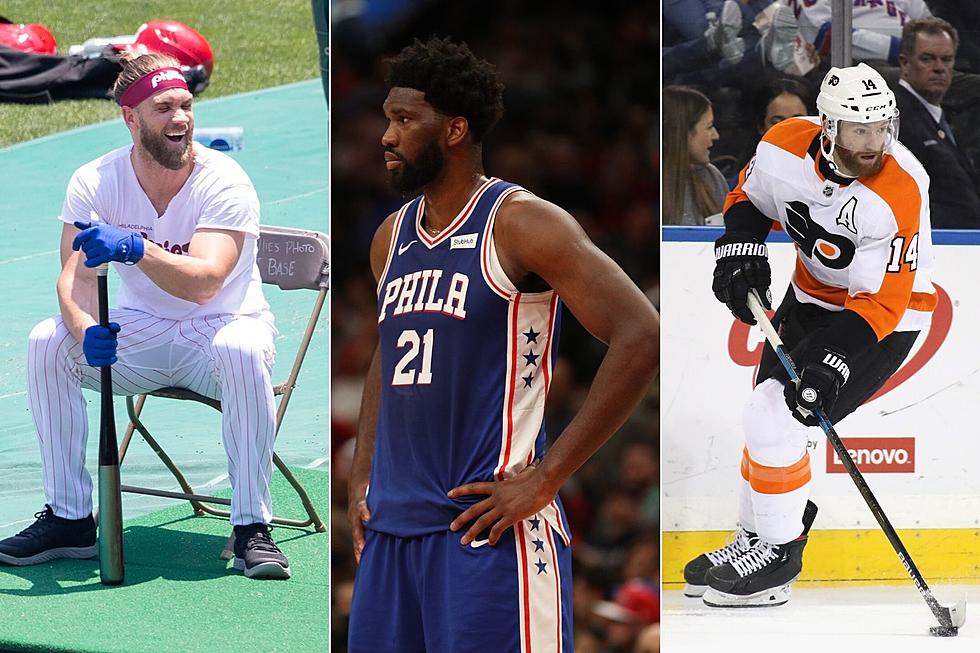 Phillies, Sixers, Flyers Need To Get Off To A Good Start
-Bryce Harper: Photo by Mitchell Leff/Getty Images -Joel Embiid: Photo by Patrick Smith/Getty Images -Sean Couturier: Photo by Bruce Bennett/Getty Images
Getting off to a good start means more this year than any other season!  It's not just a cliche' in 2020 for our sports teams, it's paramount to having a successful run in three of the four major sports.  The Phillies' shortened season of sixty games makes it so important to get wins right off the bat, no pun intended. In 2019, the Phils were in first place after 56 games at 33-23 in the National League East; Unlike a normal regular season, which is a marathon, this year it's a sprint and the Phillies will need to repeat the start they had last year. The Sixers and the Flyers will have to put it together fast as well in their tournament style return to play. The Flyers were one of the hottest teams in the NHL prior to the Covid-19 shutdown, as winners of 9 of their last 10 games. With the way the NHL has their return to play format, the Flyers can't do any worse than a 4th seed when play begins. The Sixers, a team that was struggling with injuries and chemistry when Covid-19 hit, will have an opportunity to turn it around. The Sixers could benefit from this lengthy layoff and be the team that finally plays up to the high expectations placed on them. 
Getting off to a good start also has another meaning: staying Covid free!  All the players are taking a risk returning to the arenas and stadiums around the United States along with all players will be tested and re-tested typically every other day.  There is no doubt that there will be a spike of positive tests but will it be severe enough to shut everything down again? Let's hope not!
On this week's show, The Locker Room with Billy Schweim we will discuss the Phillies and what to expect at the start of the MLB season. We will continue our push to get Brian Propp into the Hockey Hall of Fame and hear from former Flyer Jeff Harding. The Beach patrol segment this week takes us to Cape May; We will hear from their new Chief, Jeff Rife, about the summer without lifeguard racing.  It all starts Saturday and Sunday from 10am to noon on 973 ESPN Atlantic City!
Phillies Major Award Winners Since 1980