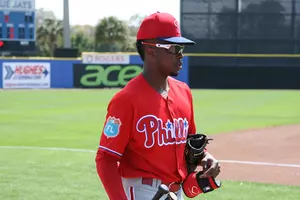 Phillies Try Quinn at Shortstop, Joseph at Third Base
The Phillies are looking for versatility from bench candidates like Roman Quinn (Frank Klose/Sports Talk Philly)
The Phillies have very few positional battles in Spring Training 2018.  The Phillies infielder will feature Maikel Franco, J.P. Crawford, Cesar Hernandez and Carlos Santana with some appearances by Rhys Hoskins at first base. The outfield has a mix of Hoskins with Odubel Herrera, Aaron Altherr and Nick Williams.  Jorge Alfaro appears to be the catcher.  That means the only real battles appear to be around the Phillies bench, so the Phillies are trying to see how versatile the candidates can be.
Phillies outfielder Roman Quinn took some ground balls at shortstop and could see some game action there during Spring Training, writes Matt Gelb of the Athletic.  Quinn was a shortstop when the Phillies drafted him as a shortstop in 2011 out of Port St. Joe High School on the Panhandle in Florida.  Though he has spent his career in the minor leagues thus far as an outfielder, adding shortstop to his repertoire could help him land a Phillies bench job.
Right now the Phillies have Pedro Florimon and Adam Rosales in camp with major league shortstop experience.  Both players can play outfield, too.  So what Quinn could bring to the Phillies is a minor league option that would give the Phillies the ability to move him back and forth between Triple-A and the major leagues, something they cannot do with the veterans Florimon and Rosales.
Meanwhile, Jim Salisbury of NBC Sports Philadelphia reports that first baseman Tommy Joseph took some ground balls at third base.  The Phillies originally traded for Joseph to be the team's catcher of the future, but multiple concussions meant that Joseph needed to get out from behind the plate.  Joseph was given the opportunity to play first base, his other position.
Joseph has no experience at third base. Joseph was a first baseman his first three years of high school before catching starting his senior year.  It was out of high school Joseph was drafted by the San Francisco Giants.  He played first base and catcher for the Giants before his trade to Philadelphia.
For Joseph, he has no real role on this Phillies team at the moment should everyone remain healthy through camp.  The Phillies may ultimately need his roster spot and Joseph could depart the organization. But while he is here, the Phillies are looking to see if Joseph can help them in other ways, so Joseph will get a look at third base.  Whether he will get that opportunity in game action remains to be seen.