Phillies-Twins (Game 65): Must-Know Stuff
Jim Salisbury of CSNPhilly.com reports that the Orioles are "keeping an eye" on Ryan Howard this spring. (Getty Images)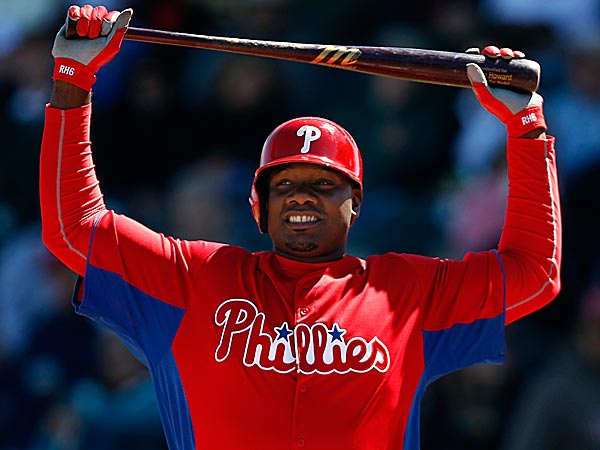 Phillies (31-33) at Minnesota Twins (27-33)
It took about 30 hours for the Phillies momentum – a five-game win streak, their most in a row since last September – to fizzle.
Does their three-game slide stop so quickly?
The only reason the Phillies are still within two games of .500 is how quickly they've recovered from turmoil. Their weekend o-fer in Milwaukee makes for their fifth skid this season. Only one has lasted four games. None longer.
For the Phillies, staying afloat starts with keeping that trend alive.
After winning seven of eight games, the Twins enter having lost four of five.
Since beating, basically, everybody in 2011, the Phillies have been tormented by the American League. They're 4-7 in interleague play this season -- two of those losses coming against Red Sox emergency starters two weeks ago. They went 5-10 last year.
The problem for the Phillies isn't coming up with a ninth batter. It's beating them.
They've have actually gotten decent production from the DH this year, and boast a top-four-in-the-National League slugging percentage and OPS from the position. But AL opponents flaunt .322/.393/.542 line against them this season, while the NL has hit only .244 with a 699 OPS.
Cole Hamels (2-9, 4.56 ERA) snapped a career-high six-start losing streak his last time out... against the Marlins. His only 2013 win prior, on Apr. 28, was against the Mets.
Still, a win is a win, and for someone who's struggled with command and admitted he's tried to be perfect at times, there's a psychological edge gained for the pitcher.
Parts of his latest start, like, say, his season-high 11 strikeouts, were encouraging. But he also looked extremely uncomfortable on the hill throughout, stepping off multiple times with frustration smeared on his face, possibly because of communication issues with Erik Kratz (more below).
Hamels in two starts with Humberto Quintero as backstop this season has surrendered 12 runs (nine earned) in 11 1/3 innings, in back-to-back outings against the Nationals and Brewers to wrap last month.
In his only career start at Target Field, last June 13, Hamels was tagged for a season-high seven runs. But the Phillies won, 9-8 – because the lineup plated six in the first inning.
Oddly enough about that game: P.J. Walters (2-1, 3.00 ERA) started for the Twins. He didn't record an out. After 15 pitches, he was pulled with stiffness in his shoulder that had him on the shelf the next day.
Today makes for the 28-year-old right-hander's fourth start in the Twins rotation in place of former Phillie Vance Worley, a chip in the Ben Revere trade. After getting the ball on Opening Day, Worley, 25, got sent to Triple-A Rochester after just 10 starts.
Walters has four pitches, but a bad combination of low-90s heat and poor command of the zone. This guy has "Take Pitches!" scribbled all over him.
Tonight makes for Revere's first return to Target Field since the trade. Delmon Young, who played parts of four seasons through 2012 there, gets another crack at a club that dealt him away.
Revere will play. Charlie Manuel's likely nods to DH for the series are Ryan Howard and Young, forcing him to use John Mayberry Jr., somewhere other than center.
Since wrapping May with a .312 average, Revere's bat has cooled to .192 in 26 at-bats since. Young, meanwhile, is going the other way. He's hit .304 in 23 at-bats this month after his average sagged to .192 last month.
An MRI on Kratz's left knee yesterday revealed a medial meniscal tear, an injury that requires surgery and puts the rest of his season in serious jeopardy.
The Phillies won't know how long he'll be out until after the procedure, the date for which has yet to be announced, but given the toll catching takes on knees, it's not likely to be a quick heal. A few months, minimum.
That leaves the Phillies with third- and fourth-stringers Humberto Quintero and Steven Lerud for at least another week. Carlos Ruiz, on the shelf since May 20, is shooting to return next week. GM Ruben Amaro said the team won't rush Ruiz back in reaction to Kratz's injury.