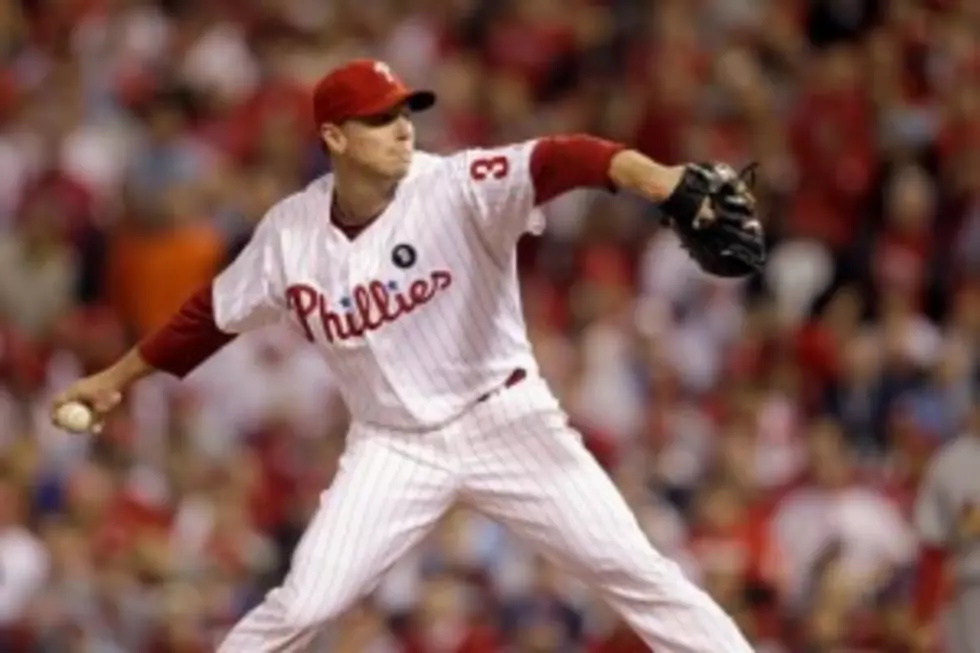 Phillies vs. Cubs Series Preview
After a 10-game west coast road trip during which they went 5-5, the Phillies return to Citizens Bank Park for a four-game wraparound series against the Cubs starting on Friday. It's not a 'must-win' series or anything because, well, it's April but that said, this series against the 6-13 North Siders is one that is going to tell us a lot about this Phillies team and what we can expect from it for the rest of the season.
The prevailing wisdom says that the even with an anemic offense the Phillies will have a chance to beat any time on the days that it trots out one of its three aces. But because of the quirky nature the four-game series and an oblique injury to Cliff Lee, the Cubs only have to face one-third of the triumvirate in the form of Roy Halladay. In other words, the Phillies' will have to score some runs to beat the lowly Cubbies, something they haven't been able to do with any consistency so far this season.
There are some reasons to be optimistic. First, the Phillies hit .327/.351/.545 against the Diamondbacks pitching staff which, statistically speaking, looks pretty similar to the Cubs' at this point in the season. The team now has four hitters hitting over .300: Ruiz, Wigginton, Pierre, and Nix (although he has less than half the plate appearances as the first two.)
If the Phillies' can take three out of the four games against the Cubs, they'll be able to take a winning record on the road with them as they face the second- and first-place Braves and Nats next week. Wins against those two divisional foes would chip away at their leads and do a lot to restore the division standings to what we expected them to look like. Finally, the Phillies have scored more runs than they've allowed (but only just: they've scored 63 and allowed 62). That's good for a Pythagorean W/L of 10-9, implying they've been the victims of a little bit of bad luck. And luck, in the long run, usually evens out.
Let's take a look at the matchups:
Paul Maholm (1-2, 8.36 ERA) vs. Roy Halladay (3-1, 1.50)
Paul Maholm has been one of the weakest links in the Cubs' rotation so far this season. The lefty was pulled after just four innings and gave up six earned runs in each of his first two starts of the season against the Brewers and Cardinals. He earned the win last week by holding the Reds to just a run in six innings of work.
Hunter Pence has made mincemeat of Maholm over the course of his career. Hunter has a .318 average with 9 RBI and 2 home runs in 44 at-bats against Maholm.
Roy's been his usual, bad-ass self through his first four starts of the season. He's allowed just 5 runs in 30 innings of work. He's struck out 19 batters and walked only 8. He's given up just 5 extra base hits and has yet to allow a home run.
Halladay's career numbers against the Cubs are pretty great, too. In five starts, he has an impressive 11.50 K/BB ratio, and that's even including the infamous Heat Exhaustion game from last year.
Randy Wells (0-0, 3.60 ERA) vs. Joe Blanton (1-3, 4.34 ERA)
Randy Wells will be making his second start in place of the injured Ryan Dempster, who's on the DL with a strained right quad. In his only other appearance of the season, Wells scattered six hits and five walks over five innings, but allowed only two runs. The Cubs would go on to drop the game to the Reds, but it was through no fault Randy's.
Wells has only faced the Phillies twice in his five-year career, most recently in June of 2011 when he was tagged for three runs on three hits and was yanked my manager Mike Quade after just 2.1 innings.
Joe Blanton continues to be a question mark in the rotation because you can never really be sure which Joe Blanton is going to show up. In three starts, he has an even 4.00 ERA. In his first start of the season, allowed just three hits over seven innings and showed the kind of confidence one would expect from one of the vaunted Three Aces, not a middle-of-the-rotation guy. His next two starts weren't nearly as good, and opponents took advantage, tagging him for a total of 18 hits.
If Blanton can stay healthy this year, and keep the confidence and poise he showed in his first start, there's reason to be high on him: through four appearances, his groundball to flyball ratio is 0.92, much closer to his career average of 0.80 than last year's 1.26. Kentucky Joe can save himself a lot of work if he gets back to pitching to contact and letting the defense behind him do the heavy lifting for him.
Matt Garza (1-1, 3.38 ERA) vs. Kyle Kendrick (0-1, 9.39 ERA)
Matt Garza looked darned-good so far in 2012, his second season with the Cubs. For whatever reason, Garza went from being a 70/30 fastball/off-speed pitcher in Tampa to a 55/45 guy, increasingly relying on his slider as his out-pitch. The results are plain to see; last year Garza had career lows in ERA and home-runs allowed and struck out more batters than ever. In 2011, he struck out batters 23.5% of the time. So far this year, he's doing even better at 24.8%.
Garza can be beaten with a liberal application of plate discipline, which the Phillies have been struggling to show. It's a pretty simple strategy: the Phils' hitters need to make Garza work and wait for their pitches. If they're even capable of doing this remains to be seen, however.
Kyle Kendrick. You love him or hate him. Either way, he's filling in for Cliff Lee who is recovering from an oblique injury.
A Kendrick start's success depends largely on which version of Kendrick shows up: will the 2007, 10-4, 3.87 ERA Kyle show up? Will it be the 2010 11-10, 4.73 ERA Kyle? Could it be the Kendrick that plunked a league high 14 batters? Maybe it'll be last year's Kendrick who struck out two batters for every one he walked. There's really only one way to find out which iteration of Kyle Kendrick we'll see, and that's to trot him out to the mound.
Jeff Samardzija (2-1, 4.13 ERA) vs. Vance Worley (2-1, 2.16 ERA)
Jeff Smardzija has been the Cubs' version of Kyle Kendrick since being called up in 2008. He's shown promise in some stints in the majors but has been sent down after struggling. In his first start of 2011, Samardzija came one out away from a complete game, but was pulled in favor of the Cubs' closer after allowing the Nationals to pull within one run of tying the game by way of an Adam LaRoche two-run home run.
Smardzija has been hittable in his other starts this year: he coughed up five runs in ten hits in his second start (in which he actually earned the win) and five runs on eight hits in his second. In his last start, he held Cardinals hitters to only four hits and didn't surrender a run before being pulled with a one-run lead with two on and two out in the seventh.
It looks like Worley has made some changes in his approach this year. Through four starts, Worley is using his fastball 11% less than he was last year, and throwing his changeup 8% less, uncorking it just 1.8% of the time. Instead, Vance is going to his slider a hair more than last year, and using a cutter for nearly a quarter of the pitches he throws. In 2011, he threw a cutter just 10.1% of the time. So far this year, he's using it 22.9% of the time. It will be interesting to see how these numbers change as hitters around the league get more appearances against this new-look Vance.