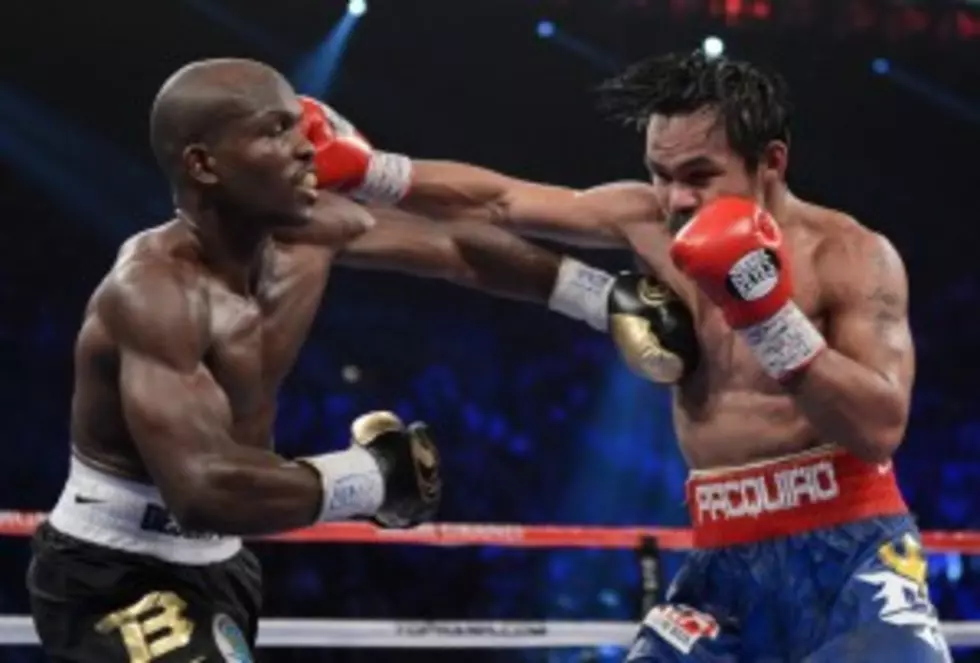 [PODCAST] Sportsbash ON DEMAND June 11 2012
Did you miss the Sports Bash or do you just want to listen to it again?
The Sports Bash ON DEMAND gives you the chance to go back and hear what you missed.  Its the Sports Bash with Mike Gill and Todd Ranck.
Here is today's show: Monday June 11th, 2012.
Mike Gill and Todd Ranck open up today's show with the debacle that was the Manny Pacquiao vs. Timothy Bradley fight Saturday night.  Todd likens it to the fiascoes of the WWE, calling promoter Bob Arum "a better actor than Vince McMahon."  The main question is: how can 3 judges make one decision and the rest of the boxing world make the complete opposite decision if we all watched the same fight?  Either way, there will be an "investigation" and come November 10th, we will see Pacquiao vs. Bradley II.

Mike and Todd continue to talk about the awful decision by three judges over the weekend.  Todd wonders why there are arent any former boxers or commentators as judges, rather we see (or don't see) three people we've never heard of judging these fights.  Todd also says that Dana White must be one of the happiest men in America after this result.
Legendary trainer turned commentator Teddy Atlas called in and gave his thoughts on Saturday nights fight.  He called into Mike and Mike In The Morning and brought some strong and passionate thoughts to the table.  With our interview, the same remained.  A summary here will not do any justice to the passion coming from Teddy Atlas here.  Teddy Atlas has been in boxing for 40+ years and is currently a boxing analyst for ESPN.
Sportsbash Stock Exchange
Sportsbash Stock Exchange is a series of BUY or SELL questions hosted by producer Pete Giordano.  The Stock Exchange is brought you by Linwood Country Club.  Visit their website to learn more about one of South Jersey's oldest and most-respected private golf clubs!
1. BUY OR SELL trusting the sport of boxing?
2. BUY OR SELL ready for 3 hours of WWE Raw?
3. BUY OR SELL 4 Phillies pitchers in top 15 of Most Overrated in MLB?
4. BUY OR SELL wrong place at wrong time for Temple star Khalif Wyatt in Atlantic City?
Phillies a bad baseball team
Mike Gill talked about the Phillies here, calling them "a bad baseball team.  29-33 is not a very good baseball team."  Gill wonders if it's just as simple as losing your 1B and 2B Ryan Howard and Chase Utley for extended time.  The Phillies dropped 2 of 3 over the weekend in Baltimore and will begin a three game set vs. Minnesota Twins Tuesday night.  Kyle Kendrick will get the start.
Evander Holyfield calls in
Former champion of the world Evander "The Real Deal" Holyfield called in and gave us more perspective on the state of boxing today.When asked about "corruption" in the sport, Holyfield dodged the question and wanted to point the finger more at bring someone in the sport to fix it.  Evander Holyfield is a former Undisputed World Champion of both the cruiser weight and heavyweight divisions.  He boasts a record off 44-10 including 29 wins by knockout.
It's a Monday edition of Top Tweets brought to you by The NEW Mercedes-Benz of Atlantic City.  It's a very short edition of Top Tweets today due to the Holyfield interview.  Visit their website and drive home in a luxury car tomorrow!  It's all inside Top Tweets!
5 Eagles players under most pressure
Who are the 5 Eagles players under the most pressure this 2012 season? Mike Gill and our Eagles Insider Ryan Messick give their five players who are under the gun.
It's 5 questions brought to you by American Youth Enterprise.  Visit their website for the best prices, services and quality for all your Custom Printed T-shirts and Promotional Items!
1. Of all the non major sporting events happening, which one are you most interested in?
2. Should boxing promoters move away from pay-per-view?
3. If you are Matt Forte, would you sign your franchise tag or hold out?
4. Who wins in NHL Cup Finals and gets the game winning goal?
5. Good law to ban profanity or is it pushing it to far?