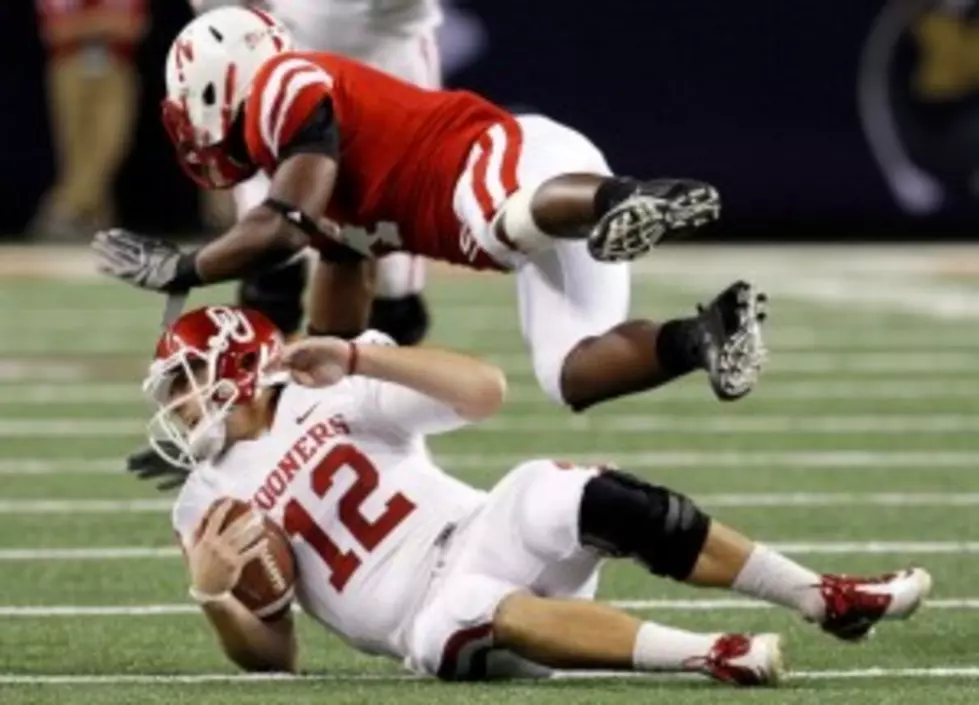 Possible Eagles Targets In Second Round Of Draft
The Eagles hold two picks tonight in the second round of the NFL draft (46th and 51st overall) and one in the third round (88th overall).  The Birds still have some ammunition to maneuver, with one pick each in the fifth and seventh rounds and two sixth rounders.
Here's a list of possible targets for the Birds in tonight's second round, having already taken defensive tackle Fletcher Cox from Mississippi State in the first round and filled a need.
The top need for the Eagles to address tonight is outside linebacker, while they could also add some depth at offensive tackle and defensive end.
Lavonte David, OLB, Nebraska – David may be the only remaining outside linebacker who could step in and truly challenge for a starting spot in his rookie year.  While there are quality 3-4 players left, and Zach Brown has the type of speed the Eagles value, Brown sometimes takes himself out of position.  Some had David graded as a first rounder, so the Eagles may need to move up from 46th to get him.
Jonathan Martin, OT, Stanford – At 6-foot-5 and 312 pounds, Martin has the type of size Eagles offensive line coach Howard Mudd likes in his tackles.  When Jason Peters went down, I had Martin penciled in as a guy the Eagles might target until they got Demetress Bell.  Now that he's still on the board in the second round, he could be of interest.  Martin has good feet and is quicker than the average offensive tackle, which makes him better suited than most for the Mudd style of play.
Andre Branch, DE, Clemson – Branch fits the type of defensive end the Eagles like, at 6-foot-4 and 259 pounds and with a 4.70 40-yard dash time.  Branch is a good speed rusher, and according to Scouts, Inc., Branch "shows the ability to shave the edge with almost no wasted steps."  That makes him a good fit in the wide-nine.
Bobby Massie, OT, Mississippi – Massie is a little bigger than Martin at 6-foot-6 and 316 pounds, and slightly less of a good fit than Martin for the Birds style of offensive line play, but he's still good value at the position as many had a first round grade on him.  He's still a better fit than most offensive tackles for Mudd's system, as well.
Mike Adams, OT, Ohio State – Adams is the last of the second round tackles that might pique Mudd's interest.  He's 6-foot-7 and 323 pounds, and might be the third best fit of these three, but he would have likely been a first round pick if not for some off-field issues.
Cordy Glenn, OT, Georgia – Glenn is 6-foot-5 and 345 pounds, which makes him quite a bit bigger than Mudd would like at tackle, and he's a bit too big as a guard with the shorter-than-average Michael Vick playing behind him.  Still, if he's on the board at 51 and the other three aren't, he would provide good talent and depth on the offensive line.
Coby Fleener, TE, Stanford – Fleener is the best tight end in the draft and has the speed to stretch the middle of the field.  He can also be moved out wide and create mismatches.  While the Eagles like Harbor, Celek and Fleener would be the type of pairing that would drive teams nuts.
LaMichael James, RB, Oregon – James probably won't be around in the third round, and it would be surprising to see the Eagles take a running back in the second round with the talks of extending LeSean McCoy.  James fits the Eagles mold, though, as a speedy, elusive runner and a good pass-catcher who can also be split out wide at times.
Janoris Jenkins, CB, North Alabama – Jenkins would have been a sure-fire first round pick if not for a slew of off-field issues.  While he draws comparisons to Asante Samuel, Jenkins also has ability as a press corner.  Jenkins was kicked off the Florida football team in April of 2010 after being arrested two times in three months on drug-related charges. Jenkins was also arrested in 2009 after being involved in a fight, and he was ejected from a game in 2011 for throwing a punch.  Still, someone will likely take a chance on him tonight.
Josh Robinson, CB, North Alabama – Robinson has blazing speed, with a 4.33 40-yard dash time.  Robinson also has potential as a kick and punt returner, which the Eagles could use.  He reminds me of a Dominique Rodgers-Cromartie type, with a little less talent.  That speed is enough to recover from a lot of mistakes, though.