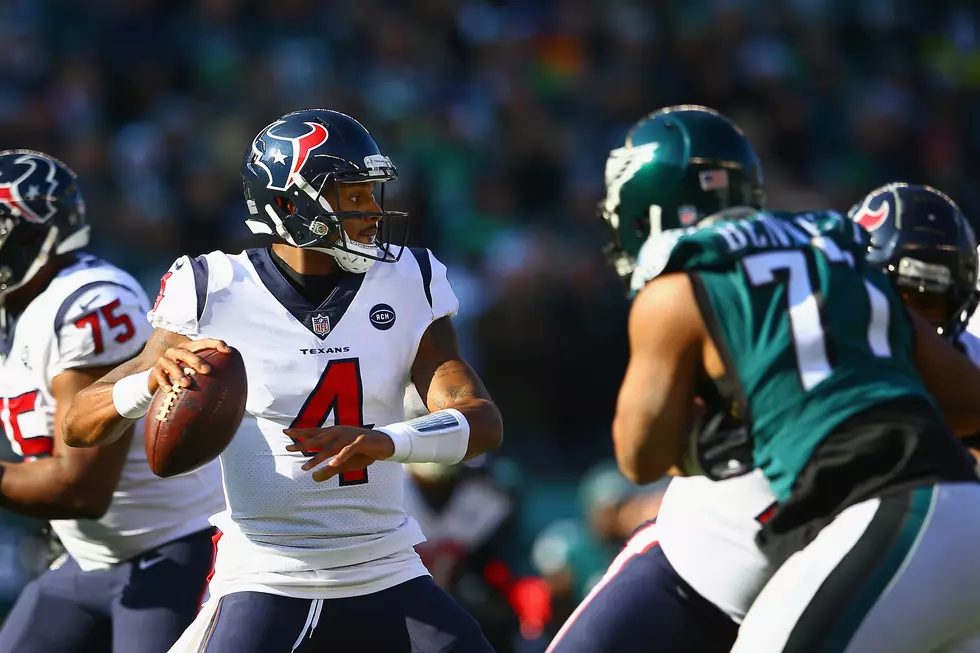 Report: Eagles 'Loom a Little Bit' for Deshaun Watson
Getty Images
Houston Texans quarterback Deshaun Watson might be closer to finding a new team, after a Harris County, Texas grand jury declared he would not face criminal sexual assault charges on law suits form 22 separate women, making it more likely he will play in 2022 after missing all of the 2021 season.
He still faces civil suits for sexual assault.
So what does this mean for his future?
The Carolina Panthers seem to be the team with the most interest at this time.
However, the Philadelphia Eagles still "loom a little bit," according to ESPN's Jeremy Fowler on Sportscenter Saturday morning.
He mentioned the Eagles' three first-round pick and past interest in Watson.  Fowler also reported that it is believed league-wide that Watson does not have interest in waiving his no-trade clause top play for the Eagles.
With Howie Roseman,  you always know the Eagles will do their due diligence on any talented player.
The Eagles did make an offer for Russell Wilson according to reports, he would not
According to Fowler, Tampa Bay seems to be a place to keep an eye on for Watson's services.
Here are the odds for Watson's next team per BetOnline:
Deshaun Watson Next Team Week 1 2022 (if not Texans)
Panthers
2/1
Seahawks
3/1
Bucs
5/1
Browns
8/1
Eagles
9/1
Saints
10/1
Jets
12/1
Vikings
12/1
Lions
16/1
Raiders
18/1
Steelers
18/1
Colts
25/1
10 Favorite Things about Cape May County