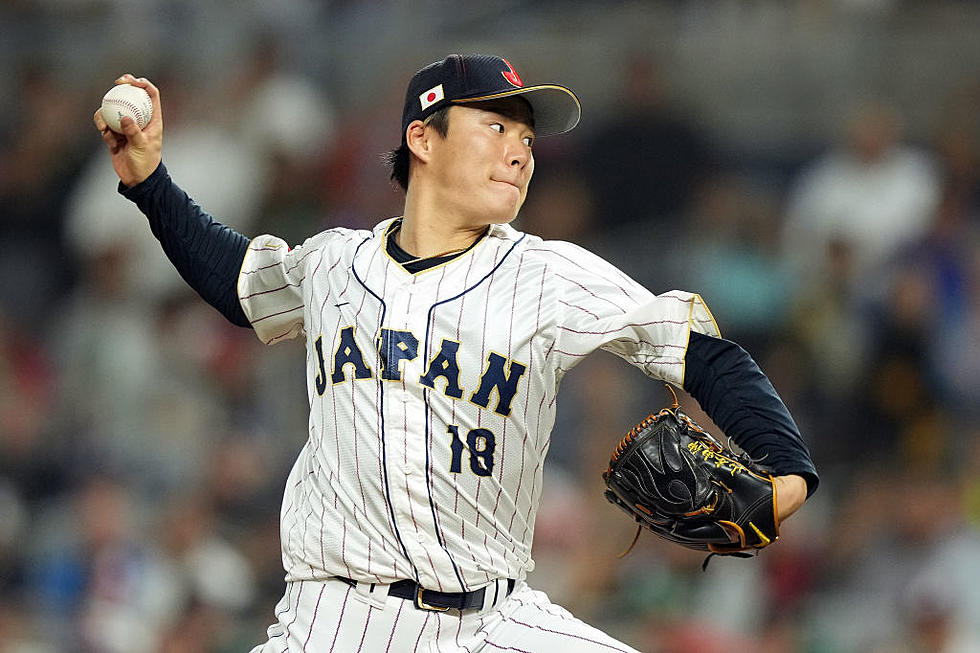 Report: Phillies Serious About Japanese Ace Pitcher Yamamoto
Yoshinobu Yamamoto pitches in the 2023 World Baseball Classic (Eric Espada/Getty Images)
We are in the fullness of the 2023-2024 Major League Baseball offseason.  The Phillies are, like many teams, looking to improve their rosters for another postseason run.  After a disappointing end to the 2023 season, this feels like an offseason that the Phillies will want to make count.  And Japanese ace pitcher Yoshinobu Yamamoto certainly would do just that.
Alex Coffey of the Philadelphia Inquirer reports that the interest in Yamamoto is real.
Like many teams, the Phillies have sent scouts to see Yamamoto, but sources say their interest in him is far from cursory.

"They've done significant work on Yamamoto," said one National League scout. "Most teams have sent scouts to see him, but I would say the Phillies should be considered one of the top five or six suitors for his services."
The Phillies currently have a hole for a top-of-the-rotation starting pitcher.
Aaron Nola is a free agent, and the Phillies and their former first round draft pick are far apart in negotiations, according to many published reports.  At 30 years old, the Phillies might not want to give Nola a deal that is as much as eight years, which is a number reported by Bob Nightengale of USA Today.
Eight years might be a more worthwhile risk for Yamamoto, who is just 25 years old.
Yamamoto is reportedly set to enter the Japanese posting system any day now.   The posting system allows Major League Baseball teams to sign talent away from the Nippon Professional Baseball League in Japan... for a price.
Yamamoto reportedly may earn as much as $200 million, according to many reports.  Should he sign a contract above $50 million, the posting fee will be, according to MLB.com, "20 percent of the first $25 million plus 17.5 percent of next $25 million plus 15 percent of the total guaranteed value exceeding $50 million."
In seven seasons, Yamamoto boasts a 1.82 earned run average, with the last three seasons coming in at 1.39, 1.68, and 1.16.  He pitches in the high 90s.
He was most recently in the United States pitching in the World Baseball Classic, Yamamoto helped lead Japan to victory against Team USA.
The Phillies still state that they would like to retain Nola for their rotation.  But if they are not confident of potential term with Nola and/or can beat other teams for Yamamoto's services, they just might want to guarantee a top arm in their rotation.
As much as they like Nola, the Phillies like winning more.   That is why they are in on who might be one of the most intriguing free agents to post from Nippon since Shohei Ohtani.