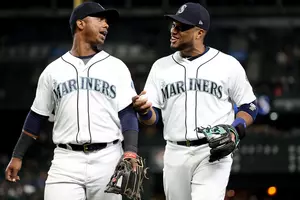 Report: Phillies to Acquire Jean Segura
Jean Segura (left) and Robinson Cano (right) both could be headed to the N.L. East *Abbie Parr/Getty Images)
The Seattle Mariners and New York Mets have been "close" to a deal for days now that will send second baseman Robinson Cano and closer Edwin Diaz to Flushing, New York.  As the deal approaches completion, the Mariners have more assets to trade.  As we learned the other day, the Phillies have interest in shortstop Jean Segura.
Shortly thereafter, Bob Nightengale of USA Today reported that the Phillies and Mariners have indeed agreed to a trade:
As the Cano deal draws close, Segura posted a farewell to his former infield mate:
In Spanish, Segura wished Cano the best of luck in the next stage of his career.
Cano replied in English, "U next bro" (sic).  So Segura expects something to be going on.  While Rosenthal notes that he has not been approached about waiving his no-trade clause, Segura has to expect that will happen sooner or later.
It is unclear who would go to Seattle in addition to Crawford, but the Phillies have many useful pieces that can fill out a major league roster at this time.  The Mariners, who are undergoing a rebuild, could need to fill several positions.  The Phillies are looking to upgrade at most positions, but have useful Major League talent ready.
Stay tuned as we see who else is involved.