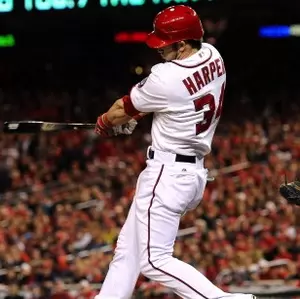 San Francisco Giants Reportedly Enter Bryce Harper Sweepstakes
The more time goes on, the more suitors Harper has (Patrick McDermott/Getty Images)
With pitchers and catchers reporting to Spring Training a week from today, former catcher Bryce Harper still does not know what team he will be a part of in 2019.  We learned recently that the San Diego Padres entered the mix for Harper's services, recently meeting with Harper in Las Vegas.  Word came Wednesday afternoon that yet another team has met with Harper.
The latest: Another club is vying for Harper, NJ Advance Media has learned. The San Francisco Giants are now in the mix and are expected to meet with the former MVP this week.
That means as many as five teams are now in on Harper.
That means that the Giants, Padres, Washington Nationals, Chicago White Sox and the Phillies are all in on Harper.  As recent reports say the Phillies are confident that they will land one or the other, the club might be in the driver's seat still; with little competition the Phillies have had little reason to raise their offer.  However, teams might decided to check out the landscape since the price hasn't gotten too high.