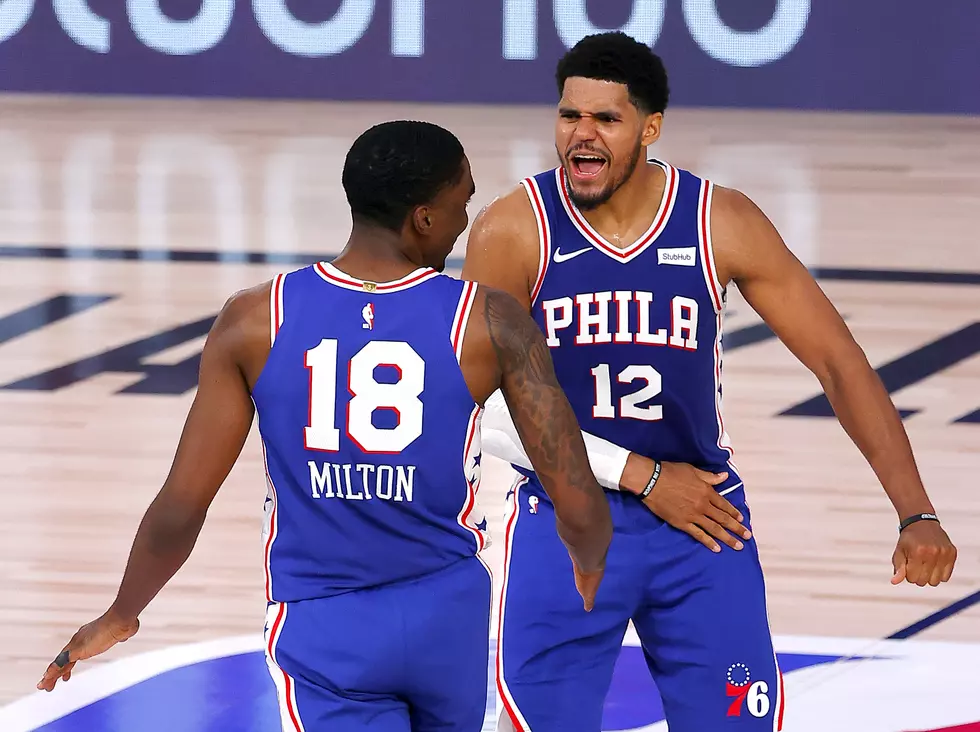 Sixers Debut New Look, Defeat Boston 109-99
(Mike Ehrmann, Getty Images)
Tuesday night the Philadelphia 76ers kicked off the 2020-2021 Pre-season at home versus Boston in front of a sell-out socially distanced crowd of staff and media. The reality of 2020, pandemic and a year many would like to put in the rearview mirror was on surreal display.
The protocols for NBA games without fans created an atmosphere that was professionally managed but had a vibe somewhere between the NBA bubble in Orlando, and regular life. For media arriving, the same entrance was used, and aside from taking a temperature prior to walking through the metal detector, all seemed normal. The media section, normally situated behind the basket on the end of the court, was spread among lower-level mid-court seating. The vantage is nearly unparalleled for the two dozen or so writers and photographers on hand. But in a building designed to house 20,000 people, "I felt like we were the crowd and the sounds of the arena is weird. I don't know what it's like to play an NBA game" Said Sixers rookie Tyrese Maxey after the game.
Enter your number to get our free mobile app
And honestly, there is no replacing the visceral feeling of a live crowd. " I thought our guys in game ops did a terrific job." Said head coach Doc Rivers after the game. "whoever was running [Gameday Operations] did a great job of understanding when we needed defensive crowd noise." Said Rivers who compared the arena atmosphere to Orlando. "It was definitely better. You felt like you're at home better than you did when you're in a bubble". And it's true, there were times when you could block out the empty building and focus on a live NBA game with just enough familiar elements to make it feel almost normal. The Sixers Stixxers and cheer squad added a distinctly home court vibe to the event.
In the first half, the 76ers displayed good defensive aggressiveness, forcing 11 Boston turnovers. The Celtics struggled to score for much of the early part of the game and the Sixers bench inherited a double-digit lead as they took the floor late in the first quarter. In the second quarter, Boston narrowed the lead, and Rivers was unhappy with some of the pace and defensive effort in that second-quarter lull. "What I'm trying to get our guys to understand is that if we have size and pace that that creates force. And that makes us really tough to guard."
Shake Milton appears to have earned the keys to the second unit offense, and displayed a good feel for his teammates while showing off some improved burst and "wiggle". He navigated the tough Boston Celtics defense and got into the heart of the defense multiple times. His shot selection was excellent in an encouraging sign for this coming season. Milton finished with a game-high 19 points on 8-14 shooting including 3-6 from three. Speaking about Milton's performance, Doc Rivers said "It was great,  and that's what we need from him, we need him to be Shake every night."
Rivers continued heaping praise on the third-year guard. "he's very comfortable and under control and didn't force a lot of shots. It was fantastic." Fans on Twitter began to heat up the conversation about Milton as a potential 6th man of the year candidate. It appears, at least early on, that the 76ers have a competent, confident, and versatile backup point guard.
Speaking of guards, rookie Tyrese Maxey entered the game in the fourth quarter and instantly impressed, Maxey displayed a tight handle, ability to handle on-ball pressure, and vision from his first two possessions on the floor. "He's a good player. He's got to push for minutes because he's a good basketball player, he knows how to play." Said Rivers after the game.  "Can't speed him up." continued Rivers. "He's got a plethora of shots." said Rivers about Maxey who scored 8 points on a Eurostep layup and three floaters in the lane. "as I said before," said Rivers "Kentucky guys come in the NBA prepared"
When asked about his main takeaways from his first game, Maxey said "Ben told me, I don't have to play too fast, too slow. I can play at my own pace. And I think that was my biggest takeaway from today's game." 
Maxey and Milton displayed a level of ballhandling and shot creation that provides the 76ers with a new dimension that last season's team lacked. This was just an opening step in a long campaign, but there were no glaring red flags that indicate a limited upside.
Sixers Head Coaches With Most Wins In Franchise History