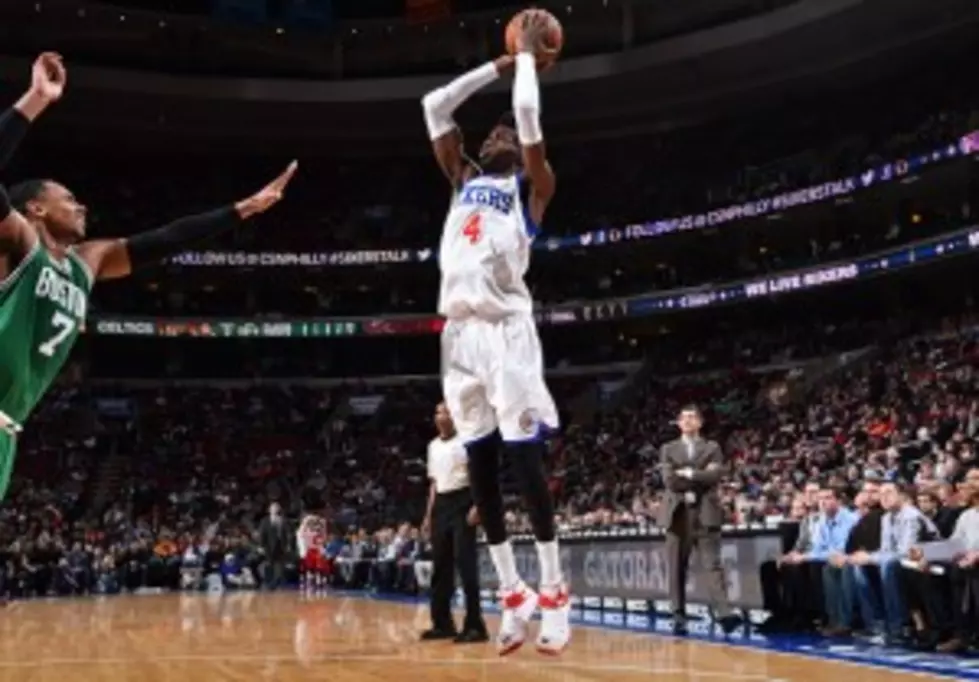 Sixers Mailbag: Noel's Shot, Tradeable Assets, Sixers Brass Sour on MCW?
Nerlens Noel scored a career-high 19 points against the Celtics on Monday with eight boards, four assists, three steals, two blocks and three turnovers in 29 minutes. (Photo by Jesse D. Garrabrant/NBAE via Getty Images)
Welcome to Derek Bodner's Sixers Mailbag. You can check out his previous installments at Libertyballers.com
Each week Derek will answer reader questions and tweets and will appear on the Sports Bash with Mike Gill to answer your questions.
No wins to talk about this week (thanks, Memphis), but we did finally get the long-awaited addition of Furkan Aldemir (even though nobody asked any questions about him...).
Q: Can you talk about Noel's offensive progression since college?
DB: The main change has been on his jump shot. He legitimately did not attempt a single jump shot at Kentucky, something that Noel claimed in an interview once, and which I went back and verified by looking at Kentucky tape from the 2012-13 season.
So far this season he's attempted 28 shots from 8-16 feet, connecting on 35.7%. This was mentioned in the comments, but he's shooting 41% on baseline jumpers. Those are certainly not good percentages, but for somebody who legitimately attempted none of those shots before this season, it's at least intriguing.
One area that he's almost completely abandoned, and for good reason, has been operating out of the post. They tried to post him up more than you would have expected at Kentucky, and that's really not his game, especially at this level. He's traded that in for more face-up possessions. His quickness gives him some potential here, and he's converted at times, but they've generally led to wild, inefficient shots.
Overall, his offensive progression has probably gone about as well as could be (reasonably) expected, but he's obviously still incredibly raw.
Q: Do you think any Sixers have played themselves into tradeable assets?  (save MCW, Noel, KJ)  If so, who would you part with/who would you keep?
DB: If you take away those three, I'm not sure anybody has really played their way into a tradeable asset.
Note, by tradeable asset, I mean actually getting something back in return of considerable value. Sure, you can trade guys like Wroten, Thompson, Sims, and Covington, but I don't see any of them fetching a first round pick, and for anything less, what's the point?
The guy who might have the most value in 2 years out of that group could be Covington, but I think it's still too early for his value to really jump.
That being said, the fact that you put K.J. into that group is a good sign. For a second round pick, he is already worth far more than he was just 6 months earlier.
Q: Could Porzingis share the floor with any two of Embiid, Noel and Saric?
DB: I've only watched a handful of Kristaps Porzingis' games so far this year, but from what I have seen, he's improved tremendously.
The biggest improvement in his game has been on the perimeter. He always had some touch on his jumper, but it's looked far more fluid and consistent so far this year, to the point where it's been borderline automatic. Off the catch, off of one or two dribbles, coming off of screens, with a hand in his face, on turnarounds. He's shown an incredibly diverse skill set.
Now, he still doesn't create all that much off the dribble. He's far more likely to operate as a roller than a ball handler in the pick and roll, and he doesn't create much from the perimeter. He has a good first step and good handles (especially for his age) at the power forward spot, but I think you need more ability to create from the perimeter if you're slotting a guy at small forward next to Noel and Embiid. I still look at him more as a power forward prospect who has to fill out than a small forward. He could probably play spot minutes in such a lineup, but I wouldn't run it out there for extended periods of time.
Q: Can you give a full breakdown of the Grizzlies game for us in relation to your overall analysis of MCW?