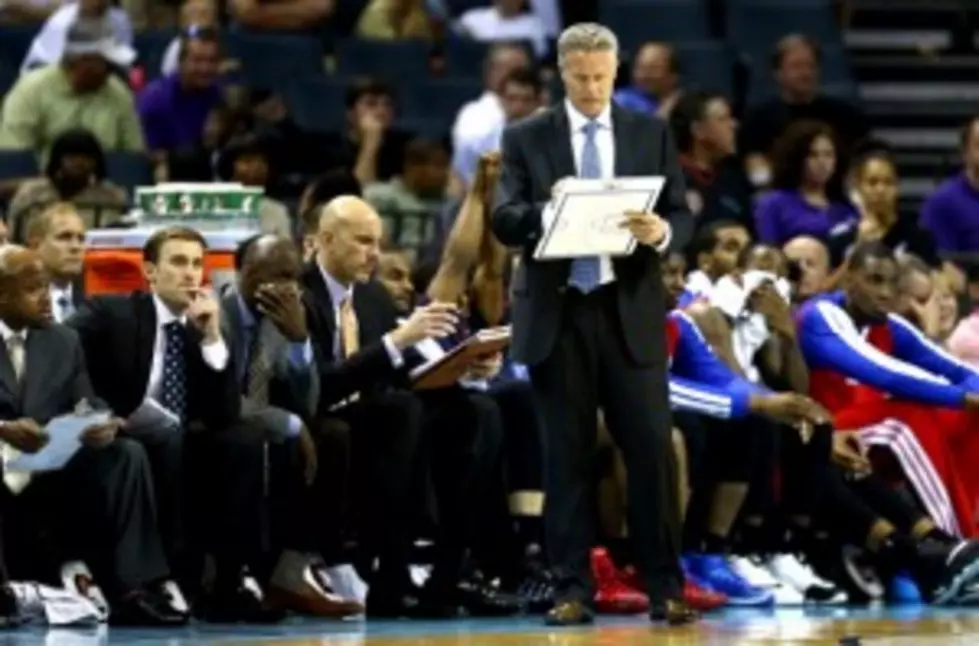 Sixers Culture is Ahead of the Curve
Sixers head coach Brett Brown wants to start winning next season. (Photo by Streeter Lecka/Getty Images)
It was one criticism of the Sam Hinkie plan that sounded scary. That sounded legitimate.
How could the Sixers develop good habits while playing losing basketball? How could Brett Brown possibly keep the locker room together while losing game after game after game?
With the exception of some minor bickering between since-departed Michael Carter-Williams and Nerlens Noel over ball movement, the Sixers locker room has been extremely tight, and as close as any 18 win team you'll find.
"The attitude was great, the guys were great, guys got along. It was a great locker room," Luc Mbah a Moute, one of the two real veterans on the roster, said after the final game of the season. "I love it here. I like what they're doing in trying to develop guys, and I see the pieces that they're putting together.
'It was way easier. I thought it would be really hard," Luc Mbah a Moute said about his expectations after being traded to the Sixers. "I definitely think that's something I want to be a part of."
The answer was something you wouldn't expect from Mbah a Moute, who will turn 29 by the start of next season and is firmly in his physical prime.
But, as the season wore on it was a theme that became increasingly obvious, especially among the two veterans that the Sixers had on their roster.
"I've been on bad teams, losing teams, where guys are just counting down the days to go home," Jason Richardson said. "Nobody was coming in and talking about summer vacation [here]. That's a good testament to the type of guys that are in this locker room and how much they care about this organization.
"It was a great experience for me. I really like being around these guys. The guys like to be around each other," Richardson said.
The first step in being able to maintain a positive culture came from Sam Hinkie. It was one benefit of the design of the team and the types of personalities he pursued.
There was much talk about the necessity of veteran presence on the team, and certainly experience from a peer is a good teaching tool for young players looking to develop in their craft. But having a roster comprised entirely of people looking to prove themselves helped promote consistent effort, even in the face of losing.
When you look at the 9 players who logged the most minutes for the Sixers this season, 4 of them were rookies with no NBA experience entering the season. Others, such as Henry Sims and Hollis Thompson, may have played last season, but they still had plenty to prove. Robert Covington, who played the second most minutes on the Sixers this season, was in the D-League when the season started.
Even the old guys on the roster, Jason Richardson and Luc Mbah a Moute, had plenty to prove.
Richardson, who was working his way back from 2 ankle injuries and a fracture in his foot, had to prove he was still an NBA player.
"The foot fracture, that was the one that I was like "I'm done. There's no way [I'm coming back]'," Richardson told me after the season. "I worked my butt off, I did everything I was supposed to do.
"It was like a blessing in disguise, though, because my knee really wasn't as strong as it [needed to be]," Richardson concluded.
Luc Mbah a Moute, more known for his defensive presence, was given a green light on the offensive end that he had never previously enjoyed in his career, and with that green light came a desire to prove that he could extend his game out to the three point line with consistency.
"Any time you have a coach that believes in you, you want to give 150%," Mbah a Moute said, explaining the team's consistent effort. "That's what coach [Brown] does. He believes in his players. He believes in developing them and allowing them to play to their full potential."
While Sam Hinkie's controversial roster construction helped keep the Sixers effort level high, it's head coach Brett Brown who deserves the lions share of the credit.
"It's more than just basketball," Luc Mbah a Moute said about Brown as a coach. "We're still human beings. We still have to live, we're not just basketball players. I think he does more than just draw X's and O's.
"It's probably one of the best experiences I've had with a coach," Mbah a Moute said.
That effort became one of the calling cards for a club consistently on the wrong end of a large talent discrepancy.
The Sixers had the best defensive rating in the league (98.1) in the 4th quarter. They forced the 2nd most 4th quarter turnovers in the league, averaging 4.2 turnovers forced per 4th quarter, behind only Dallas' 4.4. Both are signs that the Sixers effort level remained high*.
"I never had that from a coach in this league, to make me feel comfortable when I mess up."
"The fact that he talks to me is just a big difference right there," Thomas Robinson, the former 5th overall draft pick turned NBA vagabond, said when asked how Brown was different. "I never had that from a coach in this league, to make me feel comfortable when I mess up."
It's that attention, the attention to detail, the attention to the needs of his young players, that may separate Brown from the crowd. Hired in large part as a result of his pedigree as a player development coach with San Antonio, Brown's ability to engage with his young squad and get them focused on behavior, on repeated behaviors that turn into habits, may be his calling card.
Beyond effort, Brown also scored well on a personal level.
"Everybody feeds off of him a little bit. He's not a yeller, he's more like a teacher," Luc Mbah a Moute said. "He works for guys, he develops guys, and he's patient. He's been great this year."