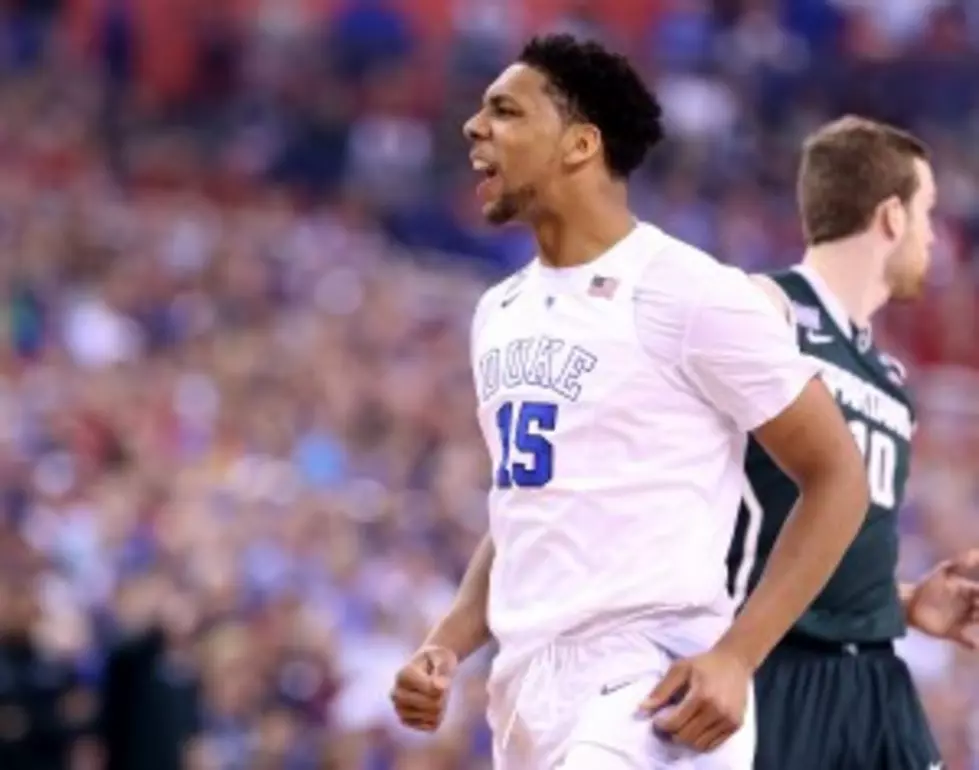 Some Takeaways From Sixers Summer League Mini-Camp
Jahlil Okafor from Duke was taken by the Sixers No. 3 overall. (Photo by Andy Lyons/Getty Images)
The Sixers spent the past few days at PCOM preparing for the 2015 Utah Jazz Summer League, which began on Monday night.
What the media is able to watch is very limited, as we only get to see about the last 10 minutes of practice, plus whatever guys do extra after that, which is usually limited to jump shooting drills and foul shots.
Still, here are some quick takeaways from what we were able to see over the last few days. These quick thoughts are probably more focused on guys who are likely to make the team, and also guys who you can more easily notice progress just from jump shooting and physique, since that's about all we can judge with the limited amount we're allowed to see.
(Listen to Sixers insider Derek Bodner discuss the Sixers summer league game)
Jerami Grant looks stronger
Jerami Grant's definitely added some strength to his frame over the summer, looking noticeably more developed in his upper body.
"That was one of the key points I wanted to focus on going into the offseason," Grant said this past week.
Grant says he's up to 220 pounds, an improvement from the 210 or so he estimates he was at when the season finished.
Grant struggled to finish at the rim last season (44.4% within 5′), especially in the half-court (35.3%), and wasn't a good enough rebounder for somebody who played a decent amount as a small-ball power forward, so hopefully the added strength will help him improve in both of those areas.
Cautiously optimistic on Okafor's free throw shooting
One of the areas that the staff has predictably been working on is improving upon Okafor's 51% free throw shooting.
From what we were able to see, I'd guestimate that Okafor connected at about a ~70% rate in practice. There are a couple of reasons why I wouldn't yet go pencil Okafor in as a 70% free throw shooter in the regular season, the most notable of which is that we're not at anywhere near a large enough sample size to be representative of anything, but also because practice free throws ignore the psychological aspect of free throw shooting, which is definitely present for some players.
Still, watching Okafor shoot gives some hope that this is an area of his game that could be improved with time. His extension, both in terms of not being as flat-footed and in his follow-through, looked better than it did at times at Duke, and the rotation on his ball was (usually) pretty good. He certainly has a better foundation to start with than Noel did when he entered the league. I wouldn't hold out hope for a Ray Allen at the line, or even a Karl-Anthony Towns, but I think Okafor eventually getting to that 65-70% range within the next few years isn't all that unlikely, which takes him firmly out of "Hackafor" range.
Furkan Aldemir extending his range
Aldemir was clearly making a concerted effort to extend his range, and spent a considerable amount of time the other day running through drills after practice.
They seem to be focusing on Aldemir on the baseline, as he took a lot of shots from anywhere from 15′ out to the corner three. The results were kind of mixed, as he went through some stretches where he looked like he had some nice touch, then some stretches where he was all over the place.
Aldemir's ability to add a jump shot is a key for him. Aldemir was largely a pick and roll threat over in Turkey, and he was fairly successful at that, as he has good hands and solid touch around the hoop, but he's struggled to translate that to against NBA length in the frontcourt. While Aldemir's rebounding has translated (14.9% offensive rebounding rate), he's going to have to add something beyond his offensive rebounding to make him at least a marginal threat on the offensive side of the court, as the Sixers basically played 4-on-5 while Aldemir (and his 8.6% usage rate) were playing.