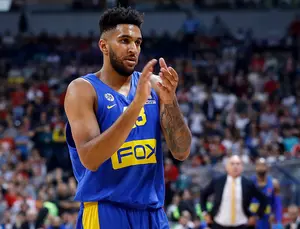 Source: Sixers draftee Bolden may stay overseas next season
Getty Images
When the Sixers made the decision to draft Jonah Bolden in the 2017 NBA Draft with the 36th overall selection in the second round, the consensus was that he would be a special player when he was able to come to the team from overseas.
Bolden, an Aussie, played his first season overseas with FMP of the ABA League and the Basketball League of Serbia, where he was named the ABA League Top Prospect in 2017.
He was known by NBA teams from his short tenure with UCLA in 2015-2016, where he came in as a highly touted recruit. From there, he left for Serbia.
Bolden played for the Sixers in Summer League and really impressed with his athletic abilities as a power forward. Aside from Markelle Fultz, the obvious highlight, Bolden showcased his abilities as a possible future role player on the Sixers.
On July 21, Bolden signed a two-year deal with Maccabi Tel Aviv worth $700,000, with a standard NBA buyout option this offseason for $650,000.
Maccabi is telling Philly that there is a chance they can lose Bolden if they rush him to the league next season.

I'm not sure of the exact numbers off the top of my head, but I think (Dario) Saric, Furkan (Korkmaz) and (Cedi) Osman all did more than one year as stash players.

Jonah can be that guy for the Sixers. He has already made major improvements is advancing his passing skills from the free-throw, high-post area as a facilitator. But there's still ways to go.

Maccabi is telling the Sixers that 2018-19 in the EuroLeague can be huge for Jonah. He'd know the game, the league, the rivals better and have a better understanding of what it takes to win at a high level.

If he is stashed again, 19-20 will be huge for Philadelphia.
Pick told me that he heard Bryan Colangelo promise Bolden at Summer League that this deal was a one-and-done stash agreement, "but Maccabi is looking for continuity and they told the Sixers that another season in Tel Aviv, in Euroleague can help Bolden a huge deal before he makes the eventual jump."
Asked about Bolden's development overseas since being drafted by the Sixers last summer, and Pick said that while he has struggled at times, he has made a great deal of progress as well.
"He is having a rough time now, unstable, had some bad games, didn't even suit up for the cup finals that Maccabi lost at home (DNP-Coach's decision).

But he's made tremendous progress in reading situations, developing his IQ, and becoming more of a rim protector.

Jonah told me himself the other day he still has lots to improve on and that he isn't thinking of the NBA at this time.

At the end of the day, Maccabi wants him for next season as a returning power forward who has started in ALL of it's Euroleague games this season."
His defense and the ability to guard multiple positions from the four spot is a main reason why Sixers GM Bryan Colangelo used a second-round draft pick on Bolden.
Bolden has averaged seven points per game, nearly six rebounds, two assists, and a steal in 24 games with Maccabi this season.
Back in January, Colangelo told Rich Hofmann of the Athletic that he hoped Bolden would be wearing a Sixers uniform this offseason.
"We have pledged to the agent and Maccabi that we would have an open mind to consider any and all scenarios, but yes, there is a scenario where I can envision him in a Sixers uniform next season," Colangelo said.
With Maccabi Tel Aviv clearly wanting Bolden to remain overseas and Bryan Colangelo having expressed interest in having Bolden join the Sixers' roster next season, it will be an interesting situation to monitor during the offseason.
Josh Liddick is Sixers managing editor for SportsTalkPhilly.com. Follow him on Twitter @JoshLiddickTalk.