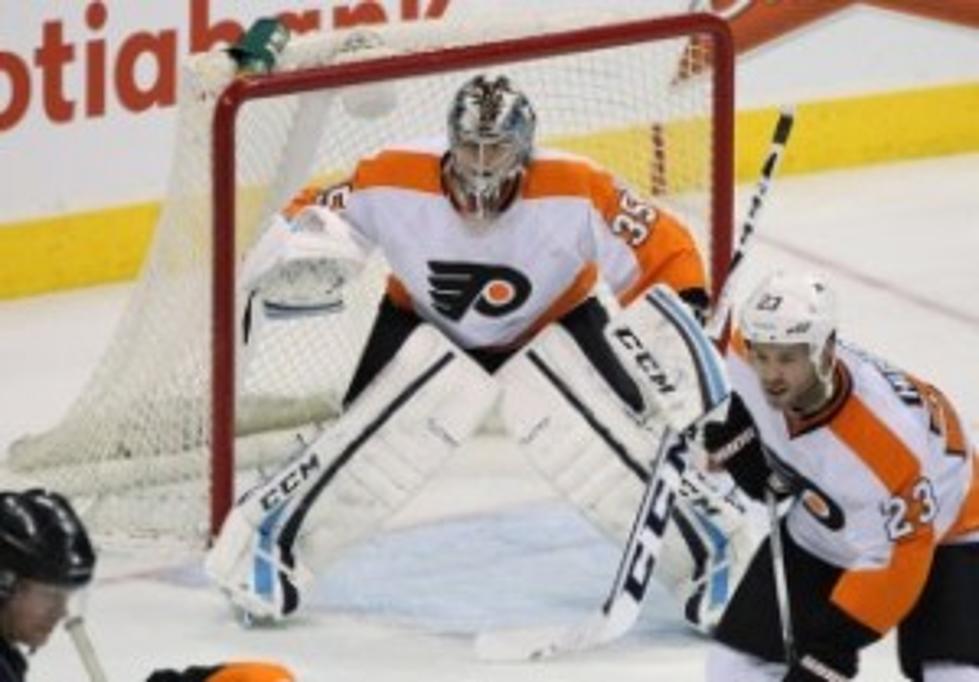 Source: Steve Mason to Have Surgery on Injured Knee
According to a source, Steve Mason will undergo arthroscopic surgery on his knee. (Photo: prohockeytalk.nbcsports.com)
According to a source, Flyers goalie Steve Mason will undergo arthroscopic surgery on his knee.
While the Flyers have not provided a status update on their number one goalie yet, one could come sometime today.
The Flyers called up Anthony Stolarz to backup Ray Emery, Stolarz, 21, has a 3.04 GAA and .911 save percentage in 22 AHL games - but don't expect to see Stolarz get any playing time.
The 26-year-old Mason has already missed time on two different occasions because of a knee and back injury.  Depending on the type of procedure, this injury could end his season.  So the question is why not just shut Mason down at this point and get the procedure done and get the knee cleaned out and it seems finally that's what the Flyers have decided to do.
This most likely will end Mason's season, just when he was playing his best, he hasn't lost a game in regulation in his last six starts (5-0-1), but this should assure that he will be ready for next season.
Mason got off to a slot start this season, but has an 11-12-7 record with a 2.30 goals-against-average and .925 save percentage.
Even with the Flyers playing better hockey recently, the Playoffs aren't really a realistic possibility at this point, so instead of risking further injury, the Flyers decided to shut their top goalie down.  Mason has wanted to continuing playing in the past to try and help his team make a playoff push.  However, with just 29 games left and nine points behind Boston, the team will turn to Emery.
To make an improbable playoff run, Emery will have to by much better than 9-9-1 record, a 3.34 GAA and an .886 save percentage suggests he has been this season.
So the question is should the Flyers take a improbable shot at the playoff with the 32-year old Emery?  Or should the team take a look at what they might have with the 21-year old Stolarz over the next 29 games?
Don't get your hopes up to see Stolarz, the Flyers' second-round pick in 2012, from Jackson, NJ.
"Is he ready for this level?" Flyers GM Ron Hextall said. "Probably not."
Which means as soon as Rob Zepp is healthy, he should be up in Philly and Stolarz will be back in Lehigh.  Zepp, 31, has a 2.92 GAA and .889 save percentage in six games with Philadelphia this season.