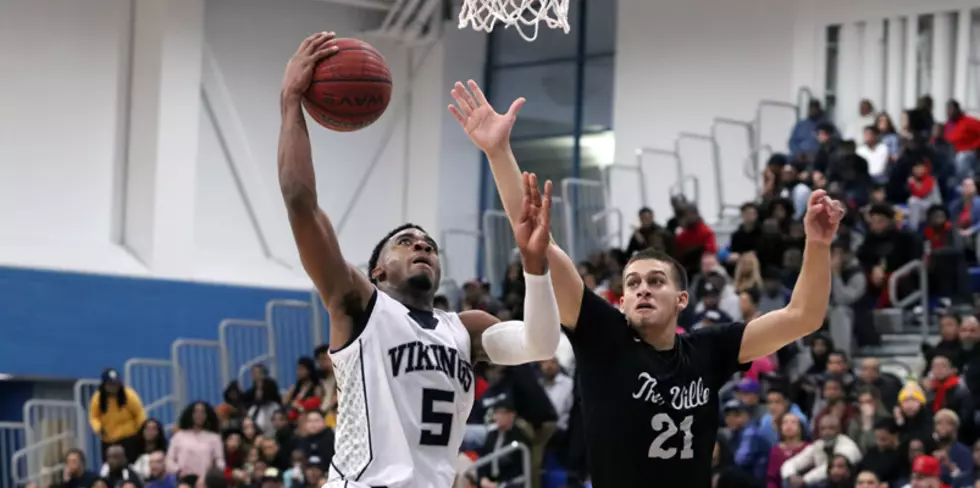 South Jersey Sports Report: A Look at the CAL Tournament
(Dave O'Sullivan, Glory Days)
Things are beginning to heat up with the Cape-Atlantic League basketball tournaments set to begin in a little more than two weeks, and teams have been leapfrogging each other the past two weeks in an effort to make their cases to be one of the eight teams selected. The top two teams in each of the league's three conferences earn an automatic bid, with two at-large bids rounding out the fields.
Some teams that were at the top in mid-January have begun to show a few cracks in the armor, while other teams have been surging to secure their spots.
Here's a look at how I see things shaking out, and where teams might end up being slotted in their respective tournaments.
The Skinny: Wildwood Catholic has faltered a bit recently, but the Crusaders are dealing with a very tough non-league schedule and clearly are still the team to beat. It would be shocking if Catholic didn't receive the No. 1 seed, but how teams are slotted behind the Crusaders could make for some interesting conversation. Teams like St. Joseph, Mainland and Atlantic City are making cases that they could be the No. 2 seed instead of St. Augustine Prep. Wildwood Catholic had its nine-game winning streak snapped by Seton Hall Prep at last weekend's Battle by the Bay showcase and slipped from No. 6 to No. 9 in the most recent nj.com Top 20 poll, but it responded with a 30-point win over Pleasantville this week and the Crusaders still have to be considered the prohibitive favorite to win the CAL Tournament.
As it stands now (in Sully's view, the best teams): 1. Wildwood Catholic (14-3). 2. St. Augustine Prep (13-3). 3. Atlantic City (14-4). 4. St. Joseph (13-3). 5. Mainland Regional (15-4). 6. Holy Spirit (1-6). 7. Pleasantville (8-11). 8. Ocean City (10-8). [In the hunt] ACIT (11-6), Millville (7-9), Cedar Creek (9-7).
What to watch for: Atlantic City has been playing well, including a very solid win over Pleasantville in the finale of the Battle by the Bay, and Gene Allen-coached teams typically get better as the season progresses. … how will St. Augustine Prep fare without point guard Kevin Foreman? The senior likely is out for the season with a foot injury, but sophomore Kenny Selby stepped up nicely in his absence in a win over Atlantic City. … can Pleasantville be a factor? The Greyhounds have a lot of talent but haven't quite been able to put it all together into a sustained winning streak. But playing tough competition all year should pay off for them in late February. … Holy Spirit could surprise some people in the tournament, as the Spartans should be healthier soon. They play scrappy defense and have the ability to hit 3-pointers.
Bottom line: Wildwood Catholic, like most other teams, had had to deal with some injuries, but matching up with the likes of Taj Thweatt, Jahlil White and the rest of the roster remains a tall order.
The Skinny: The seedings have gotten a whole lot more interesting with Wildwood Catholic's recent win over Middle Township and Ocean City looking like it might never lose again. The Red Raiders started the season 1-5 but since then have ripped off 11 straight wins to grab the top spot in the CAL National, a half-game ahead of Mainland, who Ocean City will face next week. There is much more parity on the girls side, and as many as five teams could make a case for being the No. 1 seed.
As it stands now (in Sully's view, the best teams): 1. Wildwood Catholic (15-2). 2. Middle Township (13-4). 3. Ocean City (12-5). 4. Mainland (12-4). 5. Atlantic City (13-5). 6. Absegami (12-5). 7. ACIT (11-5). 8. OLMA (14-4). [In the hunt] Buena Regional (9-8), EHT (7-10), Holy Spirit (7-9).
What to watch for: Ocean City hasn't lost since the first week of January, but the Red Raiders have some tough tests coming up, including Absegami on Thursday night, Raritan this weekend and Mainland on Feb. 14. … Middle Township is still in first place in the CAL United despite a loss to Wildwood Catholic, by virtue of playing two more divisional games than the Crusaders. The Panthers have experienced players in Katie Herlihy and Kira Sides and certainly will be tough to beat in the tournament. … can teams like Absegami and OLMA play their way in to wildcard spots?
Bottom line: At this point it's too difficult to say who the favorite might be, as the teams near the top all have solid players and the ability to do a lot of things, but they also have weaknesses that can be exposed, and the injury bug has played a role. One of the big questions is, can Mainland's supporting cast provide enough scoring to help out star forward Kylee Watson? Cadence Fitzgerald, a sophomore, has really come on strong the past few weeks, and the Mustangs will need other options as teams allocate two and sometimes three defenders on Watson.
(Editor's note: the CAL Tournament Countdown will be updated each Wednesday until the tournament begins.)
Contact Dave O'Sullivan: sully@acglorydays.com; on Twitter @GDsullysays