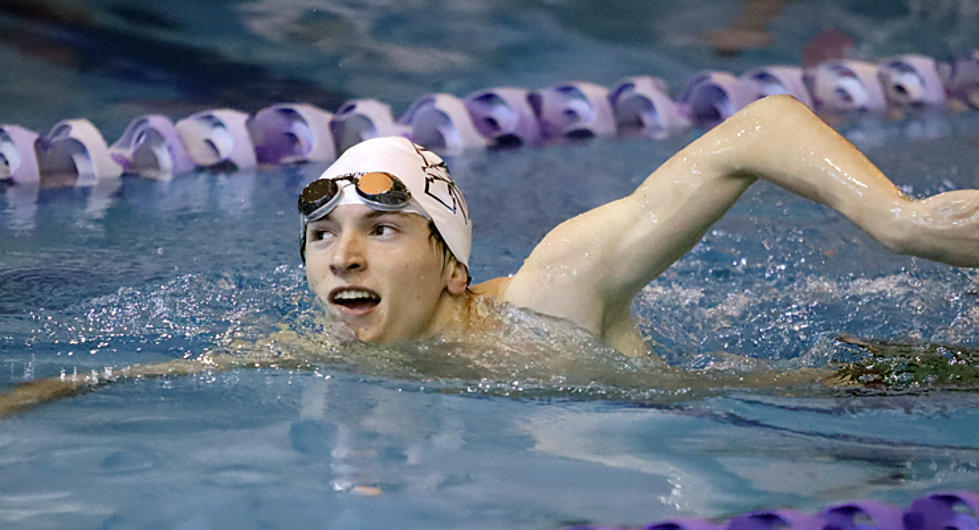 South Jersey Sports Report: Mainland Captures Sixth Straight Sectional Swim Title
(Glory Days photo/Dave O'Sullivan)
DEPTFORD TOWNSHIP — The Mainland Regional boys swimming program has built itself into a dynasty of sorts in the South Jersey Public B playoff bracket, but continuing to rack up sectional championships is proving to be more and more difficult each year.
The Mustangs got all they could handle from rival Ocean City on Thursday afternoon at Gloucester County Institute of Technology, but in the end Mainland's depth and talent in the outside lanes proved too much for the Red Raiders. Mainland got a pair of individual wins from the Garbutt brothers, Liam and Cole, wins from Mason Bushay and Aaron Thompson, and a host of seconds and thirds to take down the Red Raiders, 98-72. The Mustangs have now captured six straight sectional championships and will be aiming to win their fifth consecutive overall state championship next week.
"Being the team that we are now it's a little bit harder, but we're still just as good as we have been the past four years. As my coach says, 'everybody counts', and that's kind of been our theme this year. Everybody has been pulling through. Everybody counts," said senior Robert Kernan, one of those outside lane swimmers who has been a big contribution to Mainland's lineup all season. "It's a lot of fun. Both of these teams have a lot of good guys out there — like (Ocean City's) Steven Gooden, Dolan Grisbaum — they're all great. It's a bunch of fun having that type of competition, it's pushing everybody to work as hard as they possibly can."
"It feels amazing. We came in with a winning mentality trying to win our sixth in a row, and just being able to continue this, no matter who we lost or who we have, we're always going to put our all in as a team," added sophomore Ryan Brown. "For some people it may be different, but I don't feel any pressure at all. Some of my other sophomore guys or freshmen guys don't feel any pressure at all either, we're all excited to contribute to a really successful team."
Brown credited seniors such as Liam Garbutt and Kernan with leading a team that is without its superstar senior, Destin Lasco, who decided not to swim the high school circuit this winter as he prepares for the University of California next fall and a possible Olympic berth in 2022. Lasco's name is all over the Mainland school record board at its home pool and has more than a half dozen national records to his credit.
"It's so important. Those guys come every day to practice and they are really good role models for the rest of us. It feels great to have them around," Brown said.
The meet was nip-and-tuck through the first half, as Mainland held just a 35-27 lead at the break. Thomspon, Bushay, Cole Garbutt and Charlie Sher teamed up to start things off with a win in the 200 freestyle relay, but Ocean City (9-4) countered with a win by Gooden in the 200 free. But Mainland (12-2) began to get some momentum from the Garbutt brothers, who alternated wins in four straight events. Cole Garbutt won the 200 IM and 100 butterfly while Liam captured first place in the 50 and 100 freestyle events. Following those four events, the Mustangs had stretched their lead out to 56-35.
"Last year, we were kind of just thrilled to get here. This year, we wanted to come in and win it. We thought we had a good shot with who we had in our lineup, but a couple things didn't go our way in the beginning of the meet that I thought were going to go our way. Mainland swam really well today. Going into a meet like this, we had to have everything go perfectly on our side to be in it and a couple things went their way. But I'm happy with how we performed," said Ocean City coach Shane McGrath. "They have been here before and know what this entails, but we kind of used that as ammo. We said to our guys that all the pressure was on (Mainland), no one thinks we're going to win this meet, but (Mainland) was able to handle the pressure, they swam great. Hats off to coach (Brian) Booth and his team."
The Mustangs finished strong, capturing first place in the final three events as Bushay won the 100 backstroke, Thompson the 100 breaststroke, and the team of the Garbutt brothers, Brown and Bushay took home first place in the 400 freestyle relay.
Kernan said he loved competing against the rival Red Raiders in the championship meet for the second straight year, and also winning a sectional title in each of his four high school seasons.
"It's great. Coming here for the past four years, this is something I don't think I'll ever get to experience again," he said. "I knew our records from before (I got to high school) and I feel like this is kind of our prime time. The past four years our guys have been on the come-up, it just keeps getting better and better."
McGrath said he was proud of the way his Red Raiders showed up and competed hard against one of the top teams in the state.
"We handled ourselves great at the end of the meet. I preach sportsmanship — hold your head up high if you win, hold your head up high if you lose. If you lose, lose with dignity. We plan to just keep improving and trying to be one of the best teams in South Jersey," he said. "For a lot of years, we kind of lived in the (Ocean City) girls' shadows because they are an unbelievable team, and it's nice to kind of be up there on the same level. We have a great girls team again this year, but we're hungry. This is going to make us go back to the drawing board, work harder and see what we can do."
Contact Dave O'Sullivan: sully@acglorydays.com; on Twitter @GDsullysays