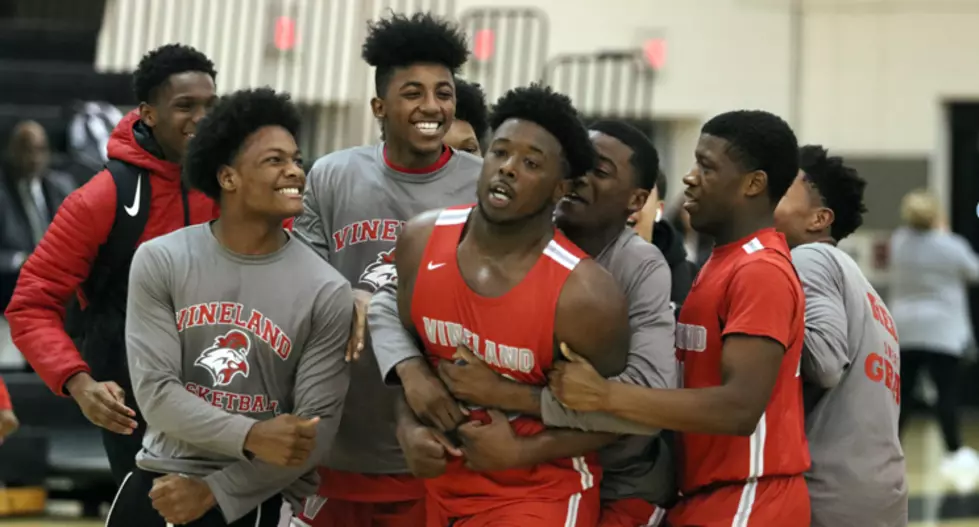 South Jersey Sports Report: Young Vineland Team Wins in Overtime
(Glory Days photo/Dave O'Sullivan)
EGG HARBOR TOWNSHIP — Having lost six of its first seven games, and with a young roster, the Vineland boys basketball team needed somebody to step up in overtime against a relentless Egg Harbor Township team that also was in desperate need of a victory.
The Fighting Clan needed a football mentality to grind out an overtime win over the Eagles, so naturally coach Dan Russo — who also coaches the Vineland football team — turned to junior Ryan Williams, a 225-pound defensive end on the gridiron, during crunch time on Monday night. Williams took a pass after Vineland inbounded with 10 seconds remaining, made a move but had his shot blocked by EHT senior Isaih Walsh. However, Williams regained possession and went up strong, scoring from the low block to provide the game-winning shot in a 70-69 victory by Vineland.
"It felt good. I just didn't give up. Coach said it's going to be one-on-one. My heart dropped, but I did it," Williams said. "It's a great feeling. We're 2-6 now, so we just have to keep working to get better."
"I'm proud of the kids, they didn't quit in a hostile environment. These (EHT) fans were something. I don't think I've ever seen fans like that in a high school game. They were pretty intense, but our kids fought through it and hung in there. We changed the lineup a little bit to see what was working. We were trying to find some things that were working and stick with it. They didn't quit even though there was a lot of adversity," coach Russo said. "Especially at the end, to fight and get that last shot, it's a credit to the kids. We're a young team playing a lot of freshmen and sophomores. Some of our juniors and seniors stepped up today, so we're real proud of them."
A game of runs: Vineland used a 21-point outburst in the second quarter to take a 36-30 lead into halftime, but then EHT (2-7, 1-3 Cape-Atlantic League American Conference) ripped off an 11-0 run to start the third quarter and take a 41-36 lead. Included in that run were a pair of threes from sophomore Carlos Lopez and another from junior Ethan Dodd, but just as quickly Vineland (2-6, 1-2) responded with an 11-0 run of its own to pull back in front, 47-41.
EHT closed the gap to 47-45 at the end of the third quarter when Lopez converted a steal by Anthony Colon, but the Fighting Clan blitzed the Eagles with an 8-0 run in just 45 seconds to start the fourth quarter, taking a 55-45 lead.
Later in the fourth quarter, Dodd capped a 7-0 Eagles run by hitting a big 3-pointer that tied the game, 59-59, then he hit another with 2:12 left in regulation to put EHT up 62-61.
Missed opportunities: Both teams had their chances, in regulation and in overtime. With the score tied at 62, Vineland was fouled with 3.4 seconds left but misfired on both free-throw opportunities. EHT went ahead, 66-65, when Walsh converted 1-of-2 free throws, but the Eagles committed a foul on the rebound of the second shot, sending Vineland to the line.
Austin Shaw nailed both freebies to put Vineland up, 67-66, but again Dodd drained a three, this time wiht 40 seconds left and giving the Eagles a 69-67 advantage. Vineland then had a chance to tie with 25 seconds left but missed a pair of free throws, but EHT fouled on the offensive rebound, sending Williams to the line. He hit 1-of-2, and the Fighting Clan trailed 69-68, but a turnover gave Vineland possession with 10 seconds left, setting up Williams' heroics.
"We picked a play that was designed not to go to (Diggs) because I knew they would be paying a lot of attention to him. Big No. 33, he's one of my football players, he's a tough kid and a strong kid, and he sealed the deal for us, so I was really excited for him," Russo said. "We're taking it a game at a time. We still have a young group, so any win we can get we're excited about. The kids have been working hard and they're excited about it. The playoffs are a whole other conversation — right now we're just trying to stay in the moment and go game-to-game. We actually have our first home game on Wednesday, we actually have about eight games coming up at home, so we're excited about that."
Stats: Diggs had a monster night for Vineland, scoring 19 points in the first half and finishing with a team-high 28 points. He also nailed five of Vineland's eight 3-pointers. Syncere Gaye finished with 14 points for the Fighting Clan, Azmir Kates had eight and Williams added seven. For EHT, Walsh scored 11, Lopez finished with 25 and Dodd added 17, including 12 in the second half and overtime. Combined, Lopez and Dodd connected on 11 threes for the Eagles.
What's next: Vineland hosts rival Millville on Wednesday at 6 p.m. EHT hosts Bridgeton on Wednesday at 5:30 p.m.
Contact Dave O'Sullivan: sully@acglorydays.com; on Twitter @GDsullysays