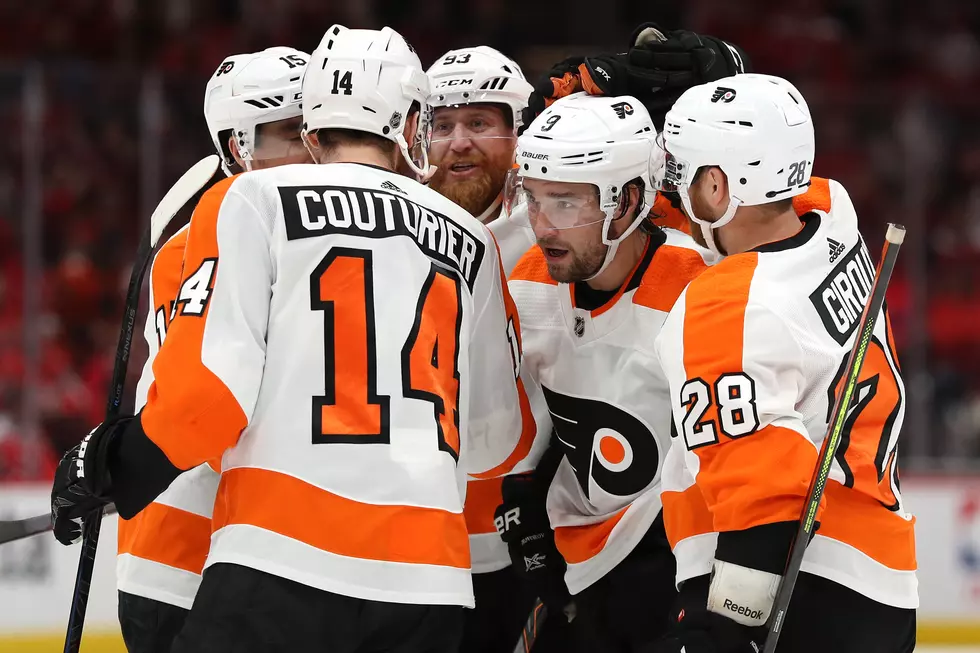 Sports Talk with Brodes: Flyers Fight with the Caps & Win 7th Straight Game!
(Photo by Patrick Smith/Getty Images)
The Philadelphia Flyers made a trip down to D.C. for a meeting with the Washington Capitals. There was a lot on the line.
Either the Flyers would be one point out of the top spot in the Metropolitan or five points out.
Spoiler Alert: The margin is now one point.
The Orange & Black won their seventh straight game after beating the Caps 5-2 in Capital One Arena. It was a hostile environment and a physical game making this win even more impressive.
In the first period, James Van Riemsdyk broke his hand so Alain Vigneault had to jumble the forwards around throughout the night. Also, the Flyers took a ton of penalties and headed into the first intermission down one goal after Lars Ellers snuck one by Brian Elliott.
The second period Travis Konecny, Kevin Hayes, and Tyler Pitlick scored to take a 3-1 lead. Derek Grant had a filthy pass on Hayes' goal, kicking the puck with his foot back door for a wide-open net.
Towards the end of the second frame, Scott Laughton tried to make a drop pass which was picked up by the Capitals and Garnet Hathaway found a way to score. With only 1:30 left in the period, this was an AWFUL time to allow them life.
Claude Giroux was hit by Tom Wilson and Robert Hagg stepped up to fight. This was Wilson's second fight of the night after dropping the mitts with Nate Thompson in the first.
Ivan Provorov and Scott Laughton each recorded a goal in the third period past Braden Holtby to finish the game off. This team continues to climb the standings!