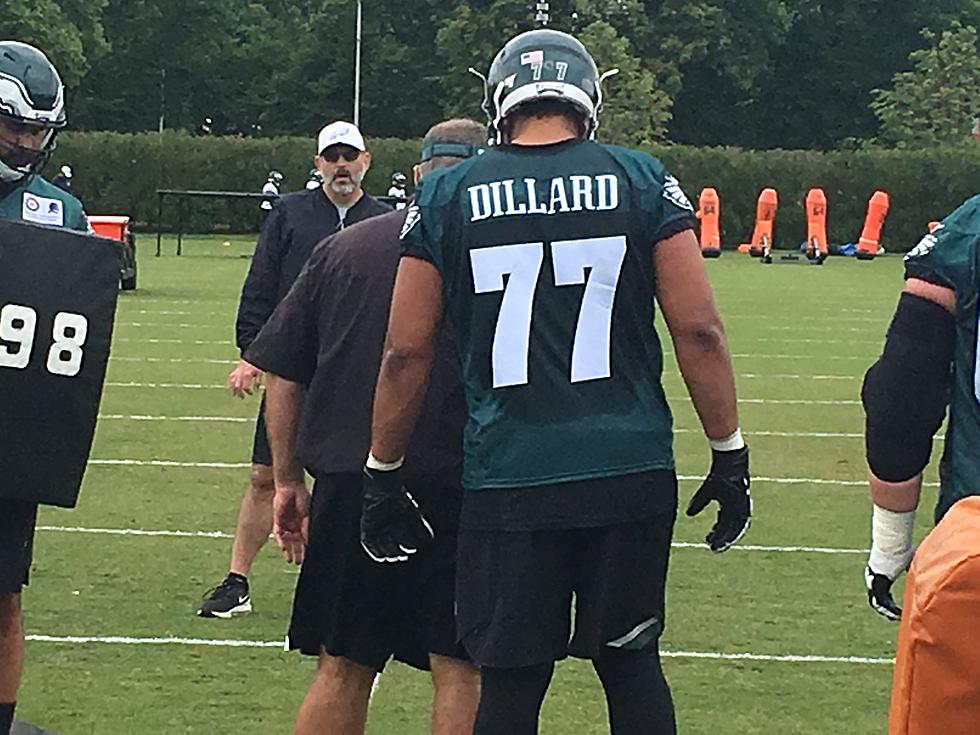 Switching Sides Proves Difficult for Dillard
(Photo: John McMullen/973espn.com)
PHILADELPHIA (973espn.com) - Andre Dillard's first attempt to write with his "right hand" didn't work out too well against Seattle on Sunday when the rookie first-round pick was benched at halftime.
Starting in place of All-Pro right tackle Lane Johnson, who was still in the NFL's concussion protocol, Dillard's trial-by-fire at an unfamiliar position was deemed a failure after 30 minutes with Halapoulivaati Vaitai, kicking out from right guard where he originally entered as Brandon Brooks' replacement early in the game, and Matt Pryor getting his first meaningful NFL action at right guard.
"Probably harder than that, honestly," Dillard said when asked if his pre-game assessment of writing with a non-dominant hand was apropos regarding the position change from his natural left tackle to right.
The biggest issue from Dillard's perspective was overcoming the "muscle memory" in his DNA as a player and a week of practice on the right side wasn't enough for someone who has spent his entire football career to this point as a natural blindside pass protector.
"Practice was still really fast, and I was going against our best dudes, but it's really something that ain't easy," Dillard explained.
Dillard, however, didn't take his benching poorly and understood it's just another step in the process of getting better as a player.
"It's a new day," he said. "It's easy to move on from it and learn from it and keep going. This whole year's been a great learning experience for me. I'm grateful to have been in a spot where I can get out there and play, get my feet wet."
Pryor, a sixth-round pick from TCU in 2018, had not played in a live-fire environment since the 2017 Alamo Bowl against Stanford.
As a backup he's been working at four different positions -- everything but center -- and a summer spent on the left side has turned into more work on the right, his more natural side, in regular-season prep.
"It's pretty difficult because you've got to get your angles down on the opposite side," Pryor explained. "Preseason, I was playing left guard, left tackle, and it took me until the last game to really get the hang of it. Your hands are different, your feet are different, and your vision is really skewed, but once you get that down, your dominant side really improves a lot. I feel like it really helps" to learn both sides."
-John McMullen covers the Eagles and the NFL for 973espn.com. You can reach him at jmcmullen44@gmail.com or on Twitter @JFMcMullen