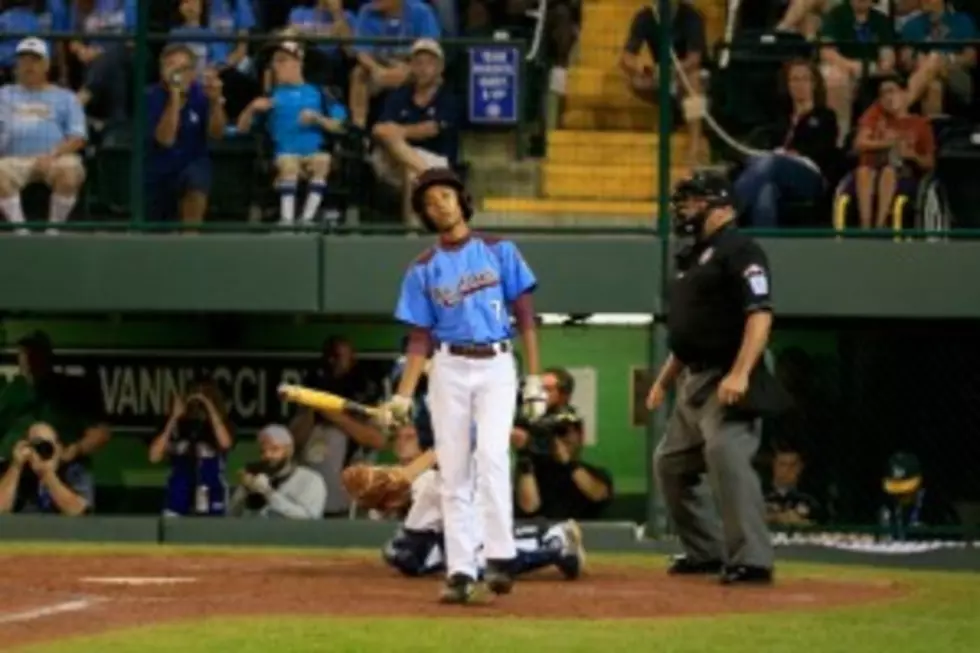 Taney Little League Falls to Nevada
SOUTH WILLIAMSPORT, Pa. -- Dallan Cave and Brennan Holligan hit two-run homers, lefty reliever Austin Kryszczuk got out of two big jams, and Las Vegas beat Philadelphia and star pitcher Mo'ne Davis 8-1 in the Little League World Series on Wednesday night.
That puts Las Vegas in Saturday's U.S. title game and sends Philadelphia into an elimination game on Thursday night against Chicago's Jackie Robinson team. The Great Lakes champion beat Pearland, Texas 6-1 on Tuesday night in an elimination game.
Davis, the darling of the sports world with her amazing success and poise, was both masterful and ordinary on a night made short because of pitch-count rules. She allowed three runs and six hits and struck out six in 2 1/3 innings before leaving after 55 pitches. That makes her eligible to pitch again in the U.S. championship game on Saturday.
Davis played first after her stint on the mound and was switched to right field in the top of the sixth.
The grassy hill beyond the outfield fences at Howard J. Lamade Stadium was jammed with so many cheering fans in lawn chairs that it looked like the bleacher section at any ballpark as 34,128 fans craned to see every pitch.
The 5-foot-4 Davis, who has given the Taney Youth Baseball Association Little League in Philadelphia notoriety no one could have imagined, tries to use the first two innings to get to know the home plate umpire's strike zone, and the first time through the order gauges where the opposing players don't like the ball.
It worked like a charm in her first outing in the World Series as she pitched a two-hit shutout. She didn't get that chance on this night against hard-hitting Las Vegas, which had outscored its first two opponents 25-4.
Davis, her long braids flopping over her shoulders on every pitch, allowed hits to the first two batters as Philadelphia fell behind. Leadoff hitter Zach Hare lofted a soft single to center and Kryszczuk followed with a resounding triple to right center for a 1-0 lead.
Unfazed, Davis struck out the side, getting Holligan looking and Brad Stone and Andrew Matulich swinging.
Philadelphia threatened in the bottom of the first, but Las Vegas right fielder Alex Barker made a dazzling diving catch at the warning track of a drive by Jack Rice to end the inning and strand two Philly runners.
After reaching back for something extra to get out of that first-inning jam, Davis sputtered again. Cave slammed a two-run shot to left-center, a liner that just cleared the fence for a 3-0 lead.
Josiah Cromwick and Hare followed with singles, but Davis settled down again and struck out Kryszczuk swinging and Holligan looking again.
She left in the top of the third in favor of lefty Erik Lipson, but she wasn't through competing. After falling behind 0-2 in the count in her second at-bat, Davis worked a walk with runners at second and third and Zion Spearman scored when the fourth ball bounded away from the catcher.
When Tai Shanahan followed with a perfect bunt single in front of the plate, the Philadelphia fans began chanting "Let's go Taney! Let's go Taney!"
But Kryszczuk came on in relief and Las Vegas escaped. He got Erik Lipson looking at third strike and Eli Simon ended the threat when he lined into a double play.
In the fifth, Kryszczuk struck out Spearman swinging with two runners on.
Las Vegas tacked on five runs in the top of the sixth, keyed by an RBI double by Hare and Holligan's homer.
Las Vegas, the first team from Nevada to make the Little League World Series, entered the game on a serious roll. The Mountain Ridge Little League champions beat Rapid City, South Dakota 12-2 and then routed Chicago 13-2 in four innings in a mercy-rule game on Sunday behind five homers, a grand slam by Brad Stone and two from Kryszczuk.
Davis, just the 18th girl to play in the Little League World Series, began her eye-opening appearance in the showcase event by throwing a two-hit shutout in a 4-0 victory over Nashville, becoming the first female to win a game in series history. Davis had eight strikeouts and didn't walk a batter and needed only 70 pitches to complete the game.
Davis also threw a three-hit shutout to lead Taney to an 8-0 victory over Delaware in the Mid-Atlantic Regional championship game, so she has a flair for the dramatic.
The glare of the spotlight on Davis and her teammates only grew as newly elected Major League Baseball Commissioner-elect Rob Manfred threw the ceremonial first pitch a day after Davis became the first Little Leaguer to appear on the cover of Sports Illustrated.
"Last week, this week, maybe next week, she's owned the sports conversation," Sports Illustrated manager editor Chris Stone said. "How often do you get to say this about a 13-year-old girl? It's the easiest type of story to identify as a cover story."
(Copyright 2014 The Associated Press. All rights reserved. This material may not be published, broadcast, rewritten or redistributed.)